*** TVReviewland.com earns commissions on qualifying purchases made through affiliate links ***
Our Bose A30 review takes a close look at this highly-touted headset that promises to deliver increased comfort and reliability. It's a Bose, so you already know you don't have to keep making adjustments once you set it up. The Bose A20 has been the standard in aviation for over a decade, but it appears it's not time for the new kid on the block to take over.
This Bose A30 review will take a close look at how this headset performs in various conditions from the cockpit of twin-engine jets to single-engine piston aircraft.
Bose A30 review: What makes it so special?
One of the first things you'll notice about the Bose A30 is how comfortable it is. It's not a radical departure from the type of headsets we're used to seeing from Bose. It's a standard ANR headset that goes around your ear with soft ear seals and a control box that's pretty familiar.
It doesn't come with VR goggles, and it's not made from carbon fiber like some techier headsets. It's even wired, so tech geeks might be disappointed with how much these headsets have in common with their predecessors. However, the design is a smart move from Bose as they focused on improving key features without sacrificing performance.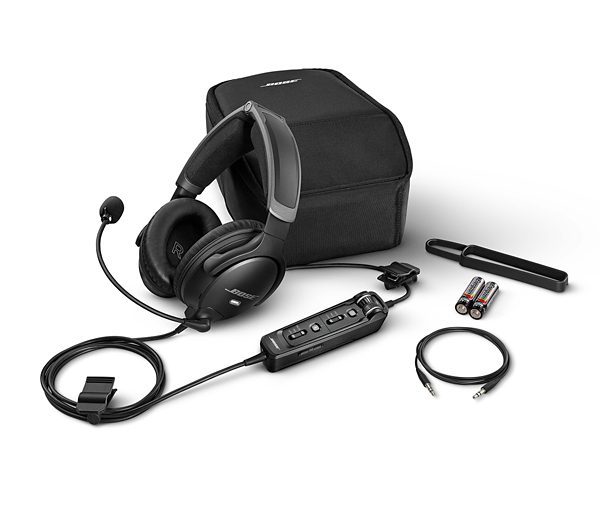 The A30 feels lighter than the A20, and it puts less pressure on your ears. Bose claims the squeeze on your ears is 20 percent less than its predecessors and it checks out since it remains comfortable even during long flights. In comparison, the A20 typically became uncomfortable a few hours into long trips.
The light aluminum frame and the ear seals lead to a noticeably improved experience. That's a good enough reason to purchase the A30. To make things even better, the wires on the A30 are also thinner than their predecessors, leading to less twisting and tangling. It's the same weight as the A20, but it's better balanced so you can easily forget you even have a headset on.
[Read what others are saying about these headsets]
Digital ANR
Bose developed active noise reduction (ANR) technology about three decades ago, and that has led to the creation of the quietest headsets in aviation history. The A30 gives you a new and improved sound canceling technology: digital ANR.
This new tech doesn't make any fundamental changes to how noise cancellation works since it still uses a microphone to detect sound waves and its built-in speakers to make soundwaves that cancel it, but it works a bit differently.
The A30 won't blow you away with its noise-reduction capabilities, but it works well in a range of airplanes. For example, single-engine places like the Piper Aztec are some of the loudest planes around, producing over 115 decibels on takeoff, yet the A30 cancels it so well you could turn down your radio volume.
The A30 doesn't an excellent job of canceling noise in different airplanes and it also gives you three settings: high, medium, and low. Most general aviation pilots will love the high setting, but professional pilots will appreciate the low and medium settings that allow you to still hear some noise. For example, with the low setting, you can chat with passengers or crew members who don't have headsets on.
The best part about the A30's improved performance is it all comes without sacrificing battery life. You get 45 hours of battery life with this headset, something you won't get from any other headsets, especially ones that also give you excellent sound quality.
Digital ANR is essentially software, so it can be upgraded with new features and enhancements as they become available. There's a micro-USB in the battery compartment for this very reason. This port can be used to provide emergency power for the headset.
Mic options and talk-through
The Bose A30 comes with the popular "tap control" feature that allows you to talk to crew members or passengers without removing the headset. You simply double-tap one earcup and you'll be able to hear normal audio from outside that ear. When you're done with your conversation, you double-tap it again to restore normal function. This feature is turned off by default to avoid it being accidentally turned on, so you'll need to open the battery compartment and move the plastic talk-through switch to the "On" position.
The A30 also makes it a lot easier to switch the cable and microphone from the left side to the right if you prefer that setup. It's a feature first officers and flight instructors who find themselves in the right seat often will appreciate. All you have to do is flip two clops to disconnect the mic assemble and reverse the process on the other side.
The A30 works excellently in piston airplanes and it's just as effective in turboprops and jets. It's one of the best headsets out there for jets. Communications are crystal clear as long as you use the correct ANR settings.
Pros:
Some of the most impressive features of the A30 include:
Excellent noise cancellation
Three ANR settings
Most comfortable headset in its class
45 hours of battery life
Can be upgraded with new features and capabilities in the future
Cons:
Some of the less impressive features of the A30 include:
No carbon monoxide detector
No support for the Connect App
Bose A30 review verdict: Comfortable, reliable, and quiet
The A30 is well-priced for its capabilities and you get everything you paid for. These headsets are designed to last over eight years with proper maintenance. You get excellent sound quality, amazing sound reduction, and one of the most comfortable headsets ever made. Click here to learn more about these headsets.
Read more:
Alienware M18 Review: Return Of The Giant
ONN 50-inch 4K TV Review: A Super-saver 4K Roku TV at A Giveaway Price
Lenovo Flex 7i Review: Versatile, Travel-size, Powerful
Sonos Era 100 Review: Good Sound and Useful Features in a Small Frame
AKG Y600NC Wireless Review: Good Sound Quality at a Great Price