*** TVReviewland.com earns commissions on qualifying purchases made through affiliate links ***
Our Philips T8506 review dives into the capabilities and performance of the manufacturer's latest entry into the ultra-competitive wire headphones market. The price point is always a huge deciding factor for many consumers and Philips manages to deliver that and much more.
The T8506 introduces a new approach to noise-cancellation that stops external noise from preventing you from noticing small details in any audio you listen to. Our Philips T8506 review shows us that this isn't a pair of headphones you pick up simply because you need new headphones. It's designed for people who want to be able to privately enjoy high-quality audio.
Philips T8506 review: First thoughts
The T8506 has a family look to it and provides the comfort you'd expect from Phillip products. It comes with an oval/cube-shaped charging case that's smaller than what the Fidelio T1 comes with. The T8506 doesn't feel as heavy as its predecessor, and the surfaces of the charging case are frosted to make them more aesthetically pleasing. It feels nice to touch as well and you might find yourself playing with it from time to time. It's a small, yet thoughtful feature that prevents the case from ever feeling slippery and keeps it looking clean.
The T8506 mostly relies on the ear canal and screen to support these headphones. Each earpiece weighs about 6.8 grams and they make up most of the weight. The memory foam sleeves on the earbuds provide increased comfort and enhanced sound quality. That's if you're not one of those people who hate the feel of memory foam.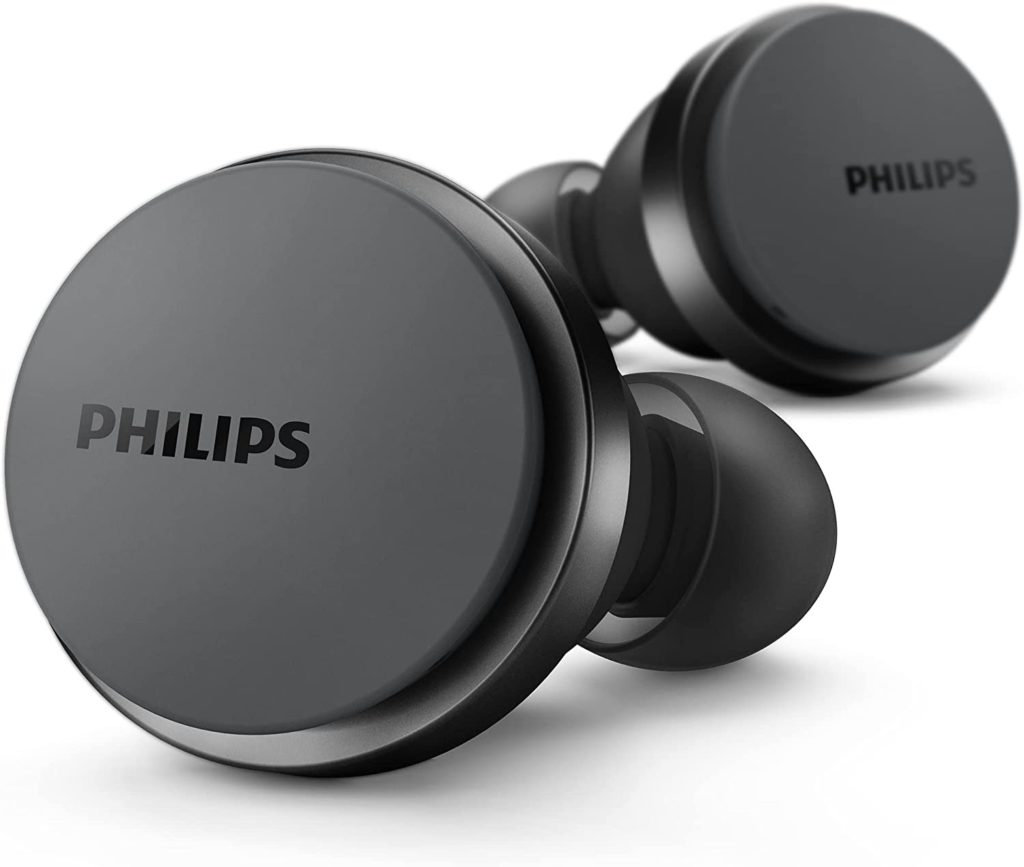 Noise cancellation
The T8506 uses dual-wheat hybrid noise reduction that uses two inbuilt mics and earbuds to pick up external and internal noise and filter it out. It automatically turns on noise cancellation and there's an ambient and adaptive mode for increased noise cancelation.
The noise cancelation feature is powerful enough to block out the roar of a train or the sounds of colleagues talking all around you. It's the perfect set of earbuds for times you want to get lots of work done without any distractions and when you want to be fully immersed in the audio you're listening to. You get to enjoy audio anywhere you are without having to worry about external sounds.
[Read what others are saying about these earbuds]
Wind cancellation
The T8506 shines bright regarding its ability to cancel wind noise on calls. It comes with an ENC anti-wind call noise reduction function that works alongside the anti-wind physical structures on the earbuds and the 45-degree angle design to give you clear calls even on windy days. You won't have to yell into your phone while having a conversation with these on.
Top-notch audio quality
The T8506 comes with Hi-Res audio. It supports over 96kHz/24bit Bluetooth encoding and decoding performance. It also supports LDHC and LDAC Bluetooth encoding formats. It uses a 13mm neodymium driver that supports SBC and AAC encoding.
Battery life
The T8506 gives you 32 hours of worry-free battery life. It can be charged with wired or wireless connections. This means you only have to charge them about once weekly if you use them for about 4.5 hours daily.
Pros:
Automatic sound cancellation feature
Comfortable earbuds
32 hours of battery life
Supports wireless and wired charging
IPX4 waterproof rating
Cons:
Come buys have complained about the fit
Quality control has been an issue at times
Philips T8506 review verdict: Affordable, top-tier headphones
The T8506 gives you everything you'd want from a pair of headphones like excellent audio quality, long battery life, and effective noise cancellation. For its price, you'll have a hard time finding a better deal. Click here to learn more about these earbuds.
Read more:
ONN 50-inch 4K TV Review: A Super-saver 4K Roku TV at A Giveaway Price
Lenovo Flex 7i Review: Versatile, Travel-size, Powerful
Sonos Era 100 Review: Good Sound and Useful Features in a Small Frame
AKG Y600NC Wireless Review: Good Sound Quality at a Great Price
Bose A30 Review: Digital ANR and Increased Comfort