*** TVReviewland.com earns commissions on qualifying purchases made through affiliate links ***
Our Trexonic Portable TV reviews go over the performance and features of this 14-inch portable, rechargeable television that gives one and a half hours of viewing time on a full charge. It allows you to keep up with news and your favorite TV shows when you're off on your adventures.
Let's jump right into our Trexonic Portable TV reviews to determine why there's so much hype surrounding this television.
Trexonic Portable TV reviews: First thoughts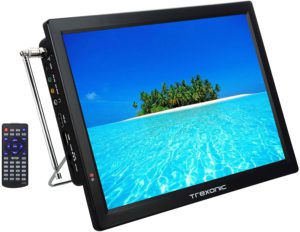 The Trexonic TV is ultra-lightweight and easy to transport. The slickly designed television's dimensions are 13.5 x 9 x 1.25 Inches. That's small enough to easily fit in most backpacks, even when packed with other gear you use when you're outdoors.
The box comes with a car charger and a wall charger, so you can easily recharge it on the go. It has more inputs than you would expect to find in such a small television like HDMI, USB, VGA, digital turner, AV input and output, MMC, and SD.
[Read what others are saying about this television]
Trexonic's new gem also comes with a remote control and a detachable telescope antenna that allows you to pick up channels being broadcast from your local area. It's an okay antenna but nothing special. Consider purchasing a digital antenna if you plan to use it mostly for watching local channels.
Picture quality is good enough at 1366 x 768p resolution. Its many inputs allow you to do anything you can do with a regular television with it. It comes with an inbuilt battery that gives you 1.5 hours of TV time. You can watch the TV while it's being charged, so keep those power banks handy
Pros:
Easy to set up and use
It gives you 1.5 hours of battery life
TV works fine when being recharged
Good picture quality
Loaded with virtually all the inputs you could think of
Cons:
The detachable antenna that comes in the box is a bit mediocre
Trexonic Portable TV reviews verdict: Great recreational television
Trexonic's portable television has everything you could want in a portable TV. It's light, doesn't take up much space, and gives you high-quality pictures. It comes with a detachable antenna you can enjoy local programming with and all the inputs you need to connect it to your other devices like your tablet, gaming console, or speakers. Click here to learn more about this television.
Read more:
Bold Projector Review: Get in the Game
Philips 50 Inch 4K TV Review: A Compelling Deal That's Worth a Look
Fire TV Stick 4K Max Review: An Upgrade That Makes a Difference
Microsoft Surface Laptop Studio Review: Slick Power
La Brea Reviews: Two New Worlds