*** TVReviewland.com earns commissions on qualifying purchases made through affiliate links ***
Our Bold Projector review explores the capabilities of this affordable mini-projector that allows you to project content from any electronic device with an HDMI port to a large screen or wall. It creates enormous, clear pictures that can be up to 120-inches diagonally, giving you a rich movie-watching experience.
Bold Projector review: First thoughts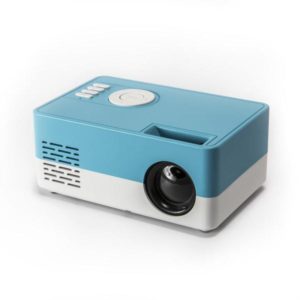 BoldProjector™ comes with an advanced cooling system that prevents the device from overheating during use. It couldn't be any easier to use; you simply connect the projector to your gaming console, Smartphone, Fire tablet, Apple TV, Roku, or Laptop, and the device projects the content on its screen wherever it's pointed.
It is available in four colors to suit your style: white, blue, pink, and yellow. It works best when placed between two to seven feet from the screen or wall the images are projected onto. The box comes with:
A BoldProjector
A power adapter
A remote control
An RCA cable
A user manual
You'll have to use one of your old HDMI cords or purchase a new one since an HDMI cable isn't included in the box. The BoldProjector uses high-end LED technology to give you 1080p picture clarity. Anyone within 32 feet of the images gets to enjoy HD picture quality. The size of the display can be adjusted from 20 to 120 inches. Picture quality is consistent indoors or outdoors.
The BoldProjector is a compact device, making it easy to transport. It's a rectangular box, with 5 x 3.4 x 1.8 inches. It only weighs six ounces, so you won't even notice it in your purse or backpack.
The Bold Projector comes with a NeverDieLamp that lasts over 30,000 hours. It comes with a built-in speaker that emits okay audio, and it comes with an audio port you can use to connect it to an external speaker or soundbar.
Pros:
High-quality picture quality
Affordably priced
Can connect with most devices using AV cord, USD, HDMI, 3.5 mm jack, TF card, and Micro SD
Power-efficient
LED light projected is harmless to your eyes
Extremely quiet at 15 decibels when running
Cons:
Lacks Bluetooth connectivity
You'll need to connect it to external speakers to get Cinema-quality audio
Bold Projector review verdict: Hard to find a better deal
The BoldProjector allows you to project the images on the screens of virtually any electronic device into high-definition displays that can be up to 120 inches. It's easy to use and costs less than the price of a budget 32-inch TV. It's one of the cool electronics you should have around the home, given its low price. Click here to learn more about this device.
Read more:
Sony X95J Review: Price Matches Performance
The Best 65-Inch TV Under $1000 2021
Hisense U7G Review: Worth Every Penny, And Then Some
Best 75-Inch TV Under $2000 in 2021