*** TVReviewland.com earns commissions on qualifying purchases made through affiliate links ***
Our Microsoft Surface Laptop Studio review goes over the features and performance of the company's latest computing product. The new studio is designed with creative professionals in mind, from video editors to software developers running massive software.
Let's jump right into our Surface Laptop Studio review to find out if Microsoft's latest PC is the upgrade you've been waiting for.
Microsoft Surface Laptop Studio review: First thoughts
The new Studio comes with a 14-inch display, which is about what you would expect to find in most modern laptops. It has a flip cover that allows you to convert it to a tablet to suit your needs. It is touch-input enabled so that you can navigate with ease with your fingers. There are magnets at the bottom of the screen that keep the screen in place in tablet mode. It also has a space for accessories like the Slim Pen 2.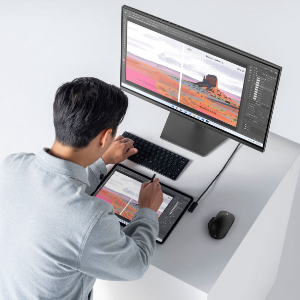 The Studio's chassis is made from high-quality materials, giving it a sleek, metallic-silver look. It measures 0.74 x 12.72 x 8.98 inches and weighs 3.83 pounds. Its slim design and light weight make it a very portable, high-performance machine.
[Read what others are saying about this laptop]
The display comes in at 14.4 inches diagonally and has a 3:2 aspect ratio. It gives you high-quality images with 2400 x 1600p resolution. You'll be pleasantly shocked with the 120Hz refresh rate that comes standard. That's something you would expect to find in a gaming PC or television, not a work computer. The high refresh rate leads to a very realistic feel when using the Surface Slim Pen 2.
CPU options for the new Studio include the Core i5-11300H and the Core i7-11370H, which come with Intel Iris Xe Graphics and Nvidia GeForce RTX 3050 Ti Graphics, respectively. RAM can be as high as 32GB, while storage maxes out at 2TB. The Studio gives you more processing power than most people need.
Other noteworthy features of the Laptop Studio include:
Dolby Vision and Dolby Vision IQ gives you excellent picture quality when working or streaming content
USB 4.0 ports come with Thunderbolt 4 supports, allowing you to adapt the Studio to suit your needs
It comes with Windows 11
Surface Coconut feature allows you to navigate, draw, and take handwritten notes as you would on a piece of paper
The designer keyword is ergonomically designed and optimized for productivity
Surface Laptop Studio review verdict: Excellent laptop for the modern creative professional
The new Surface Studio is an excellent laptop for creative professionals who need lots of processing power for tasks like video editing. Its high-performance design makes it a good gaming PC since it can easily handle most modern titles. Click here to learn more about this laptop.
Read more:
Hisense U7G Review: Worth Every Penny, And Then Some
Best 75-Inch TV Under $2000 in 2021
Bold Projector Review: Get in the Game
Philips 50 Inch 4K TV Review: A Compelling Deal That's Worth a Look
Fire TV Stick 4K Max Review: An Upgrade That Makes a Difference