*** TVReviewland.com earns commissions on qualifying purchases made through affiliate links ***
This Hisense R7G5 review can help you figure out if this is the right television for you so that you can spend more time looking for shows to watch and less time deciding which television to watch them on. This Hisense R7G5 is an entry-level 4K television that is very affordable. It features many quality features, such as HDR10 support and a Roku streaming player.
Based on our Hisense R7G5 review, this television marries the quality picture found in more expensive models with a budget-friendly price tag. Whether you want to keep up with some of the sleazy reality TV shows or catch up on the latest in sports, this Hisense R7G5 has the features and resolution to take your viewing experience to the next level.
Hisense R7G5 review: First thoughts
The Hisense R7G5 is a multi-use television. It is ideal for sports lovers, movie enthusiasts, and gamers. The Roku feature can make all your streaming dreams come true by giving you access to hundreds of shows and channels. If you love gaming or fast-paced movies and sports, the Motion Rate technology is a welcome feature that helps reduce lag and motion blur. It also makes images appear smoother.
The 65-inch screen makes this television large enough to provide an immersive viewing experience for everyone in your living room. The R7G5 has excellent contrast with rich colors and deep blacks, making it ideal for viewing in all lighting conditions.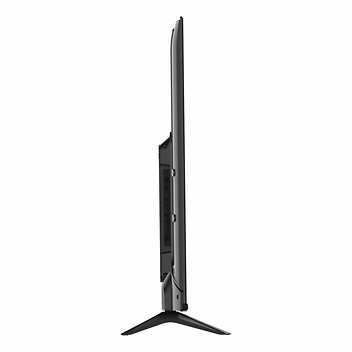 Product overview
This television comes in a box with a remote control and separate right and left feet stands. The box also includes the power cord and a quick start guide. The television has a simple design with a thin black bezel surrounding the panel for a minimalistic and sleek look. The right side of the panel has a power jack, while the left side has all the audio and video ports. Some of the connectivity options you can expect from this television include three HDMI ports, one Ethernet port, and one USB port. Other connectivity options include one RCA composite video input, RF antenna port, an earphone or audio output, and a digital audio optical output. This display also offers dual-band Wi-Fi support.
This television is powered by the Roku operating system and comes with the Roku remote with straightforward and easy-to-use navigation. Apart from the standard power, play, home, and OK buttons, the remote also has Hulu, Netflix, PlayStation Vue, and Sling TV launch buttons. The right side of the remote has the volume up and volume down buttons as well as the mute button.
Unfortunately, this remote does not have voice search capabilities. Still, you can choose to download the Roku app on your mobile devices to control your television using your voice.
If you do not have your surround system, this television comes with a built-in 10W x 2 audio system. The television comes with several audio features, such as TruVolume, Dialog Clarity, and DTS TruSurround, allowing you to adjust the audio settings to suit your needs.
[Read what others are saying about this TV]
Key features:
Some of the noteworthy features of the R7G5 include:
1. Roku operating system
Roku is an operating system designed to provide users with access to thousands of channels and live TV. This operating system has a simple home screen that makes launching your movies or shows easy. The Roku OS has regular updates that introduce new features for users to enjoy. Roku televisions come with an easy-to-use remote control, though users can download the app that allows them to control the television using their mobile devices.
2. 4K resolution
The Hisense R7G5 has 4K resolution, which has four times the number of pixels of full HD displays. This resolution allows the television to deliver more dynamic color and deeper shadows for better clarity. The Hisense R7G5 also upscales lower resolution content to 4K picture quality. This television also features a full-array LED backlight for sharper images.
3. HDR10 playback
The Hisense R7G5 has HDR10 playback, offering a wide range of colors to try and reproduce images that are as like-like and as close to what is seen by the human eye as possible. It helps render images with a lot of color and detail while preserving the gradation between light and dark areas of your screen for deeper darks and brighter lights. As a result, you get to see images and videos exactly how the director intended you to see them.
4. Dolby Vision and Dolby Atmos
The Hisense R7G5 has Dolby Vision and Dolby Atmos, which can help bring the theater experience to your living room. These two features bring realism to your entertainment and offer a more enjoyable viewing experience. Dolby Vision technology uses end-to-end HDR to preserve information from capture to processing and production. This means that it helps ensure that the data that was captured is the data that is passed on to you for a more life-like appearance. On the other hand, Dolby Atmos is a surround sound technology that adds height channels for an immersive sonic experience.
5. Compatible with Alexa and Google Assistant
This television is compatible with Alexa and Google Assistant, allowing you to use your voice to control it. You can ask Alexa to launch a channel, search for a show, increase the volume, and even play music without using the provided remote control. You can control this television using Siri or Apple Home App if you have Apple devices. As a plus, you can use AirPlay to mirror your iPhone, iPad, or Mac screen to your television screen.
Pros
Very affordable price tag
Motion rate of 120
60Hz refresh rate
Wi-Fi enabled
Compatible with Alexa, Google Assistant, and Apple HomeKit
Roku Smart TV platform gives you access to thousands of channels
4K HDR10 playback
Cons
It doesn't have Bluetooth connectivity
It doesn't have local dimming capabilities
The remote control does not have voice search capabilities
Hisense R7G5 review verdict: You get more than you paid for
For an entry-level budget television, the Hisense R7G5 offers excellent value for money. The Roku platform gives you access to all the popular streaming platforms, including Hulu, Netflix, and PlayStation Vue. The 4K resolution offers clear pictures and life-like videos, while the 120 Motion Rate reduces motion blur and lagging for a better gaming experience. Our Hisense R7G5 review shows that the Hisense R7G5 is the best if you are looking for a television that balances affordability without sacrificing functionality. Click here to learn more about this TV.
Read more:
Samsung T415 Soundbar Review: Can't Beat the Price
Gateway 15.6 Ultra-Slim Notebook Review: Too Good to be True?
Samsung A430 Soundbar Review for Audiophiles and Bargain Hunters
Sony A8H Review: An OLED TV That Matches Expectations
Asus Chromebook CX1 Review: Excellent Productivity Laptop
Frequently Asked Questions (FAQs)
1. Can I mount this television to my wall?
This television has a VESA 400 X 300 mount pattern, making it easy to mount it to your walls. You'll need M6 wall mount screws.
2. Can I still use this television without connecting to the internet?
While this television uses the Roku Operating platform, you can still enjoy channels without connecting to the internet. This television features a tuner that allows you to enjoy free over-the-air television channels using an antenna.
3. Where can I get the user manual for this television?
This television comes with a quick user guide for easy setup. However, if you want the entire user manual, you can download it online from the Hisense website.