*** TVReviewland.com earns commissions on qualifying purchases made through affiliate links ***
This Gateway 15.6 ultra-slim notebook review provides a detailed analysis of this inexpensive laptop to determine if it can help improve your productivity, whether you work from home or in an office. The price point is quite attractive, one of this laptop's main selling points.
Fortunately, there are very few trade-offs, as the Gateway notebook delivers solid performance and decent storage space. It is great for basic productivity and will help improve your workflow. As a bonus, this laptop is ultra-slim, making it portable enough to take with you anywhere so that you can get work done on the go.
Gateway 15.6 ultra-slim notebook review: First thoughts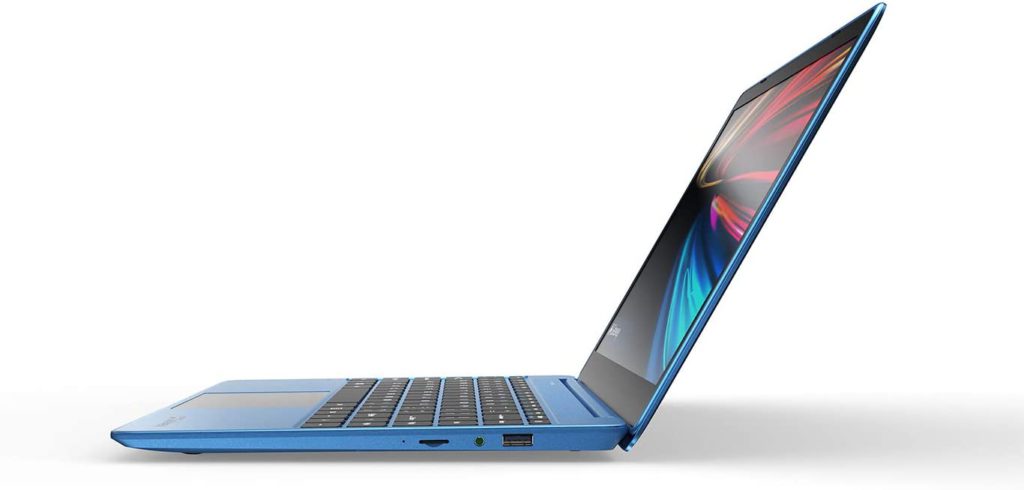 Whether you are a content creator or a freelance writer, the Gateway 15.6 ultra-slim notebook comes with all the bells and whistles to help you do your job effectively. This notebook is quite slim for portability. It has two USB ports, one HDMI port, a headphone jack, and a microSD card reader despite its slim size.
The laptop comes with a Windows 10 operating system, which supports most programs and applications. The Intel Core i5 processor ensures fast performance and allows you to open various programs and browser tabs simultaneously without any noticeable slowdown in its task handling.
Product overview
The Gateway 15.6 ultra-slim notebook is a fairly-priced laptop that does not skimp on features or performance. The 15.6-inch screen size allows you to work and watch videos comfortably. The laptop's display features IPS technology, ensuring the images remain steady at wider angles. The screen has a matte finish for better readability in bright or sunny environments. The screen has a maximum resolution of 1920 x 1080 pixels.
The top-right corner of the trackpad has a fingerprint reader for security. This laptop comes with a webcam that features a 720p resolution. Gateway partnered with TXH to fine-tune its speakers for a well-balanced sound. Gateway 15.6 ultra-slim laptop has 4 GB RAM and a memory speed of 3.1 GHz. The 128 GB SSD hard drive provides sufficient storage space, and the MicroSD slot allows you to add more storage space. This 15.6 ultra-slim has a decent battery life of up to 8.5 hours.
The laptop's left side has a barrel charger, USB 3.0 Type-A and Type-C ports, and an upside-down HDMI port. The laptop's right side has a USB 3.0 Type-A port, a MicroSD slot, and a headphone jack. The ultra-slim weighs about 4.2 pounds and measures 14.8 inches by 9.6 inches by 0.8 inches.
[Read what others are saying about this laptop]
Gateway 15.6 ultra-slim notebook review: Key features
Some of the noteworthy features of the new noticed during our review include:
Fingerprint scanner
The Gateway 15.6 inch notebook has a fingerprint scanner on the top-right corner of the trackpad. This security feature uses biometric technology to keep other people from accessing any of the data on your laptop.
Built-in stereo speakers
This laptop comes with built-in stereo speakers for quality audio. The upward-firing speakers are tuned by THX audio to ensure better sound quality. Based on our Gateway 15.6 ultra-slim notebook review, audio and music from these speakers are clear and well-balanced, and you can enjoy music from YouTube videos or dialogue from your favorite Netflix shows without feeling like you are trapped in a can. However, these speakers are not very loud. Therefore, you may have a hard time hearing clearly in noisy environments.
LCD IPS display
This laptop has an LCD IPS (In-Plane Switching) for better viewing angles. IPS involves a liquid crystal layer between two glass surfaces. This ensures higher resolutions, clearer pictures, color consistency, and better viewing angles.
Bluetooth 4.0
Bluetooth 4.0 helps transmit data wirelessly at a speed of up to 25 Mbps. This speed is sufficient to handle tasks requiring a lot of data transfer, such as video sharing. As a bonus, this version of Bluetooth goes to sleep when not in use, which makes it very battery-friendly. The energy efficiency makes it suitable for anyone who transfers information frequently but would like to conserve battery life.
Pros
Inexpensive price
Fingerprint reader
Decent battery life
Solid screen size
Excellent performance and sufficient storage
microSD slot for additional storage
Both type-A and type-C USB ports
Sufficient RAM
Slim and lightweight
Cons
Plastic construction
The keyboard is not backlit
The laptop's USB-C port does not support charging
Gateway 15.6 ultra-slim notebook review verdict: Affordable, capable, budget laptop
Our Gateway 15.6 ultra-slim notebook review reveals this is a solid laptop for its price. Whether you need a second laptop while traveling, or you'd like an inexpensive laptop for working, studying, and watching movie marathons, the Gateway 15.6 inch ultra-slim notebook is an inexpensive option that does not compromise on performance.
It gives you 8.5 hours of battery life and a full-HD screen with a matte finish, ideal for studying and working in outdoor environments. Click here to learn more about this laptop.
Read more:
TCL TS6 Soundbar Review: Insane Value
Samsung GS20 FE Review: Still One of the Best Smartphones
LG 4.1 Wireless Bluetooth Soundbar Review
A Comprehensive Vizio V705x-J03 Review for Budget Television Buyers
Samsung T415 Soundbar Review: Can't Beat the Price
Frequently Asked Questions (FAQs)
1. Does this laptop come with a webcam and microphone?
Yes, this laptop comes with a front-facing 720p webcam and a decent microphone for all your video calls. The audio quality is decent for its price, with upward-firing speakers that produce clear and quality sound.
2. Can I use this laptop for gaming?
Based on our Gateway 15.6 ultra-slim notebook review, this laptop is more suitable for browsing, watching videos, editing documents, and other productivity tasks. This notebook does not have Iris Xe graphics, which are more suitable for gaming. Therefore, you can play some lightweight games, but heavier games may stutter.
3. What is this laptop's battery life?
The Gateway 15.6 inch laptop has a battery life of up to 8.5 hours, allowing you to spend a decent part of your workday off the charger.