*** TVReviewland.com earns commissions on qualifying purchases made through affiliate links ***
Enjoy rich and warm sound from your television with the LG 4.1 wireless Bluetooth soundbar. This soundbar looks good in any room in your home and sounds fantastic as well. The wireless speakers and Bluetooth connectivity reduce the number of wires you need in your space for a sleeker and neater appearance without sacrificing quality. This speaker is relatively small and does not take up too much room in your home. This sound system is also straightforward to set up and operate, making it ideal for consumers who are not too tech-savvy.
LG 4.1 Wireless Bluetooth Soundbar review: First thoughts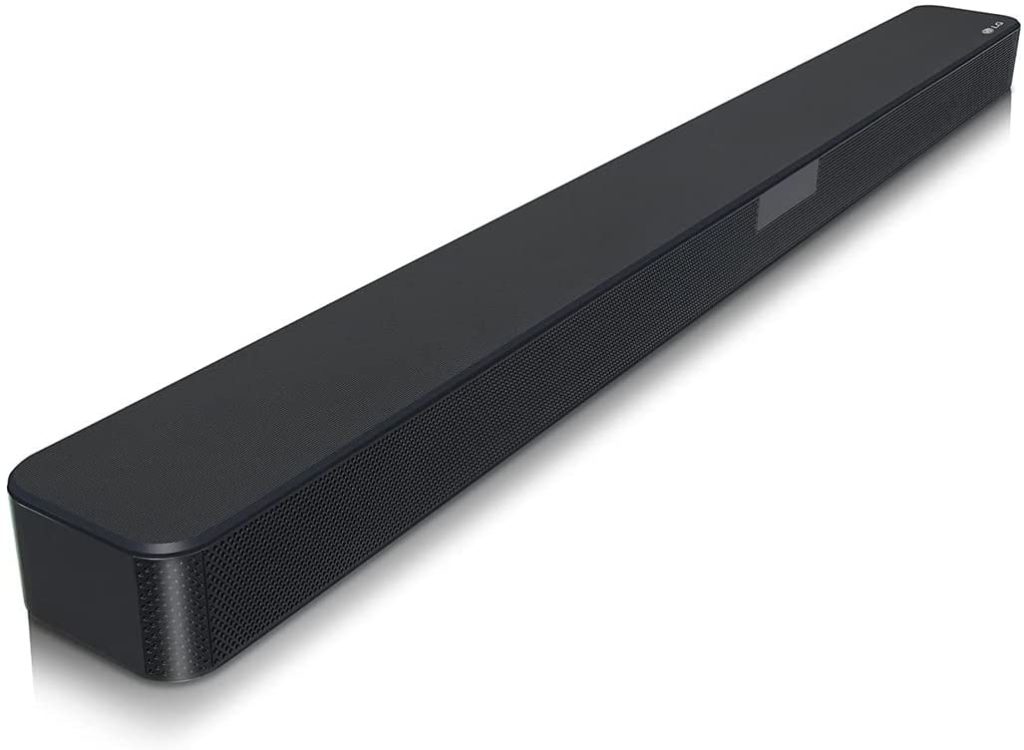 The LG 4.1 wireless Bluetooth soundbar is designed for audiophiles who want both high fidelity and beautiful style in their speakers. If the sound on your ultra-thin television is less than amazing, this soundbar can help complement it and ensure that you enjoy all your favorite shows and music. The sound that emanates from this soundbar is very balanced and adds a lot of excitement to your movies and shows. This speaker also makes a lot of design sense for individuals who do not have a lot of space in their living rooms for a full surround sound system as it features a slim design and a small speaker. The soundbar is 1.2 meters wide, making it more suitable for televisions that are 55 inches or more.
Product overview
At only 38 millimeters tall, the LG 4.1 wireless Bluetooth soundbar is very thin, ensuring it fits seamlessly in front of your television without obstructing your view of your favorite shows. The soundbar is all-black in color for a neutral look that goes well with your interior design. The speaker has a compact design and is 320 millimeters high with a steel mesh on the front. The power output is 300 watts.
The front of the LG 4.1 wireless Bluetooth soundbar has an LCD display that shows various messages, such as "Hello" when you power it on and "Goodbye" when you power it off. This display also lets you know when your soundbar is in the middle of an update or if you are playing music from a Chromecast source. The LG 4.1 wireless Bluetooth soundbar comes with an easy-to-use remote control, though you can use the LG mobile app to control your speakers.
In terms of performance, the LG 4.1 wireless Bluetooth soundbar delivers quality sound, which is great when watching action films or playing fast-paced video games. Dialogue is very clear, and the bass and treble are balanced for an excellent sonic experience. This speaker also has excellent features such as sound upconverting, auto sound engine, adaptive sound control, and audio sound engine that make listening to movies or music more exciting. The wireless speakers also allow you to place the speaker wherever it sounds best without worrying about the length of a wire.
[Read what others are saying about this soundbar]
Key features
Some of the key features of the LG 4.1 soundbar include:
1. Auto Sound Engine
The auto sound engine is an LG feature that helps optimize the sound coming from your television or other devices. This feature maintains precise frequencies all the time, ensuring the sound remains balanced regardless of the volume.
2. Auto Music Play
The auto music play feature allows you to connect your mobile device to your soundbar automatically so that it can play music as soon as the device is within range. This means that if you were in a different room listening to music on your mobile phone and you walked into your living room, the soundbar immediately takes over the playback of the music.
3. Adaptive Sound Control
The Adaptive Sound Control feature analyzes the content you are listening to in real-time. This feature allows the soundbar to detect if you are listening to dialogue, sports, video games, or even music. The soundbar then immediately adjusts its settings to ensure that you get the best quality for the content you are watching. For example, if you are listening to the news, the Adaptive Sound Control feature adjusts the settings to ensure clear dialogue. However, if you are watching an action scene, this feature raises the sub to ensure more impact.
4. Sound upconverting
The LG 4.1 wireless Bluetooth soundbar has a Sound Upconverting feature to help you refine your sound. This helps convert low-quality audio to high-resolution audio. For example, if the source of the sound you are listening to has a lower resolution of 16-bit/48kHz, the sound upconverting feature can up-sample it to 24-bit/192kHz for better quality.
5. 4K Pass-Through
The LG 4.1 wireless Bluetooth soundbar has a 4K pass-through feature, which means that you can pass a media device through the soundbar first and then connect the soundbar to your television without losing video quality. Therefore, data from any device goes through the soundbar without quality loss. For example, you can connect your gaming console to your soundbar and the soundbar to your television, ensuring you watch the visuals on your television at the intended quality. This can be very convenient as it reduces the number of connection cables you need in your home.
Pros
Very slim design does not obstruct pictures on your television's screen
Wi-Fi and Bluetooth compatibility
Built-in Chromecast
Setup is simple
Ensures sound balance at any volume
High resolution audio and audio upconverting
Wireless subwoofer
4K pass-through for quality pictures
Cons
The LCD display is always on, which some users can find annoying
You have to get several LG mobile apps to enjoy all the features
Limited HDMI inputs
LG 4.1 wireless Bluetooth soundbar final verdict: Worth the purchase
The LG 4.1 wireless Bluetooth soundbar has excellent sound, and the dialogues in your favorite shows will be very clear. Its slim design gives it a sleek and elegant look in your home. Despite its small and slender design, this soundbar has a huge and impressive soundstage. As a plus, the LG 4.1 wireless Bluetooth soundbar has built-in Chromecast, allowing it to work with other Chromecast audio devices through the Google Home App. Click here to learn more about this soundbar.
Read more:
Sceptre 50 Class 4K UHD LED TV U515CV-U Review
Sony A90J Review: The Poster Child for Premium TVs
LG SLM3R Review: Loaded with Value
TCL TS6 Soundbar Review: Insane Value
Samsung GS20 FE Review: Still One of the Best Smartphones
Frequently asked questions (FAQs)
1. Is the LG 4.1 wireless Bluetooth soundbar wall mountable?
Yes. This soundbar comes with wall brackets, making it easy to mount on your walls.
2. Is this soundbar compatible with Alexa?
Unfortunately, this soundbar does not come with Alexa or Google Assistant built-in. However, it does have Bluetooth, which you can use to connect to other mobile devices.
3. How big and heavy is this soundbar?
This soundbar has a very slim design and measures 1.22 meters wide by 10.5 centimeters deep by 3.8 centimeters tall. It is also about 2.7 kilograms.