*** TVReviewland.com earns commissions on qualifying purchases made through affiliate links ***
Whether you love reality television or have an eye for sports, this Vizio V705x-J03 review shows that this 70-inch TV is the ideal television for your living room. This television is perfect for people who love streaming, as it has enough apps to ensure you have your favorite shows close at hand.
Its reasonably low price is its main selling point, though it also has excellent features such as a high contrast ratio that makes it great for watching movies, especially in a dark room. Another advantage is that this television does not suffer from permanent burn-in, which means you can watch the same channel or show all day without any worry.
Vizio V705x-J03 review: First thoughts
The Vizio V705x-J03 is ideal for anyone with a limited budget who wants a good-quality television for their media room. It is also the perfect television for dark-room viewing due to its high contrast ratio. This television has excellent black uniformity, making it suitable for television shows and HDR gaming. It also has a low input lag that gamers will love.
The V705x supports most resolutions and displays proper chroma 4:4:4, making it ideal for use as a PC monitor. The 4K quality picture, Dolby Vision HDR, and full array backlighting will help take your viewing and gaming experience to the next level.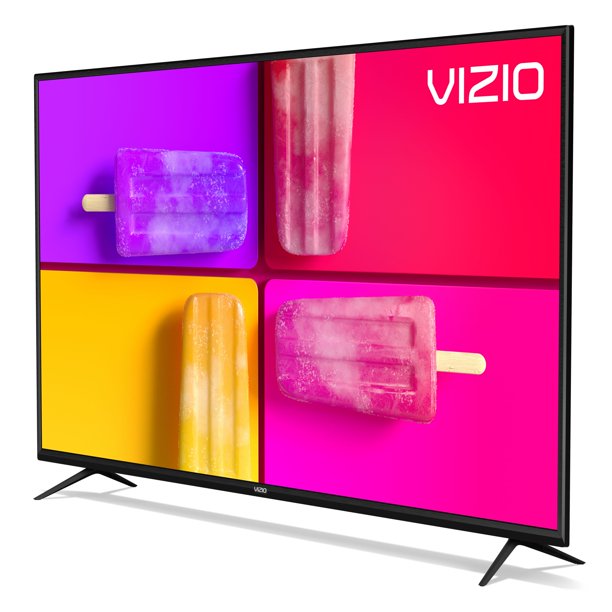 Product overview
At 70 inches, the Vizio V705x-J03 is a dream television for anyone who loves to entertain or watch sports and movies. Despite its friendly price and modest design, this television has a lot going for it in terms of features. The Vizio V-series television offers composite inputs and three HDMI ports, including one that is eARC-enabled.
The television stands are almost as wide as the TV itself; therefore, you need a large surface to place it on if you do not wish to mount it on your wall. As a plus, the television has a very sleek look with a thin bezel for a minimalist and modern appearance. The stand gives it good support, so you don't have to worry about the TV falling over as long as you don't have children or pets that could knock the TV over.
[Read what others are saying about this television]
This smart television has 4K picture quality and Dolby Vision HDR, ensuring clarity for an excellent viewing experience. One of the features that Vizio has prioritized in this series is full-array backlighting, which distributes light across the screen for brighter images and deeper blacks. Features such as Active Pixel Tuning refine the quality of the images even further to ensure that you get as much detail as possible from every scene. Another essential feature is the upscaling engine, which ensures that lower-resolution videos look clear and crisp on this screen.
Other features we loved in our Vizio V705x-J03 review include seamless integration of smart home devices such as Alexa, Hey Google, and the Apple HomeKit. This television also has built-in Chromecast and Apple AirPlay 2 support to help you perform tasks like sharing photos from your phone and using the television as a screen for your PC projects.
Vizio V705x-J03 review: Key features
Some of the key features of the v705x include:
Dolby Vision
Based on our Vizio V705x-J03 review, the Dolby Vision feature on this television ensures colors are more vivid, contrasts are sharper, and details on the screen are richer. This HDR technology optimizes what you see to ensure a more immersive viewing experience. The technology includes dynamic metadata that adjusts each frame to ensure that you view the movie or television show precisely as the producers and directors intended. The Vizio V705x-J03 television also supports HLG HDR and HDR10+ formats.
Watch Free +
This television features the WatchFree+ app, which allows you to view hundreds of free channels with a few ads. The app has a wide selection of curated content to suit your tastes. All the content is free, so there are no logins, subscriptions, or additional fees. You get instant access to all these shows, music, sports, and news without the need for an additional device.
Vizio IQ Active HDR Processor
This television has an IQ Active HDR processor with an intelligent upscaling engine to upscale all your HD content to 4K resolution. This feature offers excellent picture processing to ensure you enjoy 4K quality content.
Active Pixel Tuning
This Vizio 70-inch television has an intelligent pixel tuning feature that fine-tunes and adjusts the contrast and brightness of each frame in the more than 2000 zones on your screen. This offers excellent picture quality and contrast performance and ensures that the images on your television are as perfect as possible.
DTS Virtual
This audio codec helps give this television virtual surround sound audio without additional speakers. This feature analyzes audio signals and makes the best guess on where each sound should be placed for a more immersive audio experience. This process tricks your ears into thinking your television has additional virtual speakers. The Vizio V705x-J03 television also supports AC-4 and Dolby Digital+ codecs.
Pros
Reasonable price
Excellent upscaling feature
Brilliant contrast ratio for deeper blacks and black uniformity
Low input lag of less than 10ms
A variable refresh rate of 4K 60fps, making it suitable for gaming
Built-in Chromecast and supports Apple AirPlay 2
Works with popular smart devices such as Alexa, Hey Google, and Apple HomeKit
The Vizio WatchFree app, allowing you to free certain content for free
Cons
Not the best television for off-axis viewing
The remote does not have a mic, which means you cannot use it for voice control
It does not have local dimming
Vizio V705x-J03 review final verdict: Better than the average budget TV
Based on our Vizio V705x-J03 review, this Vizio television offers excellent value for money as it stands head and shoulder above other budget brands. It comes with the bells and whistles of more expensive televisions.
The 4K resolution and Dolby Vision HDR features allow you to enjoy every detail in your favorite shows and movies, while the low input lag and 60 Hz refresh rate make it okay for gaming, but not great. As a bonus, the Watchfree+ app allows you to watch hundreds of television channels without any logins or fees. Click here to learn more about this television.
Frequently asked questions (FAQs)
1. Can I mount this television on my wall?
Yes, this television is wall-mountable and is compatible with VESA size 400mm x 200mm. The television itself is pretty thin, which means that it will not stick out much when you mount it on your wall.
2. Does this television come with a remote?
This television comes with a medium-sized remote with a CEC menu control. The remote is IR-based, so you cannot use your voice to control it. This television also has a remote app that you can use on your mobile devices.
3. Are the legs on the television adjustable?
No, the legs on this television are not adjustable. For the 70-inch television, the distance between the legs is about 56 inches. Therefore, you need a large table or TV stand for this television if you don't want to mount it on a wall.
Read more:
Sony A90J Review: The Poster Child for Premium TVs
LG SLM3R Review: Loaded with Value
TCL TS6 Soundbar Review: Insane Value
Samsung GS20 FE Review: Still One of the Best Smartphones
LG 4.1 Wireless Bluetooth Soundbar Review