*** TVReviewland.com earns commissions on qualifying purchases made through affiliate links ***
It's a bit surprising we're writing a Vizio OLED review given the fact this television manufacturer has been primarily focused on making LCD TVs. For the first time, Vizio has released an OLED model, available in 55 and 65-inches. Their model names are OLED55-H1 and OLED65-H1 respectively
If you have always wanted a top-end TV, but have been unwilling to pay the prices more established brands like LG want for their high-end models, this Vizio OLED review is for you. The prices of Vizio's new releases are currently a few hundred bucks cheaper than similarly sized OLED models for LG.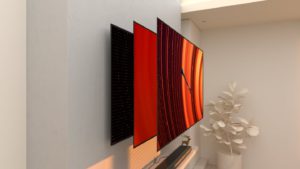 Why are OLED TVs more expensive than LCD screens you ask? The extra cost comes from the organic light-emitting diode that leads to the excellent picture clarity associated with OLED televisions.
Vizio OLED Review: What to expect
Vizio's OLED offerings are going against some of the major players in the television manufacturer market like Sony and LG. Vizio will also be going against a few new entrants like Skyworth and Kondo, but neither of these TV manufacturers has captured the third spot of the U.S market share.
[Read what others are saying about this TV]
The only television manufacturers that sell more products than Vizio in the U.S. are TCL and Samsung. Neither of these companies make OLED televisions, so there is a good chance Vizio's OLED lineup ends up becoming the top-selling OLED TV in the U.S.
Specs
Like the LCD lineup that established Vizio as a competent TV maker, the OLED models come with SmartCast 4.0 which allows users to stream and play media. It's powered by an IQ Ultra processor and a ProGaming engine that comes with 4k/120Hz compatibility and FreeSync. Other noteworthy features include:
High Dynamic Range (HDR) capability: HDR 10, HDR 10+, Dolby Vision, Hybrid Log-Gamma (HLG)
Integrated with: Dolby Vision HDR, Smartcast, Apple AirPlay, Chromecast built-in, Siri, Google Assistant, and Alexa
Applications: Apple TV+, Disney+, Hulu, Netflix, Peacock, Prime Video, Redbox, Tubi, XUMO, and YouTube
It comes with four HDMI 2.1 ports and a single eARC port for audio connections like soundbars. Vizio showcased their OLED models recently and their performance was on par with what you would expect to find in an OLED television. Click here to learn more about Vizio's OLED lineup.
Read More:
Samsung Crystal UHD 7 Series Review: Good Picture Quality for a Good Price
LG 50UN7300PUF Review: Great Budget 4k TV
Samsung UN32M4500BFXZA Review: A Feature-rich Smart TV in a Compact Package
Sony X900H Review: One of 2020's Best Televisions
Gigabyte G34WQC Review: Best Performing Gaming Monitor