*** TVReviewland.com earns commissions on qualifying purchases made through affiliate links ***
It didn't take long into our Sony X900H review for us to realize this was a brand new type of 4k Ultra UD TV that far exceeds what its competitors offer. The performance of this television has already led to a cult following for gamers who are happy to have access to an affordable TV that can handle the specs of the highly-anticipated PlayStation 5 console due for release during the holiday season.
Sony X900H Review: What's in the box?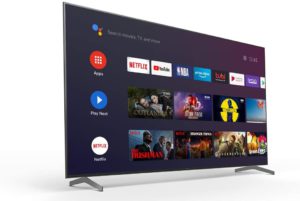 Available in 55, 65, 75, and 85-inch version, this television is designed to be the main TV in your home and it can also serve as a hub for your home's smart system. Let's jump right into our Sony X900H review.
The X900H comes with a minimal, modern design that includes thin bezels on its sides and a metal stand that comes with it. Attaching the stand to the TV couldn't be any easier. No screws or tools are required. The feet on the stand are wide apart so the TV needs to be placed on a table that is as wide as it is if the standing mount is being used. The stands provide great support for the television, but there is some wobble as is usually the case with these types of stands. The space between the feet of the stands is a great place to place your soundbar. Each foot has a clip that can be used to manage wires.
There's not much going on the back of the X900H besides the 300 x 300 VESA mounting holes. The input slots are side facing so you can easily connect and disconnect devices even if the television is mounted on a wall.
The X900H is one the moderate side when it comes to its thickness, but that just all the good stuff that makes it one of the most coveted televisions released in 2020.
[Read what others are saying about this television]
Picture quality
The X900H comes with an impressive 4267:1 native contrast ration. What does that mean, it means this television creates deep black colors, creating clear pictures even when viewing in a dark room. It makes it an excellent choice for movie night.
It comes with an LCD screen, instead of an IPS screen like its 2019 predecessor. This VA-type LCD screen leads to improved color and brightness. Pictures on this television are detailed and vivid. They still manage to maintain their natural look despite the richness of the colors produced.
Picture noise is virtually not a thing, edges are smooth, and textures and skin tones look convincing. It comes with a MotionFlow function that leads to smooth dynamic videos.
The X900H offers three picture models for Dolby Vision content: Dolby Vision Dark, Dolby Vision Vivid, and Dolby Vision Bright. The Dolby Vivid setting allows people with vision issues like cataracts to enjoy clear pictures.
Diving further into our Sony X900H review, we noticed the clear and detailed pictures provided by this television were powered by the manufacturer's patented X1 4k HDR engine. This engine can also handle sub 4k inputs and improve their quality.
The images created by the X900H are deeply immersive, making it a favorite among gamers. This television currently lacks HDMI 2.1 capability, but Sony has assured gamers than a firmware update will sort that out prior to the launch of the PlayStation 5. With an input lag time of less than 20ms, gamers will have a challenging time finding a television that offers more, while still being a great living room TV.
Sound
The X900H comes with a decent sound system that should be enough for most users. No, it's nothing compared to the sound quality you would get from a decent soundbar, but its good enough to enjoy most games and movies. You can even turn it up to the max level without losing that much sound quality. However, if you're looking to create something as close as a movie theatre, invest in a soundbar or audio system.
Inputs
This television is loaded with input and output ports, allowing you to connect your other devices to the TV. It comes with 4 HDMI ports, an F-type port, an RCA port, a 2RCA port, a TOSLINK Optical output port, a headphone jack, 2.4 and 5 GHz Wi-Fi connectivity, 2 USB ports, an Ethernet port, and Bluetooth connectivity. Most of these ports are side-facing. Making it easy to disconnect and reconnect devices when the television is mounted on a wall.
Cool features
The X900H comes with features like Google Assistant and Smart Android TV, allowing you to use your voice to operate your home smart network and television. It makes searching for movies or managing household tasks easier. This television is also compatible with Alexa and all of its capabilities. Think we've covered everything you need to know. We'll wrap up our Sony X900H review by going over the pros and cons of this television.
Pros
Great picture quality and contrast ratio
Will be HDMI 2.1 compatible by the time the PlayStation 5 console is released
Input lag less than 20 ms
Great black uniformity
Adequate audio system
Cons
You'll need some strong biceps to install these at 70 pounds
Viewing angles could be improved
Sony X900H review verdict: Sony means business
There's no way around it. The X900H is an impressive TV. It is designed for those who want the best picture quality and gaming experience they can get and it delivers the good. It's a smart TV, it's loaded with features. It has four HDMI ports for crying out loud. Sony listened to their consumers and delivered a TV that meets the needs of the most demanding modern viewers around. Click here to learn more about this television.
Read more:
LG 55UM7300PUA Review: Alexa Built-in 55″ 4K UHD Smart LED TV
Samsung Crystal UHD 7 Series Review: Good Picture Quality for a Good Price
LG 50UN7300PUF Review: Great Budget 4k TV
Samsung QN65Q60RAFXZA Review: The Balance between Price and Performance
Samsung UN32M4500BFXZA Review: A Feature-rich Smart TV in a Compact Package