*** TVReviewland.com earns commissions on qualifying purchases made through affiliate links ***
Today's Samsung QN65Q60RAFXZA review looks at the performance of an entry-level QLED TV over the course of a year.
The Q60 series was Samsung's 2019 effort to bring affordable QLED televisions to market. At the time of their launch, Q60 panels cost half as much as the Q90, their flagship cousins. Did the manufacturer make any tradeoffs between pricing and performance? Let's find out.
Samsung QN65Q60RAFXZA Review: Right out of the box
The 65-inch Samsung Q60 comes in a hefty package. Inside this package are the TV itself, a pair of TV legs, a remote, batteries, and a power cable. You will also find a pack of screws, cable clips, and a user manual.
First looks
Samsung favors the minimalist look for their QLED televisions, including the Q60 series. The 65-inch Q60 sits in a chassis of textured black plastic. This chassis frames the screen with barely-there brushed bezels that look and feel rough to the touch.
The TV has a sleek side-profile that starts thin at the top; gradually getting wider the lower you go. At its widest point, the Samsung QN65Q60 is only 2.5 inches thick. It will hug the wall nicely if you choose to mount it. Should you choose to put in on an entertainment stand, find one that can accommodate a footprint of 39"x11".
The back surface of the QN65Q60 has a rough ribbon texture that gives a premium feel to an otherwise plastic housing. This back panel holds a 400×400 VESA wall mount pattern and cable management grooves that run along the length of the TV. You will also find a set of input ports that may be a little hard to reach if you mount the screen.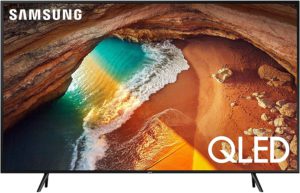 Samsung QN65Q60RAFXZA Review: Inputs and connectivity
Keep in mind that the Samsung QN65Q60 lacks analog ports. Still, it has a good selection of modern inputs like:
Four HDMI ports, one of which (HDMI4) has ARC capability
Two USB ports
A digital optical audio output
An Ethernet port
A Coaxial port for a cable box or antenna
The TV also has a wireless adapter for Bluetooth and WiFi. You can connect to home WiFi networks that operate on both 2.4GHz and 5GHz.
[Read what others are saying about this TV]
Smart interface
Samsung's Q60 series runs as the same interface as the flagship Q90 models from 2019. So expect to enjoy the full suite of features from Tizen OS.
Setup is a simple process that ends at the home screen; a simple affair with a SmartHub ribbon running across the bottom. The smart hub will curate content, based on your viewing habits, to give you a customized menu. Unfortunately, you will have to make peace with ads and whatever else Samsung wants to push.
The version of Tizen that runs the Q60 is responsive, thanks to the minimal input lag of these panels. It only takes 2 seconds to load apps like Netflix or YouTube. Browsing through menu items is a smooth experience punctuated with Tizen's typical animation.
Samsung QN65Q60RAFXZA Review: Smart home features
Among the many apps available to Tizen is SmartThings, which allows the Samsung QN65Q60 to interact or control compatible smart devices. There's also Bixby, who is great at executing simple commands but gets lost in the weeds if you take a conversational tack. So expect to make good friends with the remote as you train the voice assistant.
You'll need to go through a second device if you want to use Alexa or Google Assistant. A smart speaker would work just fine.
Hardware and picture quality
The next part of this Samsung QN65Q60RAFXZA review is picture quality, a function of the native capability of the display. The QN65Q60 is an LCD panel with a quantum dot filter that does wonders for color accuracy. It has LED backlights along its edges, which limits the screen's ability to perform local dimming.
Like most Samsung televisions, the QN65Q60 is a VA panel, which implies narrow viewing angles. However, VA panels are also known for their impressive brightness levels; a feature that goes a long way towards reproducing rich HDR content.
Let's see how the hardware performs.
1. Color and brightness
QLED panels are famous for color accuracy and the Samsung QN65Q60 is no exception. The colors are accurate right out of the box. They are neither too warm nor too cool. The display's wide color gamut has the material necessary to create a near-exact reproduction of a source signal.
A peak brightness level of 424 nits (in HDR) adds to the color palette available to the 65-inch Q60. While 424 nits is plenty for standard content, it falls short when it comes to HDR. This translates to HDR content that doesn't quite 'pop' as it should.
2. Contrast and detail
The panel's HDR peak brightness is nothing to write home about, but its black levels are a different story. Q60 panels render deep, inky blacks that are useful in creating stark and stunning contrast.
A native contrast ratio of 6000:1 allows the Q60 to render minute detail with great clarity. You'll be able to pick out a colorful insect crawling over a large and equally colorful bunch of flowers. However, Q60 panels lack local dimming. This, combined with the relative dimness of the TV, takes away from the television's ability to render shadow contouring.
3. Screen uniformity
Q60 panels are edge-lit (with little local dimming to speak of). This has an effect on the uniformity of the screen, especially with content like sports, where the pitch is mostly one single color.
On a black screen, you will notice brighter patches in some of the corners. In contrast, the edges are darker on a grey screen. However, the center of the grey screen is uniform, which pretty much eliminates the possibility of a dirty screen effect. This means no brown patches on the football field during the big game.
4. Motion handling
Impressive grey-to-grey response time of 10ms makes the 65-inch Samsung Q60 a dream for gamers and sports fans. No matter the speed of your content, you'll be hard-pressed to find any motion blur.
The same goes for input lag. At only 14ms for 4K content in game mode, the Q60 has lightning-fast reflexes that make gameplay a breathtaking experience. The low input lag also contributes to the responsiveness of Tizen.
Sound
A pair of 40W speakers are responsible for sound production in the Samsung Q65Q60. They do a decent job of producing a full range of audio frequencies. You can watch TV without connecting it to an audio rig, and the sound will still be loud and clear.
That said modern TV speakers lack the bass and range of external audio setups.
Pros
Nice design and a solid build
Expansive color gamut and accurate color reproduction
Feature-rich smart interface that supports Apple play
Excellent support for gaming consoles
Great motion handling
Good sound quality
Cons
No opt-out for ads and recommended content
A lack of legacy inputs like composite/component AV ports
Some buyers report that the Samsung Q60 panels randomly power on
The screen is glossy and reflective, which results in glare
Dim for a TV that supports HDR content, with inconsistent backlighting
Samsung QN65Q60RAFXZA review verdict: Solid performance, with some kinks
The Samsung Q60 boasts peerless motion handling, so gaming and car chases make for an amazing experience. However, the dimness of the screen limits the quality of HDR content. So much so that the 65-inch Samsung Q60 lacks support for the more demanding Dolby Vision format.
Still, this Samsung QN65Q60RAFXZA review reveals a feature-rich smart TV with excellent color. Despite fierce competition from cheaper TVs with similar specs, you could do a whole lot worse than this 65-inch QLED display. Click here to learn more about this television.
Read more:
Element TV Review 2019: Things You Should Know Before Buying One
LG 55UM7300PUA Review: Alexa Built-in 55″ 4K UHD Smart LED TV
Best Budget Sound Bar: Vizio SB3621-E8
Samsung Crystal UHD 7 Series Review: Good Picture Quality for a Good Price
LG 50UN7300PUF Review: Great Budget 4k TV