*** TVReviewland.com earns commissions on qualifying purchases made through affiliate links ***
This is a Hisense 50A65H TV review that unpacks the concept of the irresistible deal.
Electronics become more affordable the longer they stay in the market, allowing shoppers to snag good deals on high-end displays. Then there's the annual sales event like Black Friday or the seasonal clearance sale by major retailers. These kinds of bargains can get you a large, 4K smart TV for a few hundred dollars.
A third type of bargain is the affordable brand, which covers names like TCL and Hisense. Private-label brands from retail chains like BestBuy also fall into this category. These brands are typically less costly than household names with established reputations.
We review the 50-inch Hisense A65H to look at the performance of a super-saver smart TV with 4K resolution.
Hisense 50A65H TV review: Target market segment
The price tag of the Hisense A65H series will catch the eye of the shopper on a tight budget. For less than $350, you get 4K resolution, basic gaming support, and a full suite of smart TV features. The manufacturer promises potential buyers the following highlights:
HDR capability
Hisense says that the A6H carries support for HDR formats; specifically Dolby Vision. On paper, HDR support should deliver good picture quality for movies and TV shows.
Low input lag for motion handling in sports content and gaming
The Hisense A65H promises extremely low lag that allows for smooth and responsive gameplay. An input lag of 9ms should minimize motion blur in game mode and sports mode. This makes the A6H a good companion for the person who wants a super-affordable gaming screen. The only catch is that this is a 60Hz panel that lacks support for 4K/120 game titles.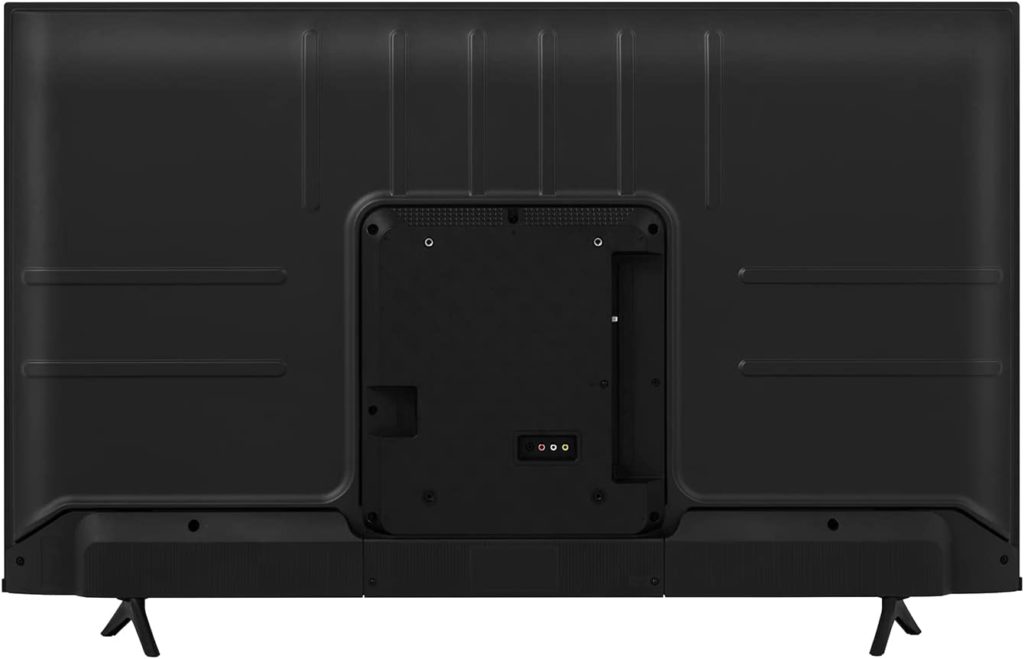 Feature-rich smart TV platform
Google TV gives you access to thousands of apps from the vast catalog of the Play Store. The interface comes with modules that support voice commands and control of compatible smart home devices. Chromecast and Apple airplay also allow screen mirroring of your phone or tablet.
Decent performance as a computer monitor
Many of the A6H models are IPS panels with wide viewing angles that are ideal for a large PC display. 4K resolution (and some effort from the manufacturer) ensures that there's little pixelation at close range. Text and images remain crisp while colors remain accurate, even when you sit right in front of the TV.
Now we find out how well the 50-inch Hisense A6H holds up when we put the TV through its paces. The design and physical build of this panel seem like a good place to start.
[Read what others are saying about this television]
Hisense 50A65H TV review: Design and build
A slim side profile and even slimmer bezels create an edgy feel to the Hisense A65H. At a thickness of 2.8 inches, the panel can sit flush against the wall. Only cables from a set of rear-facing ports would complicate a wall-mount installation of this widescreen TV. Putting the display on an entertainment stand is also an option; as long as you have furniture that's as long as the TV. This should be enough room to accommodate the large footprint of the TV legs.
The cabinet of the A6H is a mix of matte, patterned, and glossy plastic. The build quality is decent enough, but the back panel has some give when you put pressure on it.
An extension that piggybacks off the back panel holds a VESA wall mount pattern and two sets of ports.
Hisense 50A65H TV review: Connectivity
Three HDMI ports sit in an inset with a column of side-facing ports. The first HDMI port has eARC capability, allowing audio from an input source to pass through the TV and reach connected audio equipment.
All three ports support 4K/60 content, with an input lag of just under 10 milliseconds. This feature enables the Hisense A65H to deliver a responsive screen during gameplay and PC use.
You also get your pick of the following ports:
A set of composite AV ports (one RCA Component video input and a pair of L/R composite audio inputs)
Two USB ports
RF connector
An Ethernet jack with a maximum speed of 100 Mbps
A wireless adapter provides a dual-band WiFi connection and Bluetooth. You may have to run a firmware update to stabilize your wireless connections and the TV software as a whole.
Smart TV interface: Google TV
This Android-based platform offers countless features and a large selection of apps, courtesy of the Play Store. Google TV comes with a native voice assistant that you can talk to by pressing the microphone button on the TV remote. The Google ecosystem also gives access to features like:
Screen sharing with Chromecast and Airplay
A personalized home screen that curates content in response to your viewing habits
Modules that allow you to view, access, and manage compatible smart home devices
Google TV has a responsive interface that only needs four seconds to select and load the home pages of most apps. Scrolling from one menu item to another is equally fast, with fluid movement from the cursor and icon animations.
Hisense 50A65H TV review: Hardware and performance
The 50-inch Hisense A65H is a 60Hz IPS panel with 4K resolution, direct backlighting, and no local dimming. IPS panels like the A6H are often dim, and this limits the display's ability to render brilliant HDR highlights. A sustained peak brightness level of 270 nits is dim by any standard, but the A65H processor does its best to pick up the slack.
Color reproduction
This 4K panel has a color gamut that we'll describe as 'fine'. As color palettes go, the A65H has enough material to perform accurate color reproduction. You may not be looking at OLED-level color accuracy, but the TV punches well above its weight class.
Brightness, contrast, and HDR content
Dim TV sets can only do so much to deliver bright HDR highlights and shadow detailing. A lack of local dimming further limits what a dim panel can do to render stark contrast. Still, the processing hardware of the Hisense A6H makes a valiant attempt at texture and fine detail.
Movie buffs who are sticklers for flawless images may want to avoid watching cinematic pieces in a dark room. However, the A6H does a decent job with less demanding HDR content like TV shows from your favorite streaming app.
Viewing angles
Wide viewing angles make the Hisense A65H a good fit for large audiences and wide seating arrangements.
Screen uniformity
Some shoppers report light bleedthrough that takes away from the black and gray uniformity of the Hisense A65H. The resulting cloudy screen is most noticeable with dark-room viewing.
Motion handling
On one hand, the A6H has incredibly low input lag that allows for responsive gameplay and smooth navigation of the Android UI. On the other hand, the TV has a slow response time that causes some motion blur. This is the type of tradeoff shoppers should consider with entry-level TV sets like the 50-inch A65H.
In addition to low input lag, the Hisense A65H offers a little extra support for gaming. For starters, the TV switches to Automatic low-latency mode when it detects a gaming console. The A6H also has VRR capability that allows it to lower its refresh rate to match game titles with slower frame rates. This goes a long way to prevent screen tearing, especially during PC gaming.
Pros
Very affordable
VRR capability
Low input lag in game and sports modes
Auto Low-Latency mode kicks in to decrease input lag whenever the panel detects a gaming console
Works great as a computer monitor
Good color reproduction
Cons
No local dimming, which limits the panel's ability to render contrast
The TV is also dim
You may experience lag and glitches with an Android platform that could benefit from a software update
Some buyers report light bleedthrough and blooming that affects screen uniformity
Other buyers report a shaky wireless adapter
Hisense needs to invest in better quality control for their budget product lines
Hisense 50A65H TV review verdict: An affordable TV that covers all the basics
This Hisense 50A65H TV review reveals an entry-level TV that delivers plenty of features for a low price. The picture quality of the display is also pretty good across different performance metrics.
It's worth noting that a firmware update may go a long way in improving your user experience. This is just one of the small tradeoffs that come with entry-level displays like the A65H product line. Click here to learn more about this television.
Read more:
Sharp 65 Class LED 4K Smart Roku TV Review: Solid Performance For A Steal
How To Activate YouTube on Amazon Prime: What You Need To Know
Samsung N5200 Review: Solid Picture Quality in a Retro Package
Fire TV Cube 3rd Gen Review: Speed and Roaring Power Crouch in a Small Box
LG OLED B2 65 Review: OLED Excellence at a Reasonable Price