*** TVReviewland.com earns commissions on qualifying purchases made through affiliate links ***
Doing a Sony A8H review more than a year after the product release can be informative. This type of review reveals how well a TV holds up past the 'honeymoon phase.'
The Sony A8H is a wide-screen OLED TV that comes in 55" and 65" sizes. Larger TV sets tend to cost more, which explains the price point. When you take size into account, the A8H OLED series is affordable. Let's dive into the review to see if the performance of the A8H justifies its price point.
Sony A8H review: Design and build
Each pixel in an OLED panel lights up on its own, without the need for an external light source. This means OLED TVs work perfectly fine without an LED backlight array. The omission of an LED backlight module gives us an ultra-thin panel that makes for eye-catching design choices.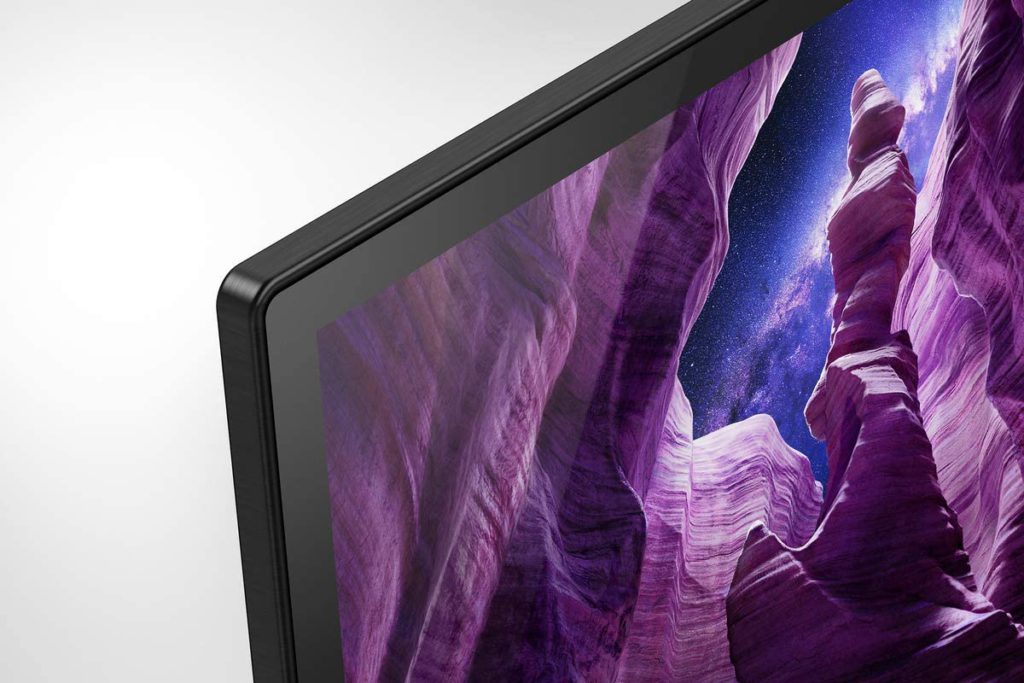 The Sony A8H has an angular side-profile that starts as a paper-thin OLED panel. It expands after a few inches, right where a plastic extension with TV guts attaches to the screen. Still, the A8H remains ultra-thin, with a thickness of 2.1 inches at its thickest point.
This TV has a metal chassis that makes for a sturdy build, so expect many years of fun from the A8H product line. The top and sides of the display have no bezels to speak of, leaving the screen to extend all the way to the edge.
You can mount the TV via the 300×300 VESA mount pattern, or you can set it on your entertainment stand. Adjustable TV legs allow you to raise and lower the TV height to your liking. These metallic legs also have grooves on the underside for cable management. Two sets of ports complete the landscape of the back panel.
Inputs, connectivity, and support for content format
A column of input ports sits on the left end of the TV, where you can easily access them. The column consists of an IR receiver jack, a composite video port, two USB ports, and an HDMI port.
Now, the rear ports are where all the versatility is at. A USB port, three HDMI ports, an RS232 jack, and an optical output sit in a row. An Ethernet jack and an antenna connector complete the set. Lastly, the TV has a wireless adapter for Bluetooth and WiFi connections.
The HDMI and optical ports support audio pass-through, allowing for sound formats like DTS 5.1, Dolby 5.1, and ARC. This allows the Sony A8H to channel sound from connected devices (like a Blu-ray or gaming console) to external speakers.
These ports also support HDR content in all resolutions and (most) frame rates. This means that your gaming consoles should work fine with the A8H, at least for gaming titles with moderate graphics demands. However, the lack of HDMI 2.1 capability and variable refresh rate limits what the TV can deliver when gaming.
[Read what others are saying about this television]
Sony A8H review: Smart TV interface
The A8H series runs on Android TV, a feature-rich interface with more tools and apps than you could ever need. Android TV ships with Google Assistant, with support for Alexa and different smart home platforms.
Navigating the interface is a pleasant experience, thanks to the TV hardware's low lag and quick response. It also helps that Android TV quickly learns your usage and viewing preferences to create a personalized landscape unique just for you.
You can comfortably use the TV to connect to your smart home devices or as part of your gaming rig. Or you can sit back and let the magic of an OLED display transport you to the world of your favorite show.
Sony A8H review: Hardware
The Sony Bravia A8H is an OLED panel with a powerful X1 processor that handles numerous image processing tasks. This processor executes motion handling, color reproduction, and realistic video upscaling. The combination of an OLED panel with powerful image processing promises good picture quality.
As for the display's internal sound, the TV comes with a pair of 10-watt actuators and a pair of 5-watt subwoofers. They use the glass on the OLED panel as a vibrational surface to amplify the sound. The internal audio setup does a pretty decent job with limited space. Still, it's no match for the power and immersive feel of an actual sound system.
Sony A8H review: Picture quality
Good picture quality will pull you into the world unfolding on the TV, right before your eyes. A TV that does a good job reproducing accurate pictures will render accurate color and execute stark, dazzling contrast.
The TV should also do an excellent job of motion handling; to counter blurring, stutter, and screen tearing. Ideally, the TV should adjust to match the graphics requirement of a wide array of input sources. Here is how the Bravia A8H performs across different metrics:
1. Picture quality: Color accuracy
The A8H Sony Bravia OLED boasts perfect color reproduction. It has a wide color gamut that covers 97 percent of the DCI P3 color space and more than 70 percent of the Rec 2020 color space.
This expansive color palette gives the display's X1 processor all the material it needs to recreate a source signal. The end result looks exactly how the videographer shot it.
2. Picture quality: Brightness, color volume, and HDR content
OLED screens tend to be dimmer than equivalent LCD panels, but the Sony A8H manages to hold its own. The TV gets bright enough to withstand a fair amount of ambient light. That being said, the picture will look more vivid in a dimmer room.
At peak brightness levels of 650 nits, the A8H OLED is bright enough to expand the native color palette of the display. The resulting color volume is large enough to reproduce accurate HDR content with highlights that pop and hues that leap out of the screen.
On the strength of brightness and color reproduction alone, this TV does a great job of executing detail. Excellent contrast would be icing on a great cake.
3. Picture quality: Black levels and contrast
Individual pixels in an OLED screen execute perfect blacks by simply going dark. This means that no current makes its way through a pixel, resulting in perfect, black darkness. The resultant black level of zero candelas translates into infinite contrast. Here's what that means for your viewing pleasure:
OLED screens are free of drawbacks like light bleed through, which causes light to leak into parts of an image that should remain dark. Instead, an OLED screen will produce a burst of light framed by the all-consuming darkness of space. A spaceship that falls to enemy fire will look beautiful as it lights up its small section of space before fading into oblivion.
4. Input lag, response time, and motion handling
The Sony Bravia A8H has a decent input lag of just under 20ms, which works fine. The pixels are even more nimble, changing color in less than five milliseconds. These pixels respond so quickly that the display's X1 processor has to step in to compensate for their speed.
The near-instant response time of the Sony A8H can result in stutter (choppy motion), especially with content that has a low frame rate. Engaging motion handling features like motion smoothing and frame insertion corrects this problem. It bears noting that leaving these features on for content with high frame rates may cause issues like the soap opera effect.
Pros
Solid build quality
Feature-rich smart TV interface that you can customize
Accurate color reproduction with wide viewing angles
Low lag time and no motion blur
Clever motion handling that allows the panel to keep up with quick responses times
Realistic video upscaling that does just enough
Cons
Lack of HDMI 2.1 capability limits the game titles you can play on this screen
The Sony A8H also lacks advanced gaming features like VRR
OLED panels like the A8H are much dimmer than TVs with LED backlighting
A small risk of burn-in for screens that display unchanging content (this could happen if you use the A8H as a PC monitor)
Sony A8H review verdict: Value for money, hands down
This Sony A8H review finds an OLED screen that demonstrates solid, consistent performance across the board. One or two firmware updates only improve the function of the TV interface.
In other words, the Sony Bravia A8H is a worthwhile investment that's good for movie night or for watching the big game with your friends. However, serious gamers should find a TV that can keep up with demanding game titles. Click here to learn more about this TV.
Read more:
LG 4.1 Wireless Bluetooth Soundbar Review
A Comprehensive Vizio V705x-J03 Review for Budget Television Buyers
Samsung T415 Soundbar Review: Can't Beat the Price
Gateway 15.6 Ultra-Slim Notebook Review: Too Good to be True?
Samsung A430 Soundbar Review for Audiophiles and Bargain Hunters