*** TVReviewland.com earns commissions on qualifying purchases made through affiliate links ***
This Acer Predator Helios 300 review has been long overdue. The Acer Predator Helios 300 gaming laptop has been a fan favorite on Amazon for a while now. So much so that Acer keeps making incremental improvements to its hardware. The result is that each new iteration of this laptop comes with more power at the same price point, more or less.
The 2019 model of the Acer Predator Helios 300 has a ninth-generation core i7 processor and several hardware tweaks that improve overall performance. Let us take a closer look at this high-performance laptop:
Acer Predator Helios 300 review part 1: Unboxing
The package contains a laptop, a power cord, a power adapter and a cable with which you can connect an additional hard drive. You will also find a casing for the extra hard drive, a warranty card, a user manual and a few other pieces of documentation.
First looks
High-performance laptops tend to be chunky, due to the sheer amount of powerful hardware packed inside them. The Predator Helios 300 series from Acer falls under this category, but the 2019 model of this laptop is a little more compact than its predecessors.
The laptop is 14 inches wide, 10 inches deep and 0.9 inches high. At 2.5 pounds, it has some heft to it. This PC is matte black with blue accents on its cover, touchpad and backlit keys. It is worth noting that the manufacturer logo is also backlit, which could be a problem for someone who likes understated electronics. This Acer Predator Helios 300 review is just getting started.
[Related: Acer Aspire 5 Review]
Build and design
The 2019 Predator Helios 300 is built with high-quality material, making it sturdy and durable. The top lid is metallic while the bottom surface is made of tough plastic. When you power the laptop, the LED lights up, right where the logo and accents are.
The bottom of the laptop has lots of vents on it, which circulate the air that keeps the whole setup cool. It also has rubber stops that prevent slippage. The sides of the laptop have air vents as well. You should know that the internal speakers of this laptop point downwards, but they do tilt outwards at a slight angle. So expect some of the sound to bounce off whatever surface the laptop rests on.
This laptop looks a lot like a rugged computer, with its square shape and angular edges. There are no curves or rounded corners on this machine. It looks exactly like the archetypical gaming laptop. As you open the machine, you will appreciate the ultra-smooth hinge that gives the exact right amount of resistance.
Design: Interior
A huge part of how we interact with our laptops is the keyboard, so it is important that we find one that is comfortable and easy to use. When you open up the 2019 Helios 300, you will come face to face with a matte-black, backlit keyboard and a backlit touchpad. The input area is surrounded by a metallic surface that extends to the edges of the PC.
The 7.5mm keys are a little stiff and will take some getting used to. That being said, the matte surface of the keys and touchpad make them resistant to smudges and fingerprints. We'll explore how this gaming laptop handles inputs/outputs in the next section of our Acer Predator Helios 300 review.
Inputs/Outputs and connectivity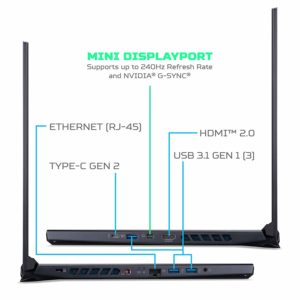 There are ports on either side of the laptop. On the left side, you have a headphone jack, two USB 3.1 ports and a Gigabit Ethernet port and a power port. On the right side, you have a USB-C port, a USB3.1 port, a DVI port and an HDMI port.
The laptop also comes with an 802.11ac wireless adapter.
[Read what others are saying about the Acer Predator Helios 300]
Display
The screen is framed with thin bezels that are only 8mm thick, though the bottom edge has a thicker cover that holds the wiring that connects the screen and the rest of the laptop.
The screen also has a matte surface that minimizes glare and smudges. The panel is a 1080p IPS panel with a refresh rate of 144 frames per second, as per the manufacturer's specifications.
Display: Color accuracy, brightness and contrast
In addition to its high resolution, the panel has a color gamut with enough depth to allow the rendition of accurate, saturated colors. If you were to measure the range and depth of color available to this screen, you would find its color gamut covers 99 percent of the sRGB spectrum or 70 percent of the NTSC spectrum.
The peak brightness of the screen is around 312cd/m2, which is impressive by any standard. You should have no problem using this laptop in a brightly lit room. The panel has a native contrast ratio of approximately 1000:1, which allows this display to render sharp, detailed picture. Not done yet! We still have a few more important features to cover before wrapping up this Acer Predator Helios 300 review.
Display: Response time and motion handling
Low input lag and smooth motion have to be the most important considerations for a gamer. That is why response time and motion handling are the very first things that a gamer will look for in a PC.
The screen has a 3ms response time to input signals, which means that it will respond to your commands with near-zero lag. The number one reason why this screen is so responsive is the powerful hardware that runs the laptop.
Chipset and memory
The 2019 Acer Predator Helios 300 has a ninth-generation core i7 processor. This means that the laptop has an array of six processors, with a maximum clock speed of 4.5 GHz. The 2019 Helios 300 also has 16Gb DDR4 RAM to help the CPU along. This is a sufficient amount of processing power for a high-performance laptop.
Still, this is a gaming laptop that is specifically designed to meet the high demands of large, resource-intensive games. So Acer included an NVIDIA GeForce GTX 1660 Ti Graphics processing unit with 6GB dedicated VRAM. The CPU and GPU work together to ensure near-zero lag times and an immersive gaming experience.
Storage
This laptop comes with a 256 GB solid-state drive, which makes for super-fast startup and data retrieval. It also comes with a slot for a second hard drive.
Battery life
Previous versions of the Acer Predator Helios 300 go through a fully charged battery in a short time, so the people at Acer decided to make some improvements to the battery. Now, when you push the 2019 Predator Helios to its limits, the battery will last for three to five hours. This is actually not that bad. We'll close out our Acer Predator Helios 300 review by summarizing the main points you should consider before making a decision to buy this gaming laptop.
Pros
Well built, with durable materials
Compact form
Thin bezels that leave most of the screen free to display picture
Responsive display with good picture quality
Powerful chipset, memory and storage
High performance, made possible by the powerful hardware in this laptop
Backlit keys that you can divide into four zones, each with a different backlight color
Good battery holding time
Cons
The backlit accents are eye-catching and not at all subtle
The angular edges can be a little uncomfortable
When you push this laptop to 100 percent CPU and GPU usage, it gets hot and loud
Acer Predator Helios 300 review verdict: This model is the best one yet
It seems like Acer tries to outdo themselves with each release of the Predator Helios 300 gaming laptop. The 2019 model is the newest product in the line and it does perform better than its predecessors. This is, in large part, due to an upgraded chipset and a longer-lasting battery.
Simply put, the 2019 Acer Predator Helios 300 has everything you could want in a gaming laptop. Its performance is comparable with competing brands and at an unbeatable price.
Read more:
Samsung Q70 Series Review: Good Performance at a Good Price
Naruto Television Show: The Enduring Appeal
Sony 85-inch TV XBR85X850F Ultra 4K HD: Is It Too Big to Succeed?
Samsung Crystal UHD Review: Good Picture Quality for a Good Price