*** TVReviewland.com earns commissions on qualifying purchases made through affiliate links ***
Are you looking for a Sceptre curved monitor review with some meat to its bones? Here's one.
The 27-inch Sceptre C275W-1920RN grabs your attention with its curves and its barely-there bezels. A deep dive into the features and performance of the display goes past compelling aesthetics and into the overall quality. We start by listing the qualities that every customer wants in their monitor.
Sceptre Curved Monitor Review: The checklist for an ideal monitor
Shopping for a TV or monitor can be daunting. There's an endless selection of products to choose from and a dictionary's worth of acronyms you need to know about. So it's a good thing that you can speed up your search with a checklist.
Create a list of the must-have qualities of your ideal monitor and use it to narrow your search. You can choose what's most important to you from this selection:
A sturdy, durable product
Useful input ports
Where possible, wireless connectivity
High resolution and good pixel density
Accurate color reproduction
Crisp, detailed picture with excellent contrast
Wide viewing angles
Low response times that minimizes ghosting and blurring as pixels change colors
Great motion handling that reduces the chances of screen tearing
An avid gamer will care about resolution, motion handling, input ports, and response time. They will also care about resolution. A person that does a lot of image processing and video editing will care about the resolution and color accuracy of a display. The shopper looking for an all-purpose monitor will have a much shorter list.
With your checklist on hand, let's see what this 27-inch Sceptre display has to offer.
Sceptre Curved Monitor Review: Unboxing
The Sceptre C275W ships with a disassembled stand, the screws you'll need to install the stand, and a screwdriver. It comes with an HDMI cable, a VGA cable, a power cable and a user guide. This entry-level monitor also comes with wall-mount brackets that you should probably use, for reasons you'll see below.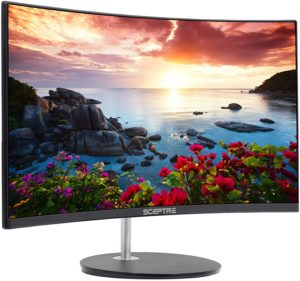 Design
The Sceptre C275W sits in a curved, charcoal-grey chassis with a matte finish. The gentle 1920R curve of the monitor goes nicely with the oval stand that holds up the whole thing. At only one-tenth of an inch on three sides, this monitor has no real bezels to speak of. This adds edginess to the slick aesthetics.
You'll notice that the bottom border is a little wide, to make space for the Sceptre logo. For whatever reason, the manufacturer chose not to place controls on or under the bezel. Those are at the back, along with the inputs and the stand.
The hinged stand has a slim, oval base that's nice to look at. From a practical standpoint though, this stand disappoints. You can only tilt the stand a few degrees in either direction. There's no way to swivel or raise the stand. It's worth noting that you can find monitors with a wider range of motion at the price point of the C275W. You might want to mount this monitor should you choose to buy it.
[Read what others are saying about this monitor]
Inputs
The back of the monitor holds a 100x100mm VESA pattern as well as an allowance for the stand. It also holds a nice selection of inputs.
You can connect your PC or gaming rig to the Scepter C275W using one of several kinds of ports. The back panel holds a VGA connector and a display (DPI) port. There's also an HDMI port, which comes in handy for gaming consoles. Lastly, there's a 3.5mm audio jack that allows you to improve the sound coming from the display.
Setup
The most challenging part of the physical installation is the assembly of the stand; a process that will only take a minute or two. Attaching the stand to the back of the monitor will take a few more minutes, and you'll be done.
Once you switch on the screen, you come face to face with picture quality that's less than optimal. Go ahead and set the refresh rate to 75Hz. This adjustment may go some way to sharpen the picture. You may need to go even further and calibrate the screen outright. The user manual will guide you through the on-screen menu and how to navigate it using the controls at the back of the monitor.
In the next section, we mention a few of the changes you may need to make to improve the overall performance of the Sceptre C275W.
Sceptre Curved Monitor Review: Picture quality
The previous section points to a screen that doesn't hit the ground running. As such, you'll need to play around with a few settings.
The default colors are a little cool right out of the box, so you'll want to increase the color temperature. So switch to a picture mode that allows you to adjust the screen settings. Then do the following:
Switch to User mode, which is a picture mode that allows you to make adjustments
Reduce white balance delta from four to less than one. A white balance delta of 0.9 works fine
Turn down the color difference (dE) from 2.6 to around 0.5
Adjust the color temperature to about 6500 Kelvins
These adjustments work together to increase color accuracy. The happy result is realistic colors with enough depth to render detail, texture, and dimension. Sticking with the freshly recalibrated User mode, let's see how the monitor performs based on different metrics.
1. Resolution
This 27-inch monitor has 1080p resolution, which translates into a pixel density of 81 pixels per inch, which is pretty sparse. Ideally, a 27-inch monitor should have a pixel density of between 95 to 110 PPI.
However, pixel density is only half the equation. The more important question is: How well does the monitor exploit the native capability of its panel? Let's find out.
2. Color and brightness
The Sceptre C275W panel covers the entire sRGB color spectrum. The resulting color palette is wide enough to allow for splendid color reproduction.
Being a VA panel, the C275W boasts a peak brightness level of 220 nits. This adds depth to the already expansive color palette. The resulting color volume equips the monitor with the swatch it needs to recreate shadow contouring, highlighting, 3D simulation, and texture.
While the monitor lacks HDR support, it does an excellent job of color reproduction.
3. Contrast and sharpness
With a native contrast ratio of around 3000:1, the monitor delivers stark visuals that catch the eye. The C275W also does an excellent job of creating detail, dimension, and crisp outlines.
4. Uniformity and viewing angles
White, black, or grey uniformity is a function of the even distribution of a monitor's backlight. The Sceptre C275W is an edge-lit panel that manages to do a passable job of spreading light across the screen. What you get is good grey uniformity, with no patches of glowing light coming through.
However, cloudy patches are visible on a black screen, something you would notice as you watch a dark video scene with the lights turned off.
5. Viewing angles
Your average VA display has narrow viewing angles and the C275W is no different. Past a horizontal angle of 50 degrees, the brightness and colors start to shift. The color shift is less evident in darker scenes.
If you plan to mount the screen, position it at eye level because the vertical viewing angles are also narrow. Bright colors start to shift at approximately 30 degrees. It takes even less of an angle to see light bleedthrough in dark scenes. This bleedthrough is more pronounced at the edges, where the backlights sit.
6. Response time and motion handling
Sceptre advertises a grey-to-grey response time of 8ms for the C275W. In practice, the panel takes a little longer than 8ms to switch between colors. This results in motion blur and ghosting as you watch fast-paced content. The screen also lacks onboard signal processing to mitigate the blurring.
In contrast, the monitor has fairly low input lag. This makes for a responsive screen as you play your preferred racing or first-person shooter game. That said, you might observe some screen tearing with games that need a lot of processing power. Reason being that the C275W lacks support for G-sync and other mechanisms that implement variable refresh rate.
Pros
Sleek design and sturdy build with a VESA wall-mount pattern
Ultra-thin bezels make the monitor an option for a multi-screen setup
A nice selection of inputs
Color reproduction is fairly accurate, after a few adjustments to the monitor's settings
Cons
For a 27-inch screen, the monitor's resolution could be higher
You may find some gaps along the edges of the monitor, and a particle or bug could make its way inside
No USB ports
You may need to calibrate the monitor right out of the box
A keen eye will notice a minor lack of uniformity that translates as glowing patches on a white screen and clouding on a dark screen
The stand only allows for vertical tilting but not height adjustment, rotation or swivel
Sceptre curved monitor review verdict: An affordable option for everyday use
This Sceptre curved monitor review reveals a monitor that renders vibrant color and detailed lifelike images. Just be ready to make a few tweaks to the monitor during setup.
If you're looking for an all-purpose display for simple tasks like light gaming, streaming, or text-based tasks, then the Sceptre C275W works great. However, an avid gamer should find an alternative. Click here to learn more about this monitor.
Read more:
Samsung Q70 Series Review: Good Performance at a Good Price
Naruto Television Show: The Enduring Appeal
Sony 85-inch TV XBR85X850F Ultra 4K HD: Is It Too Big to Succeed?
SunBriteTV 55-Inch Signature 4K UHD TV (2nd Gen) Review
Best TV 2020: Your 10 Best Options