*** TVReviewland.com earns commissions on qualifying purchases made through affiliate links ***
This HP Pavilion i5 GTX 1650 review goes over the specs and performance of this newly released gaming laptop. Some would call it a budget gaming laptop since it can be purchased for less than a grand. If you've bought a gaming laptop in the past, you already know how hard it can be to find a high performing one for less than $2,500.
Let's jump right into our HP Pavilion i5 GTX 1650 review and explore if this laptop performs better or worse than you would expect given its price.
Pavilion i5 GTX 1650 review: First thoughts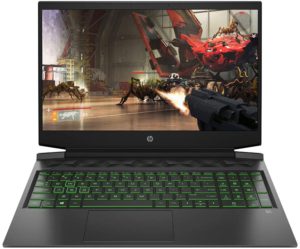 The new Pavilion comes with a 15.6-inch FHD screen that provides 1920 x 1080 resolution for clear and detailed pictures and color. The screen comes standard with an energy-saving WLED screen and anti-glare. It has the standard cool look you would expect a gaming laptop to have.
It is powered by a 9th generation Intel i5-9300 processor with four cores and eight-way processing. That's enough power to play most of the games currently available on PC. If you're mainly into playing resource-intensive games like GTA V or Far Cry with 4K, there are more powerful options like the Acer Predator Triton.
[Read what others are saying about this laptop]
The 16GB DDR4 RAM it comes with also helps to run games or multiple programs smoothly. It's a feature video editors, gamers, and anyone who gets lots of work done on their laptop will appreciate. Applications and files are stored on the 1TB HDD and it also comes with a 256GB SSD.
Users enter inputs with the backlight full-sided keyboard complete with a numeric pad. It allows you to get work done or play games in dimly light environments. Graphics are processed by the NVIDIA GeForce GTX 1650 card that comes with 4GB GDDR5.
Sounds are powered by a pair of B&O speakers, it has an inbuilt microphone, and a wide vision HF camera.
Other noteworthy features of the new Pavilion include:
Comes with Windows 10 Home edition
Has 8.5 hours of battery life
It weighs about 5 pounds
Three USB ports
A media card reader
Wireless-AC
32GB USB card
Pavilion i5 GTX 1650 review verdict: Powerful for a budget gaming laptop
The new Pavilion works well for anyone looking for something a lot more powerful than the average budget laptop. It has enough processing power to enjoy most PC games and it's great for resource-intensive work like video editing as well. Click here to learn more about this laptop.
Read more:
Sony Noise-Canceling Headphones WHCH710N Review
Sony WHXB900N Review: Easy to Use, Great Sound
TCL 55 Class 4k UHD HDR LED Roku Smart TV 4 Series 55S20 Review
Onn 65-inch TV Review: Hard to Beat the Price
Xtreme Time Wireless Earbuds Review