*** TVReviewland.com earns commissions on qualifying purchases made through affiliate links ***
Check out our Sony WHXB900N review to kick the tires of these premium, noise-canceling headphones. The first step to finding out if the headphones come as advertised is getting them out of the box.
Sony WHXB900N review: First looks, design and build
Sony's lightweight WHXB900N headphones have a sturdy build. The blue plastic that forms the arch has a cloth-like texture on its upper surface, giving the headphones a premium feel. The underside of the arch has enough padding to keep you comfortable for hours.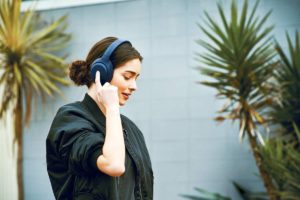 There's also a lot of padding in the earpieces, which is one of the ways that the WHXB900N headphones keep out ambient noise. The tradeoff is a lack of air circulation, which leads to the earpieces becoming warm with time.
Inputs, controls, and ease of use
Each ear cup has a side panel for ease of use. The left panel holds a power button and a touch control that summons the voice assistant of your choice. It also has a 3.5mm audio port and a USB-C charging port.
[Read what others are saying about these headphones]
Playback, calls, and ambient mode
The right panel responds to gestures. A double-tap will start playback or pause it. The same gesture will also answer or end a call. Swiping backward gets you to the previous track while swiping forward skips to the next track. Swiping up and down adjusts the volume.
Lowering the volume to hear the outside world is as simple as placing a palm over the panel.
Ease of use with Sony Headphones Connect app
The companion app for the headphones comes with one or two useful features. For example, the app has a tool that detects what you're doing and adjusts the active noise cancellation (ANC) level to match your activity.
Bluetooth codecs
Your trusty WHXB900N headphones support several codecs that enhance sound quality. Sony's own LDAC codec improves the breadth of the sound coming out of the headphones. Also available to you are aptX, aptX HD, AAC, and SBC codecs.
Sound quality
Sony advertises powerful bass for the WHXB900N and they deliver. The best part is that the bass does not distort at high volume, which is good. Treble frequencies are even more defined and detailed than the bass elements. The headphones also do a good job of striking the right balance as they blend everything together.
Multi-device connection
The headphones allow you to connect two devices at once. This allows you to enjoy playback from your PC, which your phone can interrupt to make way for an incoming call.
Noise-canceling
The active noise canceling feature plugs away without calling attention to itself. You will not experience any background hissing during playback or calls. Better still, you can conduct a phone call in a moderately noisy environment, and your voice will come out crystal clear on the other end.
Battery life
Fully charged, the headphones are good for 30 hours' playback with active noise canceling and 35 hours without. 15 minutes on the charger will yield one hour of playback.
Pros
Solid build
Lightweight design
A variety of Bluetooth codecs that enhance sound quality
Rich treble with a good level of detail and definition
Touch control panels that are feature-rich and easy to use
It only takes a simple hand gesture to activate quick-attention (ambient) mode
Cons
The bass is overpowering, especially when you play bass-heavy songs
You can find headphones that do a better job at noise cancellation, but for a higher price
The Sony WHXB900N is not the most affordable pair of headphones out there. Still, the noise-canceling feature of the headphones makes them worth it
Verdict: Worth every penny
Bang for your buck sums up this Sony WHXB900N review. The headphones are a great purchase all round. Click here to learn more about them.
Read more:
Toshiba 55LF711U20 Review: A Good Starter Smart TV
Samsung UN70TU6980FXZA Review: Amazing Pictures with Surround Sound
Insignia NS-43DF710NA21 Review: A 4K Smart TV For a Steal
Hisense R6090G Review: Impressive Performance at Budget Prices
Sony Noise-Canceling Headphones WHCH710N Review