*** TVReviewland.com earns commissions on qualifying purchases made through affiliate links ***
Our TCL 55 Class 4k UHD HDR LED Roku Smart TV 4 Series 55S20 review explores the performance and features of this affordable television.
TCL is known for their affordable Smart TVs that are sold at budget prices. Those who already use Roku for their streaming needs know what to expect from the software. The TV comes with a 120Hz refresh rate that is perfect for gaming.
TCL 55 Class 4k UHD HDR LED Roku Smart TV 4 Series 55S20 review: First thoughts
The 4 series models come in a variety of sizes from 43 to 75 inches. They all have pretty much the same set up: A plastic stand that provides okay stability, three HDMI ports, and direct backlight. They are either powered by Roku or android depending on which platform you prefer.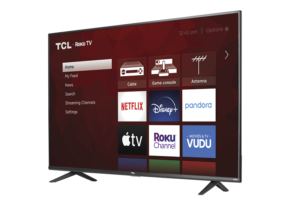 The TCL 55S20 comes in at 27 pounds and it's small enough for you to assemble and move on your own. Given its width, you'd probably be better off with a little help. TCL 4 series TVs come with:
Three HDMI ports (including one HDMI ARC)
Built-in Wi-Fi connections
A USB port
An ethernet jack
An RF connector
A 3.5 mm headphone jack
An optical digital output connector for surround sound
A composite video input port
120Hz CMI
[Read what others are saying about the 4 Series]
Picture quality
TVs in the 4 Series provide 4K picture quality with 3840 x 2160 resolution. It comes with HDR and direct backlighting. This all leads to higher quality pictures than you would expect from a budget television.
Color accuracy is not as impressive leading to some distortion like orange tones looking a bit pinkish. That's the biggest issue you will have to worry about when it comes to picture quality.
The HDR feature lacks local dimming so content is not as sharp as it would be on a premium TV like the Sony X900H. The lack of local dimming also leads to black levels not being as rich and deep as you would find on a higher-tier TV.
Motion handling is not as sharp with 4 Series TVs. You might notice some judder when watching a fast-paced scene. Switching on the Motion Smoothing feature helps to reduce this issue.
Gaming
TCL 4 series TVs come with a Game Mode feature any gamer will appreciate. You get fast response times, and it supports 4K gaming for those planning to get a next-gen console this holiday season. With a signal to screen time of 14ms, TCL 55 Class 4k UHD HDR LED Roku Smart TV 4 Series 55S20 can hold its own even where compared to higher-tier TVs.
Audio
C'mon, you know how it goes; these things are called budget TVs for a reason. TCL cut lots of corners with this audio system. It comes with two 8-watt speakers that don't do much. The volume never really gets loud, so this TV is poorly-suited for rooms with lots of ambient noise unless you connect it to an external audio source.
You don't get much bass from the speakers either. If you want to enjoy decent sound quality with 4 Series TCL TVs, use a set of headphones or a soundbar. Don't say we didn't warn you.
Pros:
Low input lag makes it great for fast-paced games
4K picture quality
Great value
Affordably priced
Cons:
Weak inbuilt sound system
No local dimming
Below average motion handling
TCL 55 Class 4k UHD HDR LED Roku Smart TV 4 Series 55S20 verdict: Excellent value for your money
The 55S20 gives you more than you paid for. You get good picture quality for its class and amazing gaming performance. It's the king of the budget TVs for sure. Click here to read more about 4 Series TVs.
Read more:
Samsung UN70TU6980FXZA Review: Amazing Pictures with Surround Sound
Insignia NS-43DF710NA21 Review: A 4K Smart TV For a Steal
Hisense R6090G Review: Impressive Performance at Budget Prices
Sony Noise-Canceling Headphones WHCH710N Review
Sony WHXB900N Review: Easy to Use, Great Sound
*** The 55S20 is set for release on Nov. 11 at a price of $148. Click here to purchase one.