*** TVReviewland.com earns commissions on qualifying purchases made through affiliate links ***
This Amazon Fire TV 50-inch review is long overdue. Say hello to the Amazon Fire TV 50-inch, an affordable widescreen with useful smart-home features. This entry-level display is the vendor's first attempt at selling its own TV brand.
Until late 2021, Amazon offered the Fire TV interface on external streaming devices or inside budget televisions from other manufacturers. This changed with the Amazon Fire TV 4-series, a budget lineup of 4K smart TVs. Let's see what the 50-inch model offers regarding user experience and overall quality.
Amazon Fire TV 50-inch review: First looks
The Fire TV 4-series has a simple look and a boxy, angular profile. Glossy black bezels form the front end of the display's plastic chassis. At 3.5 inches thick, this is not the sleek, paper-thin TV that hugs the wall like a painting. Instead, the lower half of the panel of the Amazon 4-series sticks out, but not enough to allow easy access to the input ports.
The back panel also carries a 300×300 VESA wall mount pattern and some decorative ridges. A minor adjustment could easily repurpose the ridges and furrows at the bottom into grooves for cable management. Unfortunately, the manufacturer makes no allowances for neat cabling.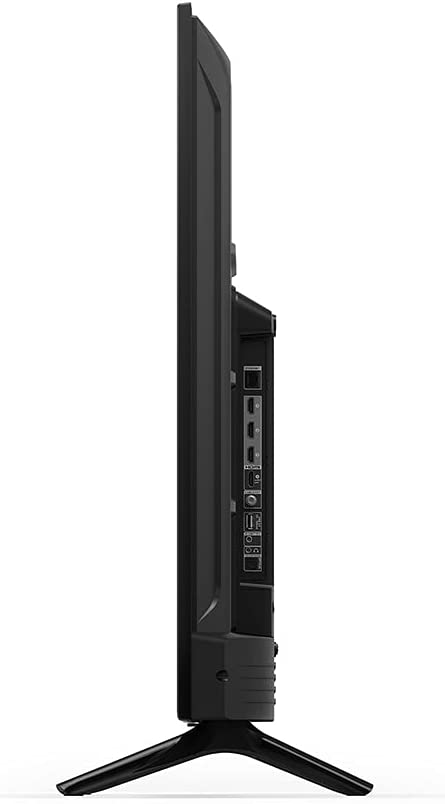 Controls and ports
The lower bezel of the Amazon Fire TV has a tiny extension panel with an ON/OFF button for the microphone. A second button serves as the TV's physical ON/OFF power switch. You can use the same button to cycle through your input sources and select a connected device.
There are enough ports to accommodate as many devices as you need. You have your choice of:
Three HDMI 2.0 ports
A fourth HDMI port with eARC capability
Digital optical port
A USB port
Antenna/cable connector
3.5mm audio jack
Infrared emitter jack
Ethernet jack
A wireless adapter takes care of Bluetooth and dual-band WiFi connectivity. This allows for casting and screen sharing from your mobile device to the TV. Features like device casting and Apple Airplay work just fine on this TV
[Read what others are saying about this television]
Amazon Fire TV 50-inch review: Smart features
The home screen on the Fire TV interface has a simple layout that's easy to navigate, even for first-time users. Menu items respond to user commands instantly, making for a smooth and pleasant experience.
Fire TV has a vast selection of streaming apps, productivity tools, and games. The interface uses your viewing preferences to aggregate your favorite content on the home page. There are virtually no downsides to the Fire TV OS, except for intrusive ads from Amazon. The following smart TV features more than makeup for the ads:
1. Home security integration with Ring doorbell
Picture-in-picture mode allows the live feed from your doorbell to pop up whenever someone approaches the camera. Fire TV can also arrange multiple live feeds in a row at the bottom of the screen.
2. Smart home dashboard
This feature puts graphical representations of compatible smart home devices in one place. The feature turns the TV into a hub where you can access, operate and control each device.
3. Accessibility tools
People with visual or hearing impairments can benefit from the following tools
Screen reader
Audio description for movies, series, and other visual content
The Fire TV OS can also link with a hearing aid
Fire TV's extensive user guide walks you through the different accessibility features. The guide covers the different processes of activating these tools.
4. Casting and screen sharing
Cast content from your mobile devices with the 'Display Mirroring' feature in Fire TV. It's worth noting that the interface also supports Apple Airplay.
Hardware and picture quality
The Fire TV 4-series is a VA panel with a native refresh rate of 60Hz and 4K resolution. This panel's narrow color gamut limits its ability to render crisp, detailed HDR content.
As VA panels go, the Fire TV 4-series is dim, with peak brightness levels of 290 nits. Still, the TV has excellent contrast thanks to direct backlighting. However, the lack of local dimming limits what the TV can do with HDR content.
A pair of 8-Watt speakers provide passable audio that you should upgrade with an external audio device like a soundbar. Lastly, an internal microphone allows you to use voice commands on Alexa through the remote. Here is how the TV performs in terms of picture quality
1. Color accuracy
The Fire TV 4-series may not be a QLED, but it uses its narrow color palette to do good color reproduction. However, the colors may be slightly muted, with bluish or reddish undertones.
2. Viewing angles
VA panels have narrow viewing angles, and images lose accuracy as you move to the side of the screen. The 50-inch Amazon Fire TV 4-series shares this limitation.
This makes the TV a tricky proposition for anyone who likes to host movie night or the last game of the season. You would need to make clever seating arrangements when hosting several people.
3. Motion handling
The Amazon Fire TV 4-series has low input lag, especially in game mode. Gamers will enjoy the panel's high-speed reaction to their commands.
On the other hand, the TV pixels are slow to switch from one color to another. The slow response time causes motion blur and trailing, especially with dark objects moving at high speed across the screen.
Pros
Affordable
Simple, intuitive interface
A wide selection of streaming apps and productivity tools
Seamless integration with the Amazon home security system
Fire TV is compatible with a range of smart home devices
Low input lag allows for quick response to user inputs, a quality that gamers will appreciate
Fire TV has a smooth and responsive user interface
The TV automatically switches to the game mode when you start to play on a console
Cons
Mounting the TV makes the input ports hard to access
Intrusive ads push all kinds of (unrelated) products from the Amazon
Narrow viewing angles
The TV is dim for a VA panel
Lack of local dimming limits the television's ability to render crisp HDR content
Possibility of motion blur in fast-action content
Amazon Fire TV 50-inch review verdict: A general-purpose TV that works well
The Amazon Fire TV 4-series has passable picture quality, but the film enthusiast or sports fanatic may want to pay extra for a different model.
However, the Amazon Fire TV 50-inch is worth a look if you're looking for a widescreen TV on a budget. The television's smart TV interface has enough content and features to meet all your requirements. Click here to learn more about this television.
Read more:
Sony X81CH Review: An All-Purpose TV For a Fair Price
Sony X95J Review: Price Matches Performance
The Best 65-Inch TV Under $1000 2021
LG UN9070 Series Review: Everything You Want in an 86-Inch TV
LG UQ8000 Review: Made for the Budget-Conscious Buyer