*** TVReviewland.com earns commissions on qualifying purchases made through affiliate links ***
This quick Sony X95J review focuses on the features of this flagship series of LED televisions. Barring the manufacturer's OLED offerings, the Sony X95J is easily the most high-performance product line of the year.
The Sony X95J is a statement piece designed to grab your attention the minute you lay eyes on it. This review goes further to look past the panel's design and on to its performance. Still, we start at the beginning; by going over the look and build of the TV.
Sony X95J Review: Design and build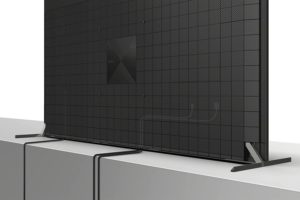 One of the manufacturer's design choices for the X95J could be the sheer size of the screens. Sony goes with large screens for the X95J series, so the TV is only available in 65, 75, and 85 inches. Now combine this vast expanse of screen real-estate with a side-profile that's only 2.6 inches thick. The effect is a futuristic panel that looks foldable.
Seamless titanium bezels frame the screen while fading into the background, thanks to their thinness. These bezels meld right into the back panel to form a single-unit, combination chassis. The X95J comes with adjustable, metallic legs that allow for three spacing pre-sets. This gives you a small degree of flexibility when it comes to your entertainment stand. However, the size of the TV may push you to go the wall mount route. This brings us to the back panel, a central design element of this product line.
The Sony team chooses a grid pattern to add texture to the X95J back-panel, with a smooth section right at the center. This smooth patch is where you find a 300x300mm VESA wall-mount pattern. The inputs sit in two insets at the bottom-left corner of the back panel. While the side-facing ports are easy to reach, the downward-facing inputs could have you channeling your inner contortionist.
[Read what others are saying about this television]
Sony X95J review: Inputs
You have your pick of four HDMI ports, two of which have HDMI 2.1 capability. This is a huge selling point for gamers who play 4K game titles at a 120Hz frame rate. The lack of HDMI 2.1 ports made X95 models from previous years a disappointment, especially for avid gamers. It's nice to know Sony listened to the criticism and responded appropriately.
The TV also comes with two USB ports, a digital optical output, an Ethernet jack, and a set of component input ports. There is also an IR connector, an RS233 port, and a coaxial connector for your antenna.
A terrestrial and satellite tuner has you covered whenever you need to catch over-the-air content. There is also a wireless adapter that provides dual-band Wi-Fi and Bluetooth 4.2 connections.
Google TV
Android TV is making way for its future: The Google TV interface. This new OS boasts the same wealth of content that Android TV has, but with improvements. Google TV makes for a smooth, responsive interface that's cleaner than that of its older brother. The interface is also highly customizable, meaning you can make your menus and home screen as sparse or as crowded as you want.
Better still, Google TV comes with native support for Google Assistant, which you can command by pressing the microphone button on your remote. You can also go hands-free with Alexa by simply syncing the TV to an Amazon smart speaker. The interface also supports Apple Airplay 2, and it allows you to turn the X95J into a hub for your smart home devices.
Chipset: XR Processor
Think of the XR processor as the circuitry and firmware that help the Sony X95J render excellent pictures and sound. AI rides on the panel's hardware to perform the following signal processing tasks:
Upscaling lower-resolution video to 4K
Reflection handling on the 75 and 85-inch screens
Color and contrast enhancement for both HDR and SDR content
Rendering of different audio formats, including 3D formats like Dolby Atmos
The philosophy behind the cognitive XR processor is mimicry of how humans process visual and audio data. The AI works out the focal points of a specific scene and focuses most of its signal processing efforts around these focal points. This clever rendering applies to both audio and video, with impressive results.
Sony X95J review: Display hardware
With the Sony X95J, you're looking at a VA panel with a native refresh rate of 120 frames per second. The XR cognitive processor corrects what the VA panel lacks in wide viewing angles with adjustments for color, contrast, and brightness. The panel also has direct backlighting and local dimming, which power contrast, deep blacks, and detail.
Picture quality
The X95J has accurate colors right out of the box, meaning you really don't need to make adjustments to the color settings. You will enjoy the many wonders that the TV circuitry creates with the broad color palette that is native to the panel. The result is vivid, saturated colors that transform an image on the screen into a scene, playing out right in your living space.
Local dimming allows the Sony X95J to deliver deep, inky blacks that help to create excellent contrast. The XR processor takes it up a notch by executing precision dimming, creating texture and detail that seems to stand out in relief to the screen. You get to spot the smallest of details in dark scenes, which is no mean feat.
From the smoothness and responsiveness of Google TV, you can already guess that the X95J has minimal input lag. As a result, gameplay is immersive, without delays that could lose you a game. The panel's pixels also change color in record time which eliminates motion blur and ghosting. This means that the Sony X95J is an all-around TV that does a great job of displaying whatever content you throw at it.
Sony X95J review: Sound
The thinness of modern TVs leaves little room for powerful internal speakers, but the engineering teams at Sony want to figure it out. They manage to include a pair of front-facing speakers, a subwoofer, and a pair of tweeters to 'redirect' sound.
The result is a soundstage that is surprisingly rich for a bunch of TV speakers. Even without an external audio rig, the Sony X95J does a decent job of simulating 3D sound.
Pros
Sleek design and a solid build
HDMI 2.1 ports allow for gameplay with 4K/120Hz content
Excellent color accuracy
The TV has good peak brightness and black levels,
Excellent contrast and precise detailing; both in bright and dark scenes
Support for a range of HDR formats
Fairly wide viewing angles
Cons
The Sony X95J series only comes in large sizes
A lack of variable refresh rate limits the panel's gaming functionality
The viewing angles on the TV could be wider
Sony X95J review: As close as you get to an OLED TV, plus a few welcome extras
The Sony X95J is just one rung down from the most affordable OLED product line Sony has in the market. It comes through with sterling picture quality and a smooth, responsive interface. This is over and above the wealth of content and functionality that comes with Google TV.
In a nutshell, this Sony X95J review reminds us that LED TVs still have a lot to offer, probably for many years to come. Click here to learn more about this television.
Read more:
U Evolve Headphones Review: Incredible Value and Performance
Vizio D-series 40-Inch Smart TV Review
Sony A8H 65-Inch TV Review: Great Pricing, Peerless Picture
Sony X90CJ Review: The TV Comes as Advertised
Sony X81CH Review: An All-Purpose TV For a Fair Price