*** TVReviewland.com earns commissions on qualifying purchases made through affiliate links ***
Our Roku Stream Bar review goes over the important things you should know about this cutting-edge soundbar that comes with the complete Roku TV interface that allows you to stream your favorite shows and movies.
The Roku Smart Bar is a versatile, powerful, and affordable soundbar that allows you to upgrade the audio of your television and simultaneously give it smart features. To makes things even better, the Stream Bar can be connected to Roku Wireless Subwoofers to give you window-shaking bass and/or Roku Wireless Speakers for surround sound. Let's jump right into our Roku Stream Bar review and explore these and many other features that come with Roku's new soundbar.
Roku Stream Bar review: First thoughts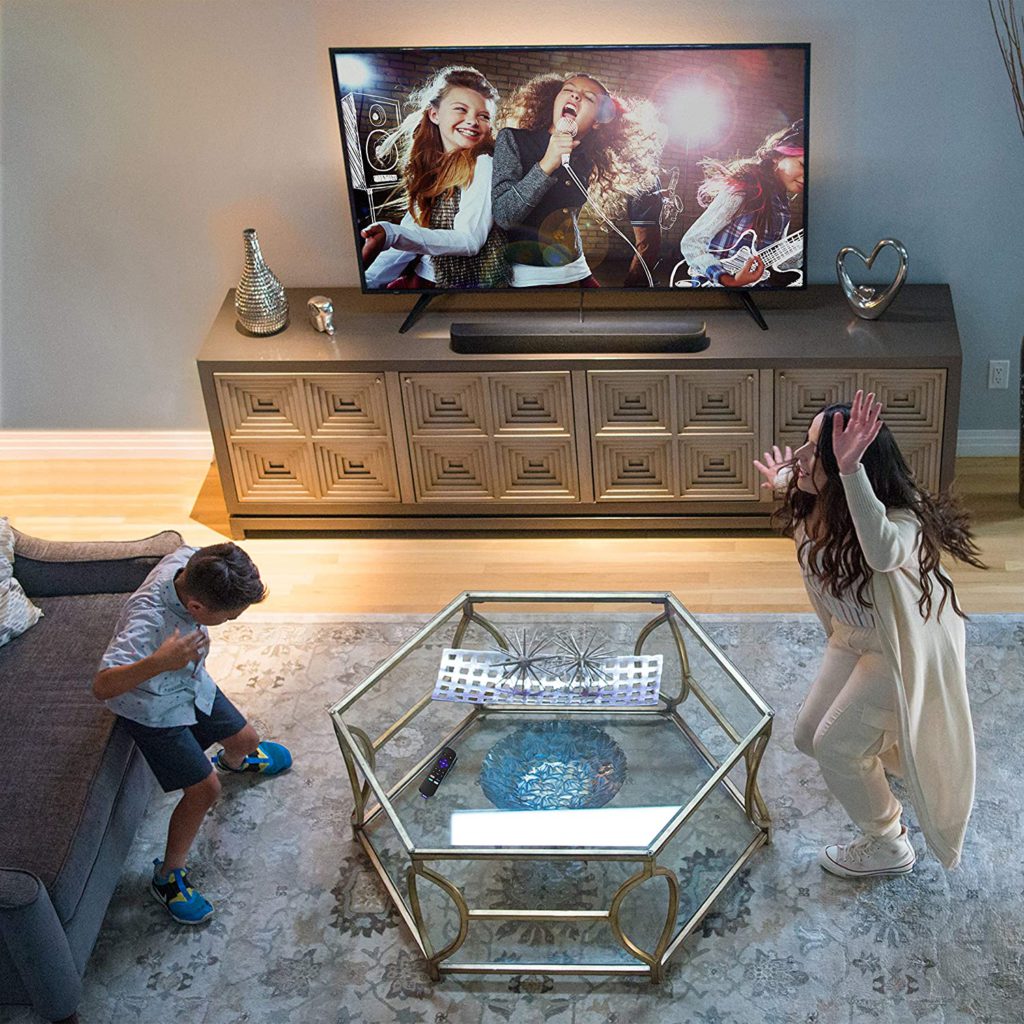 The Smart Bar looks like a larger version of Roku Premiere. It comes with similar sharp corners on one side and curved corners on the other. It is significantly larger though, coming in at 5.5 pounds and 32.2 inches long.
The front side is covered with a dark grille cloth, while the rest of it is covered in black plastic with a matte finish. There's a single LED indicator that lets you know when the soundbar receives a signal.
The back of the Stream Bar has power connectors, a reset button, an optical input port, an HDMI port, and a USB port. The box comes with an optical and HDMI cable. It also comes with a remote that is just like the standard remotes that come with Roku TV. It has the same simple and easy-to-use layout.
[Read what others are saying about this soundbar]
Streaming capabilities
The Stream Bar turns any television into a 4K media streaming TV. It doubles as a Roku streamer with all of the audio and video functions available on the Roku Premiere. It also has the audio-only feature that comes with Roku Wireless Speakers which allows you to stream audio via Bluetooth.
Unlike the Roku TV Wireless Speakers, which are only compatible with Roku TVs, the Smart Bar can be used with any television.
The soundbar provides you with access to a myriad of services and apps like Amazon Prime Video, Netflix, Sling TV, Spotify, and Hulu just to name a few. However, it does not come with Twitch functionality which can be a bummer for gamers.
Audio
The Smart Bar is quite powerful for its size, creating satisfyingly loud audio and respectable bass. It can also be paired with Roku Subwoofers for bass that might lead to your neighbors filing noise complaints against you. It comes with two-channel stereo separation for sounds that fill up the room even when the volume isn't maxed out.
The Smart Bar's performance is surprisingly similar to that of Roku's Wireless Speakers without the surround sound capability. It can be paired with the wireless speakers for surround sound.
Pros:
Great value for the price
Compatible with any TV unlike Roku's Wireless Speakers
Slick design
Brings 4K streaming functionality to any TV
Cons:
Does not offer true surround sound
There is no Twitch app
Roku Stream Bar review verdict: Great mix of features
The Roku Smart Bar is a less expensive way to add improved audio and 4K media streaming to your TV. It costs significantly less than other devices with similar capabilities, and it's a pretty darn good soundbar. Click here to learn more about this smart soundbar.
Read more:
Zotac Trinity 3080 Review: Peerless Performance on Every Metric
PNY 3080 Review: Another Powerful Graphics Card
KEF LS50 Meta Review: Better Performance for the Same Price
Galaxy S20 FE 5G Review: A High-Performing Budget Smartphone
Sony X90CH Review: An Affordable Premium TV