*** TVReviewland.com earns commissions on qualifying purchases made through affiliate links ***
We have been waiting for a while to publish this Galaxy S20 FE 5G review. This model is set to be the last is the 20-series phones – the Note 20 and S20. The S20 FE is a lighter version of the S20 released in early 2020. It also shares some similarities with the S10. Let's jump right into our Galaxy S20 FE 5G review so we can compare the performance and specs of this new smartphone to others in the S series.
Galaxy S20 FE 5G review: First thoughts
If you found the price of the standard S20 to be too high for your budget, you will appreciate the fact Samsung took the time to create a more affordable option that still comes with a high-performing processor and 5G capability.
Design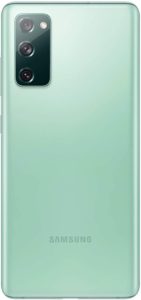 The Galaxy S20 FE is available in six colors, but the folks at Samsung somehow forgot to add dark grey or black. The current colors available are mint green, pale pink, pale orange, white, bright red, and navy blue. That's probably enough color options for most people.
The FE is a lightweight phone that's lighter than any smartphone you've used in the past. A good part of the reason for that is the plastic-glass polymer used on the exterior. It gives the phone a high-end look, making it appear like it's made out of premium glass. It does have a cheap feel to it in your hand though.
The back of the phone is textured to prevent fingerprint stains and that seems to be an effective solution. The FE comes with a rectangular camera array on its rear, similar to the one on the S20. There is no headset jack so you will need to connect with Bluetooth. The S20 FE is a waterproof phone that can be immersed as deep as 5 feet for up to half an hour.
[Read what others are saying about this smartphone]
Specs and performance
The front side of the S20 FE houses a selfie camera that does not get in the way of the screen. It comes with a 6.5-inch FHD+ display that is powered by Samsung's Super AMOLED X2 engine. It's a 120Hz display which leads to very smooth videos and pictures. This feature sticks out since there are premium smartphones out there with 90Hz displays. You will have a hard time finding a similarly-priced smartphone with the same display capabilities.
The 5G S20 FE is powered by a Qualcomm Snapdragon 965 chipset. It's a premium chipset and it's paired with 128GB of disc space, which can be increased to 1TB, and 6GB of RAM. The phone runs on Android 10 software. It comes with a 4,500mAh battery that lasts a full day between charges with moderate use.
The FE can be charged with a 25W wire and it also comes with 15W wireless charging capability. The latter is one of those features that is rare on smartphones similarly priced as the FE.
Galaxy S20 FE 5G review verdict: The FE is a budget phone that is designed for people who love Samsung's top-end phones but find them too pricey. The SE provides many of the features on the top-end phones, it' powered by a high-performance chipset, and it's a lighter than most smartphones out there. Click here to learn more about the S20 FE.
Read more:
Apple iOS 14 Review: The New Features That You'll Enjoy
Zotac Trinity 3080 Review: Peerless Performance on Every Metric
PNY 3080 Review: Another Powerful Graphics Card
KEF LS50 Meta Review: Better Performance for the Same Price