*** TVReviewland.com earns commissions on qualifying purchases made through affiliate links ***
Our KEF LS50 Meta review goes over the new changes made to these speakers including the most noteworthy new features. The first model of the LS50 series was released in 2020, and it has had a pretty good run thanks to its good sound quality and eye-pleasing aesthetics.
KEF didn't rest on their laurels though. It turns out they have been working hard on a replacement for the earlier LS50. Let's jump right into our KEF LS50 Meta review. By the time you're done with this article, you will have enough information to decide if this is the right set of speakers for you.
KEF LS50 Meta review: First thoughts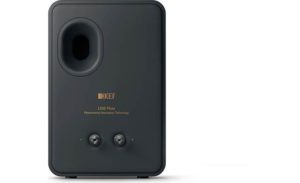 Surprisingly, the new LS50 Meta speakers look a lot like their predecessors. Not saying we are disappointed since the aesthetics of the original version are tough to beat. Apparently, the engineers at KEF agree with that assessment.
The Meta speakers are shaped like cabinets with a curved panel in front. The exterior is made from a mixture of calcium carbonate, glass fibers, and polyester resin. It serves as a solid foundation for the powerful Uni-Q unit inside. The speakers are available in royal blue, titanium grey, carbon black, and mineral white.
The back panels of the speakers have been cleaned up a bit. Retention bolts have been removed and the position of the tweeter has been adjusted.
[Read what others are saying about these speakers]
Performance
The KEF LS50 Meta works best when placed at least 20 inches away from sidewalls. You will notice an improvement in sound quality the moment you turn these speakers on. They render low-level details like instrument textures much better than their predecessors and overall sound quality is very high.
The Meta Material technology integrated into these speakers seems to have paid off. These new speakers are clearer than their predecessors, especially when playing higher frequency sounds. Poor recordings stick out when listening with these speakers as it reveals all their shortcomings.
KEF LS50 Meta review verdict: Given the noticeable improvements made for the Meta speakers, you would think these are going to be priced higher. KEF shocked us all by announcing these will be sold for the same prices. If you need high-quality speakers for your main home entertainment system, take a close look at the new Metas. They work great for movies or listening to your favorite tracks. Click here to learn more about these speakers.
Read more:
Acer AOpen QH10 Review: An All-purpose Projector
Apple iOS 14 Review: The New Features That You'll Enjoy
Zotac Trinity 3080 Review: Peerless Performance on Every Metric
PNY 3080 Review: Another Powerful Graphics Card