*** TVReviewland.com earns commissions on qualifying purchases made through affiliate links ***
This Zotac Trinity 3080 review is for everyone that occasionally has to turn down their gameplay settings to improve motion handling. If you're the kind of gamer that has witnessed a 4K/1440p game bring your rig to its knees, this review should interest you.
What if there was a way to play your favorite AAA games at maximum resolution, and maximum frame rates? Is the RTX 3080 the graphics card that will chew through the most demanding of 4K/1080p games without breaking a sweat?
This review aims to find out. We start by setting a few high expectations.
Zotac Trinity 3080 review: What to look for in a powerful graphics card
A powerful gaming PC needs every component inside it to pull its weight. Apart from the graphics card, the machine needs a powerful motherboard and CPU. It also needs adequate memory, storage, and cooling.
An add-in graphics card needs these very same things. Still, let's go over them again:
A powerful PCB, which plays the role of a motherboard
High-performance processor cores that allow you to enable overclocking at will
Dedicated graphics processors
Enough memory to handle a host of split-second demands during gameplay
Good wireless connectivity
Excellent cooling that allows the card to run cool and run quietly
These are the hardware qualities that allow a graphics card to render excellent images at high resolution. Let's see how the ZOTAC Trinity RTX 3080 holds up, starting with the design.
Design: First looks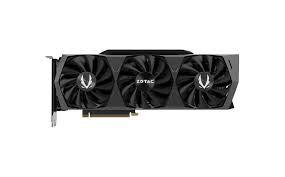 Add-in graphics cards on the premium end of the spectrum are often chunky. At 12.5 inches long and 5 inches high, the ZOTAC Trinity 3080 takes up its share of space. The card is less than three inches thick, but it will occupy two or three slots worth of space. That's how it goes with a card that is a computer in its own right.
Powering the Zotac RTX 3080 yields a light display that you may or may not appreciate. The lights are on the seams and surfaces of the card, and they double as an alternative light source in a dark room.
A third eye-catching quality of the Zotac RTX 3080 is the three fans on its front surface. The people at NVIDIA and Geforce take cooling seriously, hence the three fans and the "Trinity" part of the product name.
[Read what others are saying about this graphics card]
Cooling
NVIDIA advertises the RTX 3080 as the highest performing graphics card in the market, at least at its price point. The card comes as advertised, and Geforce had to come up with a cooling solution that would keep up with seamless gameplay at maximum resolution and frame rates.
Each fan spins away from its neighbor drawing air through the card and out through the fins. There's also a clever arrangement of heat pipes that maintains physical contact with the processors while receiving a steady supply of cool air.
Zotac Trinity 3080 review: Hardware
The RTX 3080 has a 10GB DDR6X memory card and a GPU with the following composition of cores:
8704 CUDA cores to mow through the millions of instructions that are signal and image processing
68 RT cores to perform ray tracing and imitate the real-life behavior of light (reflection, bending, diffusion)
272 tensor cores to support AI operations like video upscaling from lower to higher resolutions
The Zotac Geforce 3080 graphics card uses a 320-bit memory bus to connect the different elements, making this card a high-speed image-processing device. The card's 19 Gbps memory clock doesn't hurt performance either.
Performance
If the rest of your gaming rig is up to scratch, the Zotac RTX 3080 can handle whatever you throw at it. So the first thing you do after installing the card is to fire up your favorite AAA game and turn the settings all the way up.
You will experience no stutter, judder, or any other kinds of glitches that are common at high resolution. At 1080p, the frame rate remains high, even in the middle of intense battle scenes with numerous details. At 4K, the frame rate remains high during intense action scenes with numerous background details.
Here is what to expect with your favorite games and a PC with 32GB RAM (at 3600MHz), a solid MSI motherboard, and an Intel Core i7 8-series processor:
Battlefield5 will run smoothly at 60fps in 4K with active DLSS. You'll notice a slight drop when you activate ray tracing
Control also has a frame rate of 60fps with ray tracing turned to high and DLSS upscaling set to active
Call of duty: Modern warfare runs at an average of 82 frames per second
Death stranding runs at 100fps and reaches speeds of 133fps with DLSS upscaling
Translate these numbers into user experience and the result is smooth, immersive gameplay that allows you to lose yourself. The gaming universe of your choice will run like a dream, without the glitches and flat graphics that would otherwise bring you down to earth.
At 1080p, the frame rates are at least 10 percent higher across the board. This signals the imminent end of the ritual where you tweak the settings of a game until you find a sweet spot.
Pros
The graphics card runs cool and quiet, even when you push it to its limits
Flawless execution of ray tracing results in great texture and accurate imitation of how light behaves in real life
DLSS allows for AI upscaling that puts minimal strain on the GPU. The awesome result is great resolution with no tradeoff in terms of frame rates
Excellent rendition of 4K gaming in terms of frame rate and responsiveness
Games like Control, Death Stranding, and Battlefront5 run like a dream, even with all the settings at maximum
When Cyberpunk 2077 comes out, the ZOTAC Trinity 3080 will be ready for it
Cons
The design of the ZOTAC Trinity 3080 is flashy as opposed to understated
This graphic card has an average power consumption of 320W
There's no major difference between the performance of the ZOTAC trinity and NVIDIA's release
Zotac Trinity 3080 review: Gaming just got a whole lot more immersive
Our ZOTAC Trinity 3080 review showcases a future-proof graphics card that will keep on giving for a long time to come. So if you're looking to upgrade your gaming setup, the ZOTAC Trinity 3080 is the graphics card to watch.
To put it another way, this card will blow you away when you push it to its limits. The days of tweaking the settings of your favorite fast-action game are coming to an end. Click here to learn more about this graphics card.
Read more:
Othercide Switch Review: A Successful Move
Apple Solo Loop Review: Watch Bands without Claps or Straps?
Acer AOpen QH10 Review: An All-purpose Projector
Apple iOS 14 Review: The New Features That You'll Enjoy