*** TVReviewland.com earns commissions on qualifying purchases made through affiliate links ***
Our Apple Solo Loop review will go over the new wristbands released for the company's series of smartwatches.
Apple Solo Loop review: First thoughts
So, what's so special about these bands you ask? Will they make your biceps grow larger? Will you finally join the ranks of the ballers?
Nah…
They are pretty cool wristbands though, with no claps or buckles. Let's jump right into our Apple Solo Loop review.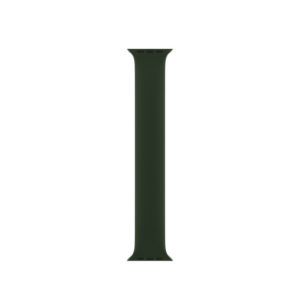 The Braided Solo Loop and the Solo Loop are an entirely new type of watch strap. That can create a few problems for you though if you just go running to get one without properly measuring your wrist. Remember, there are no buckles or claps so you want a band that's the right size for your wrist. The easiest way to figure out what size of Loop fits you best out of the 12 sizes offered by Apple is by using the printable measuring cutout on their website.
Of course, old fashioned ways of measuring things like measuring tape still work. You simply plug in your wrist measurements into the online store app to figure out the right size of Loop for you. You can also have your wrist measurements taken at one of Apple's retail stores, but a large number of those are closed due to Covid-19.
There's one last thing you should know about how Apple's new Loops work. The largest three sizes are not compatible with their 40mm offering, while the three smallest ones do not fit the 44mm watch. This should not be an issue for most people, but it can be depending on your circumstances. For example, a person with a small wrist who owns the 44mm larger smartwatch might not be able to find a Loop that fits their wrist as well as the larger watch. It will be interesting to see how Apple decides to address this issue in the future. We will keep you posted on any new developments.
The Silicone Solo Loop is available in 7 different colors, while the Braided Solo Loop series comes in five different colors. Click here to learn more about this sleek new watch Loops.
Read More:
LG 50UN7300PUF Review: Great Budget 4k TV
Sony X900H Review: One of 2020's Best Televisions
Gigabyte G34WQC Review: Best Performing Gaming Monitor
Vizio OLED Review: A More Affordable Type of High-End Television
Othercide Switch Review: A Successful Move