*** TVReviewland.com earns commissions on qualifying purchases made through affiliate links ***
This Acer AOpen QH10 review walks you through the features, upsides, and drawbacks of a budget LCD projector.
Shopping for a projector is easy when you have a checklist that you can use to evaluate a potential purchase. Here's the one we're using to review the AOpen QH10 LCD projector.
Acer AOpen QH10 review: What to look for in the ideal projector
There is a projector for every purpose and budget. Some projectors render large displays for large rooms with large audiences. This kind of projector needs to be powerful enough to create accurate, detailed pictures at some distance. Suffice it to say that it would cost a nice chunk of change.
Then there's the multi-purpose projector that you use for home viewing or an office presentation. This type of projector needs to be portable. It also needs to be bright enough to power through high levels of ambient light. Whatever your needs, here is a list that you can use as you shop:
Small form factor (portability)
Solid build with a durable light source
The projector should run cool with minimal noise
Adequate brightness with good uniformity
High resolution
Good color accuracy, contrast, and detail
A wide selection of inputs, preferably with the option of wireless connectivity
Lens tilt and zoom functions are a useful bonus
Ability to work at a convenient distance from the screen
Allowance for keystone correction (for scenarios where the projector sits at an angle to the screen)
From the list above, pick out the qualities that you're looking for in a projector. Let's see how the Acer AOpen QH10 holds up, starting with unboxing.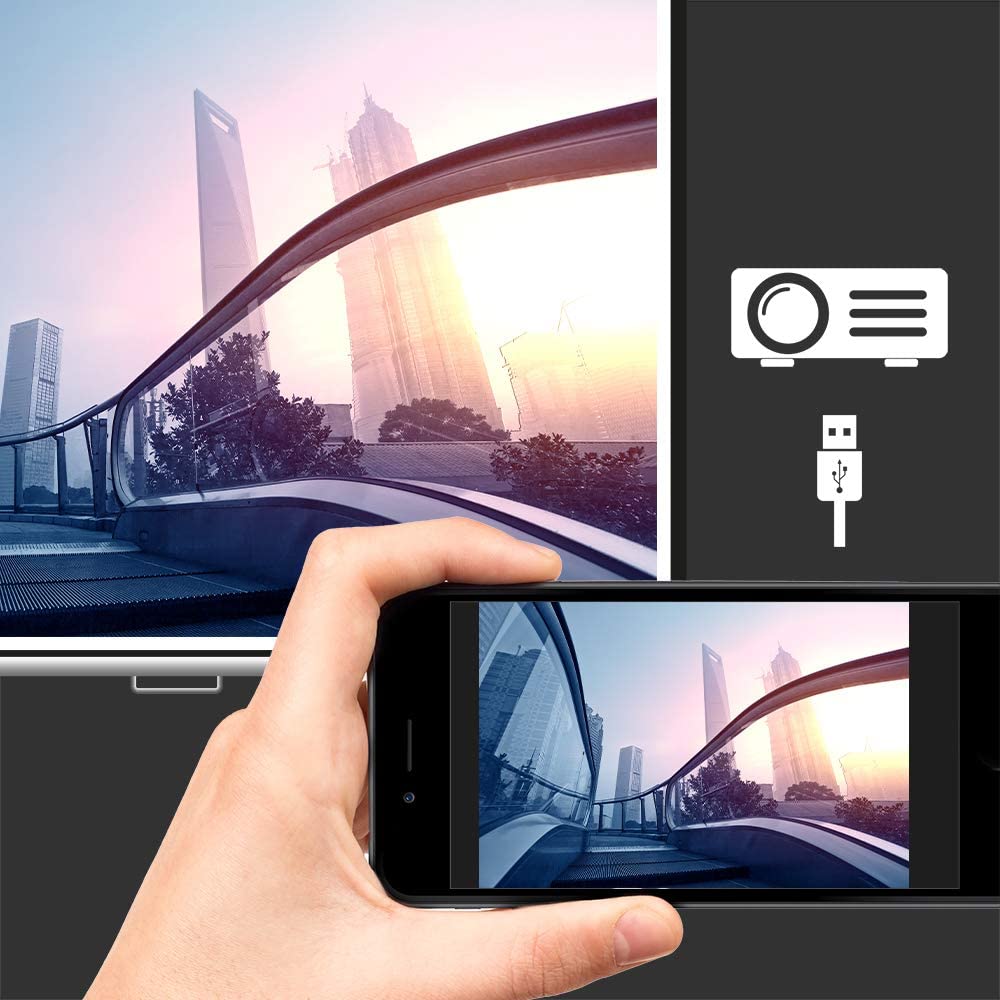 Unboxing
The AOpen QH10 comes in a compact package with few accessories. Inside the box, you will find a power cord, an AC-DC power adapter, a wireless dongle, a lens cap, and a user manual. The manufacturer also includes a remote that may or may not come with batteries.
[Read what others are saying about this projector]
Acer AOpen QH10 review: First looks
Portability is the first thing that comes to mind when you look at the QH10 projector. Its white chassis has a compact footprint of 8.6" by 6.8". Sitting at just under four inches, the projector is low enough to blend into any work table or nook you have.
The small form factor of the projector means that setup is simply a matter of finding a good spot that's near an electrical outlet. Aligning the projector and the screen is as simple as adjusting the lens focus and finding a table or stand with the right height.
There are vents on the sides of the projector. Along with the black plastic of the front-facing surface, these ventilation slots add some edginess to an otherwise plain chassis.
Design: Controls, inputs, and connectivity
Two knobs sit on the lens, and you operate these from the top side of the projector. The first adjusts the lens focus while the second helps with keystone correction. There's also a navigation and playback pad that sits across from the manufacturer logo, near the back of the device.
You'll find the input/output ports among the vents that line the sides of the projector. The right side holds an SD slot, a USB media slot, a second USB slot for the wireless dongle, and an HDMI port. There's also a 3.5mm audio jack near the rear, right below the navigation pad. The left side of the QH10 houses the power port.
It bears mentioning that the wireless dongle provides the projector's WiFi capability.
Features: Wireless, HDMI, and USB projection
Thanks to its WiFi dongle, the AOpen QH10 can project playback from any device it pairs with over a WiFi link. The projector could display content from any phone, tablet, or PC in its 'network'.
Alternatively, you could connect a media source via the HDMI or USB ports.
Hardware and picture quality
The Acer AOpen QH10 is a 720p, single LCD projector with LED lighting. This hardware configuration offers a few advantages. For starters, an LED light source means that the projector boasts an impressive lamp life of 20,000 hours in standard mode and 30,000 hours in energy-saving mode.
Second, the native 720p resolution of the projector allows for the production of saturated color. The QH10 can also 'downscale' and display 1080p content.
The projection distance of the AOpen QH10 ranges from four feet to a maximum of 13 feet. This works well on wide screens of up to 120 inches. Is the hardware inside this projector enough to deliver stunning picture quality?
1. Color reproduction
The NTSC color gamut available to the projector is wide enough to allow for accurate color reproduction. It provides a palette of more than 250,000 colors that the projector uses to create rich, lifelike picture.
Being an LCD projector, the QHT has no rainbow effect to speak of.
2. Brightness and contrast
The AOpen QH10 makes efficient use of the light from its LED light source. It has a peak brightness level of 200 ANSI lumens.
In comparison with projectors that produce 600 ANSI lumens, the QH10 seems like a pale shadow of a projector. This is not the case. Despite being a budget projector, the QH10 does light up a screen to produce vivid colors. That said, the projector works best when you control (read minimize) ambient light.
This brings us to home use, where you can host movie nights with little or no light. The Acer AOpen QH10 does an excellent job of creating contrast and detail. You will also appreciate the crisp picture of this 720p projector.
3. Motion handling
The AOpen QH10 has little motion blur, thanks to the swift response time of its LCD module. So expect little motion blur as the pixels shift from one color to another.
Pros
Affordable
Compact, portable, and easy to operate
Durable light source
The projector runs cool and quiet, at a peak noise level of 33dB
Adequate resolution that allows for saturated color
At 200 ANSI lumens, this LED-lit projector makes efficient use of light to render bright pictures
Good contrast
Keystone correction helps to better align the projector and screen
Cons
Pixelation is sometimes visible, especially close up
Lack of lens tilt
The resolution of the projector could be higher
Limited peak brightness levels mean that you may need to control ambient light
Acer AOpen QH10 review verdict: A good general-purpose projector
If you're looking for an affordable projector that can get you through a presentation or movie night, the AOpen QH10 works.
This Acer AOpen QH10 review discovers a projector that will get the job done for the long haul. You can count on years of steady service from this compact little device. Click here to learn more about this projector.
Read More:
Sony X900H Review: One of 2020's Best Televisions
Gigabyte G34WQC Review: Best Performing Gaming Monitor
Vizio OLED Review: A More Affordable Type of High-End Television
Othercide Switch Review: A Successful Move
Apple Solo Loop Review: Watch Bands without Claps or Straps?