*** TVReviewland.com earns commissions on qualifying purchases made through affiliate links ***
Our MSI Ventus 3080 review goes over the key things you should know about this powerful new overclocked graphics card. If you are one of those people who bought a graphics card earlier in the year, you might be feeling a bit vexed by the time you're done going through this.
MSI Ventus 3080 review: Why should you care?
Powered by Nvidia's Turing GPU (a favorite amount content creator and gamers), the MSI Ventus 3080 is a true next-generation graphics card that sets new performance standards.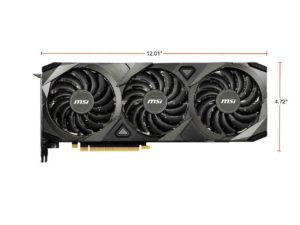 Performance
With a 1440MHz core clock speed and an overclock speed of 1710MHz, the 3080 is great for demanding video games. It provides 10GB of GDDRGX ram, up to 760GB/s bandwidth, and 8704 CUDA cores. If you already have a high-end PC build, this is the type of graphic card that completes your rig. Overheating is not an issue for the 3080 thanks to its multiple-fan cooling system.
The 3080 is about 25% faster than its predecessor and about 600% faster than generation-10 series GPUs. If you have always wished you could have super-powers, today is the day your wish comes true.
Okay, let's not get ahead of ourselves. These graphics cards won't give you the ability to instantaneously learn Kung Fu like Neo, but it will improve the immersion of the games you play– which is kind of like having superpowers.
This graphics card allows you to capture and share live streams, videos, and screenshots smoothly. It automatically keeps drivers updated and game settings optimized. The Ventus 3080 eliminates issues like input lag, display stutter, and screen stutter while gaming. The UHD gives you up to 400% of 1080p definition, leading to crisper and sharper images with all the smallest details while gaming.
[Read what others are saying about this graphics card]
The High Dynamic Range (HDR) leads to brighter colors and higher contrasts for gaming worlds, better than anything ever seen in the past.
The MSI Ventus 3080 comes with the Afterburner – overclocking software for the graphics card. It allows you to fully control the graphics card and monitor its key metrics in real-time. The OC scanner function automatically finds the higher overclock setting for the card, leading to higher FPS and a performance boost when gaming.
MSI Ventus 3080 review verdict: Great for new PC builds
The 3080 is the type of graphics card you should be looking at if you are working on a PC gaming build. It provides significantly improved performance compared to any of its predecessors, giving you great value for your money. You don't need a graphics card this powerful to enjoy many of the games available on PC, but you'll be happy you had one when you're playing one of the resource-intensive games, which are typically some of the best. Click here to learn more about this graphics card.
Read More:
Gigabyte G34WQC Review: Best Performing Gaming Monitor
Vizio OLED Review: A More Affordable Type of High-End Television
Othercide Switch Review: A Successful Move
Apple Solo Loop Review: Watch Bands without Claps or Straps?
Acer AOpen QH10 Review: An All-purpose Projector