*** TVReviewland.com earns commissions on qualifying purchases made through affiliate links ***
Hard to say we could have foreseen writing a Samsung Galaxy Flip review in 2020. Samsung delivers with this throwback-style phone, by fixing many of the little things that once made flip-style phones obsolete. It wouldn't be a stretch to say the Galaxy Z Flip is the best foldable phone ever released. That might not sound like much given the fact there isn't much competition in the flip phone market nowadays besides the Huawei Mate X, Galaxy Fold and Motorola Razr. You'll know why we're so pleased with this neat little gadget by the time you're done reading our Galaxy Flip review.
The introduction of the Samsung Galaxy Z Flip reminds us all that foldable phones can be very cool when done right. It's a lot smaller than a traditional smartphone, making it a lot easier to make a part of your daily attire.
Samsung Galaxy Flip review part 1: What's in the box?
From the moment we set out eyes on the Galaxy Z Flip, it was obvious we were looking at a phone that would revolutionize the smartphone market. Not sure we should really be calling this thing a flip phone because it really isn't. The Galaxy Z Flip is an ultra-thin smartphone like the one you probably have that you can fold in half. How cool is that?
Samsung's first attempt at a flip phone wasn't a success due to durability issues, but they clearly learned from their mistakes and implemented major changes into the Galaxy Z Flip.
Opening and closing this phone is a breeze the hinge holds the screen in place at any angle you desire, the same way the hinges on a laptop work. The phone's surfaces are smooth and made from quality materials.
When closed, the phone is barely bigger than a credit card and it fits into most pockets, even those inner, hidden ones. Even when closed, the cover screen displays the time and some other info. There's also a tiny screen on the lid that displays how much battery life is left. You can also use it to control music, view notifications and to light up the phone.
Unfold the phone and you get a 6.7-inch screen that feels just like any of Samsung's smartphones. That's one of the things that make this flip phone so attractive, you get the full smartphone experience once you open it up, rather than the flip phone displays that were common in the early 2000s.
The only noticeable difference between the Galaxy flip and other Samsung Smartphones is a small crease in the middle. This crease is generally invisible when viewing videos and content.
There's a power button that also serves as a fingerprint scanner, located below the audio controls on the upper half of the Galaxy Z Flip. Our Samsung Galaxy Flip review is just getting started.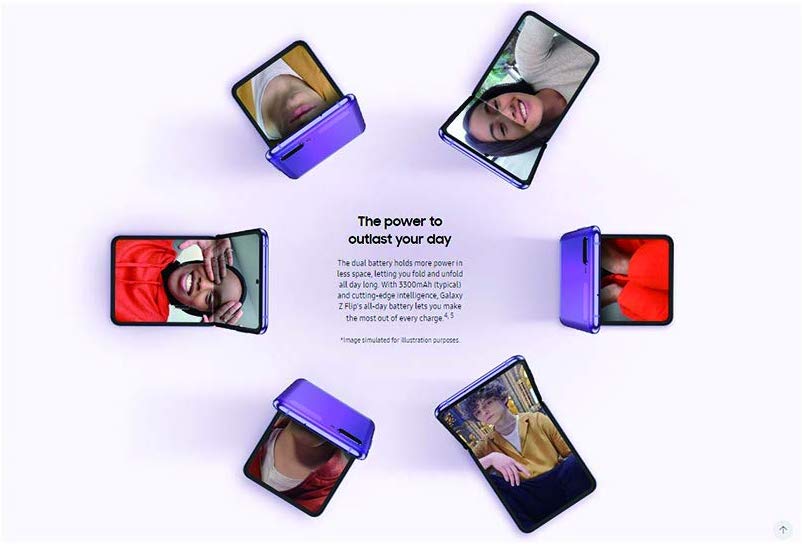 Durability
One of the questions people often ask about the Z flip is the durability of the screen since it folds. The screen is surprisingly durable, but the phone isn't water or dust resistant. That a bit disappointing since Samsung already has offerings that a water and dust resistant. The phone uses magnets to keep it closed so keep away from credit cards or deal with the consequences.
The screen is not as scratch resistant as what you might be used to with Samsung phone since it covered in a plastic layer that can be scratched with fingernails.
Charging and performance
The Galaxy Z Flip comes with wireless charging and USB charging. The performance of the phone is good all around. Apps load fast, the browser is fast and everything pretty much runs smoothly. The main disappointment performance-wise was this phone's inability to handle many mobile games. If you love gaming with your phone, you might want to go with another one of Samsung's offerings like the Galaxy 11.
Battery life is okay, but given how impressive the Galaxy 11's battery life is, it's hard to say we were impressed. Still, the Galaxy Z Flip can last up to 27 hours on a full charge with medium to heavy use.
It takes about two hours to charge up a dead battery to full, which is a bit longer than other Samsung phones, some of which can be fully charged in less than an hour. It comes with wireless power-sharing which allows you to use the phone to charge other devices like your smartwatch or earbuds.
Camera
Playing with the camera was one of the most memorable parts of our Galaxy Z Flip review. It comes with two 12-megapixel cameras and one 10-megapixel selfie camera. The main camera creates quality photos but struggles a bit in poor light like many cameras. The selfie camera is on par with what you're already used to if you have a smartphone.
These cameras come with a few cool tricks. It has a "single take mode that takes photos, videos and gifs at the same time. It has a countdown timer for selfies. Open up the phone halfway and it becomes a makeshift tripod.
Videos are right in line with other smartphones and they can be watched while the phone is partially open. Fully opening the phone is the best way to watch videos though.
Pros:
The device is small enough to store in any pocket
The compact design gives it a compact and sturdy feel
Screen stays open regardless of your viewing angle
It is the first flip phone ever to come with a foldable glass screen
Comes with three powerful camera sensors
Has reverse wireless charging, 256 GB of storage (yes, that's not a typo) and fast charging
Easy to operate using only one hand
Nice plastic case for storage
Comes with a one-year warranty
Cons:
Might require you to bust open your piggy bank
The phone's surfaces seem to attract fingerprint smudges
Battery life could be improved. You might need to recharge it during the day if you use your phone a lot
Some android games crash on its software
It is not resistant to dust or water damage
It only has one speaker
Needs to be unfolded before use
Galaxy Flip review verdict: A first of many to come in the new age of flip phones
Given how competitive the smartphone industry is, there are very few releases that truly change the way we view things. The Galaxy Z Flip has singlehandedly proven flip phones do not have to be a thing of the past. It provides the functionality and feel of modern smartphones, yet it can be folded like an old-school flip phone.
The phone stands out, it looks good, and just when your buddies are getting ready to tease you for having a flip phone; you can unfold it and blow their minds away. It's one of those phones that make you the coolest person in the room. It's a great phone for anyone looking to upgrade their current one. Read more about the Galaxy Z Flip.
Read more:
Samsung Q70 Series Review: Good Performance at a Good Price
Sharp TV Reviews: What Buyers Should Know
LG 55UM7300PUA Review: Alexa Built-in 55″ 4K UHD Smart LED TV
Best Budget Sound Bar: Vizio SB3621-E8
Pilestone TP-025 Red-Green Color Blind Glasses Review