*** TVReviewland.com earns commissions on qualifying purchases made through affiliate links ***
Are you looking for an informative Apple iOS 14 review as you consider an upgrade for your phone? That's a good call on your part. The software update can get as big as 4.8 GB, which suggests a big change to the look, feel, and function of your phone.
Apple was live-streaming its annual hardware launch when the manufacturer dropped some big news: IOS 14 is now available to end-users. As developers scramble to adjust their apps to the new OS, we find out what this software update has to offer.
Apple iOS 14 Review: A new-look interface and editable widgets
It's been a few versions since the iOS home screen got a new do. Until now. The first thing that you notice is the portable widgets, which are now free to roam all over the screen. Apart from blending with your app icons, individual widgets can also form a stack. Simply drag one widget onto another and you have yourself a stack. You can scroll through the stack, or the stack could pick which widget to display.
Widget capability should be available to most apps, if not all of them. Expect to see more of them as developers update their apps.
The Siri icon is smaller now, which is a good thing for anyone who likes a minimalist feel. Minimalists also have the option of removing (and adding) the number of visible pages that the interface displays. Better still, scrolling through visible pages is as simple as running a finger over the row of page circles.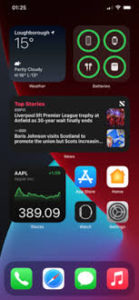 A new-look app library addresses icon clutter
A big section of users would prefer their homepages to be neat, clear spaces. The app library is Apple's answer.
This functionality groups apps according to their function and in alphabetical order. It also has a special category for recommendations and another for recently used apps.
Apple iOS 14 Review: Changes in basic features with iOS 14
Now that first looks are out of the way, let's see how different edits and additions are looking to change your interaction with your phone. We start with the most common ways we use our phones and go from there.
1. Siri gets a database boost
With a bigger knowledge base to mine from, Siri is more accurate, engaging, and interactive than ever. Look forward to an efficient voice assistant that does an even better job of learning your preferences.
2. No more screen hijacking when you get a call
We've all learned to live with the reality of interruption when a call comes through. Those days are gone now. An iOS14 upgrade gives you the option of preventing an incoming call from taking over the entire screen. Instead, the incoming phone/video call occupies a narrow banner at the top of the screen.
3. Texting and messaging just got a whole lot better
Let's start with in-line texting. You can now pick one reply out of a series of five, and respond to that particular reply directly.
In a group chat situation, you can mention specific recipients for emphasis. This works great if you're in a group chat where different people are responsible for specific tasks. In project settings, this streamlines communication in a big way.
4. A whole new world of emojis
While we're still on texting and social media, iOS 14 has a wide selection of emojis, in all their variations. There's also a search function that helps you find that emoji whose name you can't place. Now you can find it by typing in a description.
5. Picture-in-picture
Do you want to keep watching that movie as you order a snack real quick? You can do that now. Picture in picture allows you to minimize video playback from an app. The function also allows you to reposition the picture to your convenience. IAlso, the audio also keeps playing.
More media apps will incorporate this feature as developers catch up with this surprise release. For the moment, Safari and other Apple apps already incorporate this functionality.
Camera and graphics
This iOS software update also helps you take better photos. For one, iOS 14 comes with an exposure compensation control that is super-easy to use. You can also mirror the front camera if you want that perfect selfie preview to become the final shot.
An upgrade in some of the graphics software also yields sharper images from native scanning apps.
Apple iOS 14 review: Control how apps access and use your data
Data privacy should be on the mind of every user. With iOS 14, you have more control over how different apps track your usage and the data that this usage generates. This is a useful change, considering that apps like Siri and Apple Home continue to grow in intelligence and scope (read data collection).
iOS 14 also avails pertinent information about individual apps, including their developer and the permissions that they ask from you.
Choose your preferred default software for select tasks
You can now choose to make a browser other than Safari the default whenever you click on a link. However, it's worth noting that Safari is now faster, just so long as your phone can handle the multi-gigabyte update.
This new level of choice also extends to email, media players, and a few other common functions.
Accessibility and gestures
You can set up the new interface such that it launches an app of your choice when you double-tap the back of your phone. You can also set it up to launch a second app with a triple tap.
Pros
Customizable widgets are a great feature that extends to most apps
Incoming phone or video calls no longer have to take over the entire screen
You can never go wrong with picture-in-picture
iOS 14 allows you to choose your default browser or email app
Enhanced privacy features allow you to take more control of how apps collect and use your data
Convenient accessibility features let you launch different functions with simple gestures
Cons
It's going to take a little time for many apps to catch up with this surprise release
Being a spanking-new update, expect some buggy behavior as the interface finds its feet
This is a huge update (north of 4GB) with far-reaching changes, so prepare to take the leap
Apple iOS 14 review: Welcome changes and teething problems
Stability and reliability affect the overall user experience. These are the metrics that separate beta testers from users who want an interface that runs like a dream.
Being a brand new release, iOS 14 has small kinks that will smooth out with subsequent tweaks, which should be coming at a steady clip. However, the convenient changes that Apple is implementing make up for it.
So, what's the verdict for this Apple iOS 14 review? The upgrades are great, but it will take a little time for everyone (including Apple and some of your favorite apps) to catch up. Click here to learn more about IOS 14.
Read more:
Vizio OLED Review: A More Affordable Type of High-End Television
Othercide Switch Review: A Successful Move
Apple Solo Loop Review: Watch Bands without Claps or Straps?
Acer AOpen QH10 Review: An All-purpose Projector