*** TVReviewland.com earns commissions on qualifying purchases made through affiliate links ***
Our Momax Airbox review helps you determine if this is the ideal power bank for you if you need to charge your Apple devices wirelessly. This revolutionary power bank is compatible with the iPhone, Apple Watch, and AirPods. It features a ground-breaking design that provides storage space for your Apple Pencil.
Whether you use a lot of battery-depleting apps such as Google Maps, or you use your AirPods regularly and need to keep them charged, this power bank ensures you never have to worry when you get that low-battery notification on your Apple devices.
Momax Airbox review: First thoughts
The Momax Airbox is ideal for people who spend a lot of time on the road and need to get from point A to point B without worrying about their iPhone running out of juice. Rideshare drivers who need to use their phones all day and rely on navigational apps that consume a lot of power can also benefit a lot from this power bank.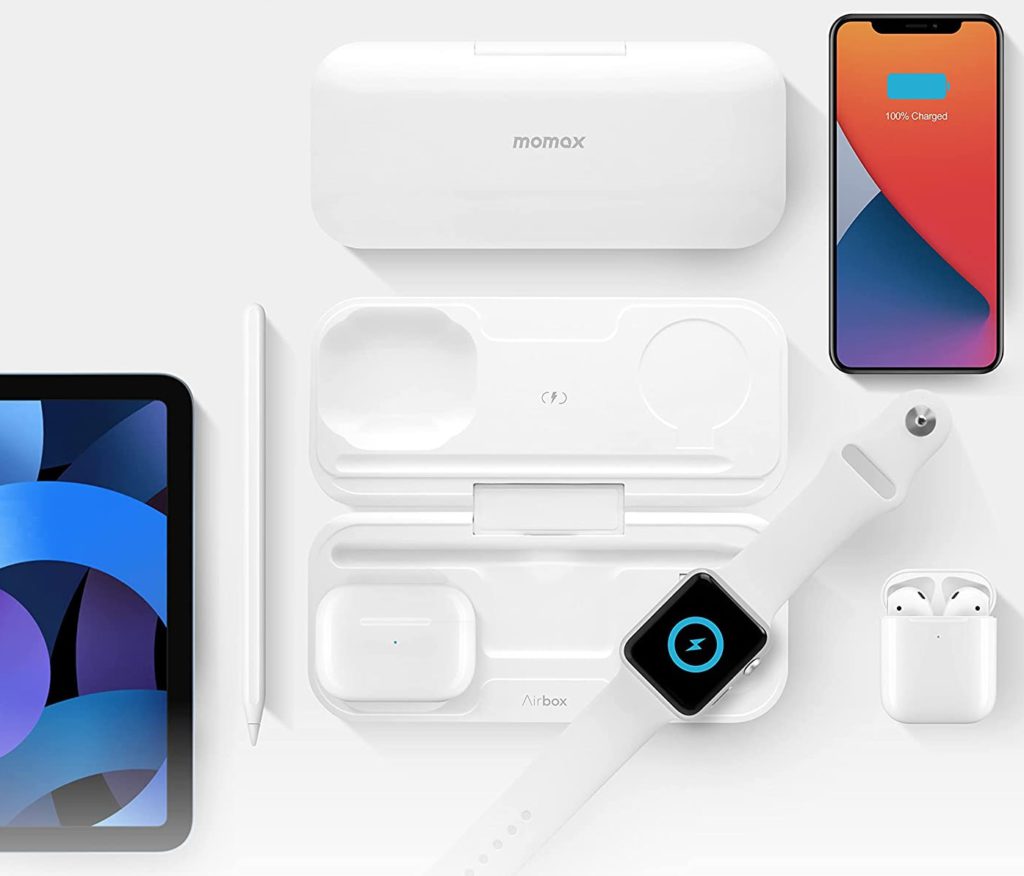 Other people who would love this power bank include anyone who works away from home and isn't always close to a power outlet. As a plus, this power bank is wireless to ensure there is no cable clutter. This power bank is TSA-approved, making it convenient for frequent fliers who need their smart devices fully charged during long flights.
Product overview
The Momax Airbox is a wireless charger and power bank hybrid that allows you to charge several Apple devices and Qi-enabled devices simultaneously, thus reducing cable clutter. This power bank is MFi and Qi certified. It has a large-capacity battery of 10,000mAh, which means that you can charge your mobile phone two times before it runs out of power. It also features a 20W PD fast-charge USB-C output, making charging your Apple devices a snap. You can recharge this power bank with the USB-C port and a charging cable.
The Momax power bank measures 182 millimeters by 80.5 millimeters by 34 millimeters and weighs 0.82 pounds. The Momax Airbox has a unique foldable design that allows you to store your Apple Pencil and AirPods neatly, ensuring everything is safe and secure while traveling. The power bank's minimalist design also makes it easy to stuff in your handbag or carry-on.
Based on our Momax Airbox review, this power bank's USB-C output can charge your mobile phone in less than 3 hours, while wireless charging can ensure your device is powered up in approximately 5 hours. The Momax Airbox is quite easy to use. The green LED light on the power bank indicates fast charging, while the orange lights indicate wireless charging.
[Read what others are saying about this power bank]
Momax Airbox review: Key features
Foldable design
Our Momax Airbox review revealed the revolutionary foldable design to be one of this power bank's best features. This solves the issue many users have with the traditional flat design of other wireless chargers. The Momax Airbox is available in black and white colors and features a sleek and minimalist look.
Qi and MFi certified
The Momax Airbox is Qi and MFi-certified. This means that it can charge all your Apple devices as well as any Qi-enabled smartphone. Simply open the power bank, and you'll find specific compartments for your various smart devices.
Large capacity 10,000mAh battery
The Momax Airbox has a large capacity 10,000mAh battery to ensure it can fully charge your devices. Most phones have a battery of approximately 5,000mAh, which means this power bank can fully charge your iPhone twice. You can get even more charges from other devices, as it can charge AirPods 25 times, your Apple Watch 16 times, and your iPad mini 1.5 times.
Four-way output
The Momax Airbox can charge your AirPods, Apple Watch and iPhone through Qi charging. It can also charge your iPad and MacBook via the USB-C port. This power bank supports 20W PD fast charge and 10W wireless charging. It charges the Apple Watch and AirPods at 5W.
Pros
It can charge four different Apple of Qi-enabled devices at the same time
Has storage space for the Apple Pencil and the AirPods
The foldable design keeps your devices safely in place
Large charging capacity of 10,000mAh
Fast charging can power up your devices in less than three hours
Wireless design to reduce cable clutter
TSA and airlines approved
Cons
Slow when charging multiple devices
It might not charge properly if the mobile device is misaligned
A bit too bulky to carry in your pocket
Frequently Asked Questions (FAQs)
What do the seven lights on the power bank indicate?
This power bank has seven lights, with four lights indicating the charge level and three lights on the left indicating the charging mode being used.
Four lights indicate that the power bank is 75-percent to fully charged, three lights indicate that it is 50-percent to 75-percent charged, two lights indicate that it is 25-percent to 50-percent charged, and one light indicates that it is less than 25-percent charged.
Of the three lights on the left, the green light indicates that the power bank is in fast-charging mode. The second light, which is orange, indicates that the 10W wireless charging mode is on. The third light, which is also orange in color, indicates that the 5W wireless charging mode is on.
Can I use this power bank to charge my MacBook?
Yes, you can use the Momax Airbox power bank to charge your laptop or MacBook using the USB-C port.
Can I charge this Momax Airbox power bank while wirelessly charging my smart devices?
Yes, you can charge this Momax Airbox while wirelessly charging other devices, such as your Apple Watch and iPhone. However, doing this may slow down the charging time for the power bank.
Momax Airbox review final verdict: The next step in power banks
If you often have outlet anxiety because you are away from home and your mobile devices are at the dreaded 20-percent mark, then the Momax Airbox power bank is for you. The fact that it can charge different devices simultaneously means you don't have to get more than one. This charger is fast and convenient to use, plus it features a foldable design and a storage space for your AirPods and Apple pencil for convenience and easy portability. Click here to learn more about this power bank.
Read more:
Is the Silent Sea Scary? Silent Sea Review
Vizio Elevate Review: Incredibly Immersive Audio
The Woman in the House across the Street from the Girl in the Window Review
Reacher Season 1 Review: Comes as Advertised
Samsung AU800D Review, One Year Later: Price And Performance Strike A Balance