*** TVReviewland.com earns commissions on qualifying purchases made through affiliate links ***
This Xbox One S All digital review offers a glimpse into a possible future where disk-based games become relics of the past.
The gradual shift to streaming services and digital downloads has made the CD, the DVD and Blu-ray disk all but obsolete. Microsoft is making moves to anticipate the future of gaming by creating diskless gaming consoles. They started with the Xbox One S all digital gaming console.
This review explores the features, benefits and drawbacks of the Xbox One S All-digital console. It discusses the question of whether diskless consoles are the future or whether disk-based games are here to stay.
Xbox One S All Digital Review: Unboxing
When you open the package, you see a user manual that walks you through the setup process. Under it, you find a box with a controller, a power adapter, an HDMI cable and a pair of AA batteries. You'll then reach a box with three digital game titles in them. It will contain paperwork, codes and instructions on how to set up each game.
Last but not least is the gaming console itself.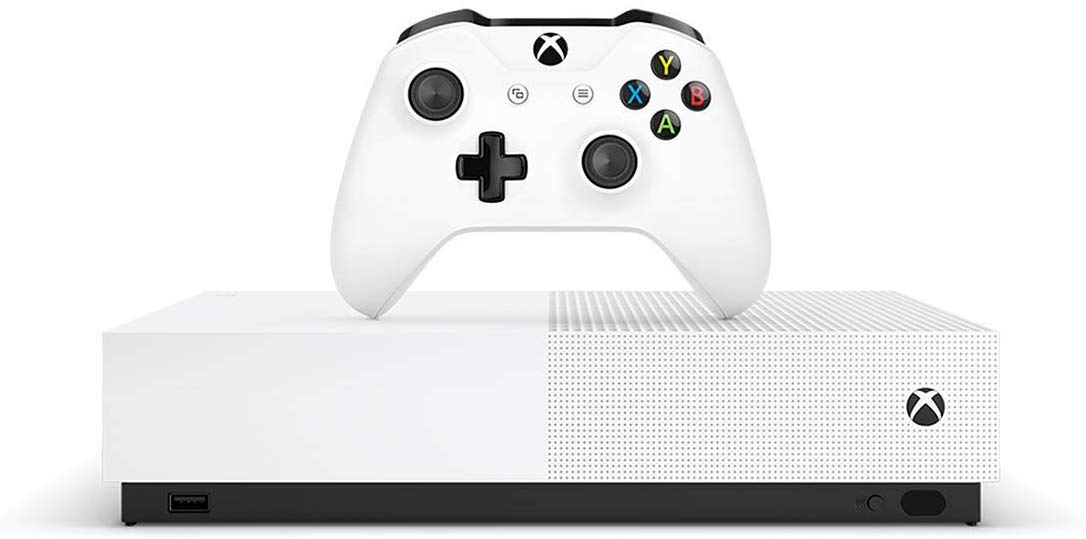 First looks
The Xbox One S All-digital is compact and rectangular. Because it has no physical disk drive, it has smaller dimensions and weighs less than the Xbox One S console that comes with a drive.
Half of the console's top surface is a vent that covers the fans that cool the device. There's also more ventilation on the sides and back. By creating as much ventilation as possible, the designers of this Xbox iteration ensure that the console runs cool and quiet.
The front face of the Xbox One S All-digital is bare, with only a power button with the Xbox logo, a USB 3.0 port and an IR blaster to create a contrast against the stark white surface. The back end of the console is where all the ports are.
Xbox One S All Digital Review: IO ports and connectivity
The back of the console holds a power port, an HDMI out port that connects to a TV, am HDMI in port, two USB 3.0 ports and an IR receiver. There's also an S/PDIF port for certain makes of headsets.
As for internet connectivity, you have your pick of an Ethernet port and a dual-band (2.4/5GHz) wireless adapter. The adapter allows connection to WiFi networks, the controller and other compatible devices within range.
Many Xbox consoles come with Kinect ports for webcams. This model doesn't, so you'll have to buy an adapter to connect the camera to an existing port.
[Read what others are saying about this gaming console]
The controller
This is the same controller that comes with older versions of the Xbox One. It has the usual 'X, Y, A, B' navigation and trigger buttons. It also has two joysticks, a D-pad, a headset port and a 3.5mm audio jack for headphones.
Processing power
Gaming consoles need powerful hardware and the Xbox One S All-digital does alright in this respect. It runs on a 2.3GHz eight-core processor, which has a huge assist from a capable GPU and 8GB of memory.  This chipset allows the Xbox One S All-digital console to render awesome graphics without breaking a sweat. The console may not have native 4K capability but the processing power of the device does a great job of upscaling content to 4K.
The end result is good video, great graphics and smooth motion that makes for enjoyable gameplay and video streaming.
Xbox One S All Digital Review: Storage
The console comes with one terabyte of storage, which is not as much as you'll ultimately need for an all-digital gaming device. Some games need up to 40GB of storage. Others need double that. So it figures that a terabyte of storage can fill up pretty fast.
Manufacturers of gaming devices need to craft ways to mimic the portability, convenience and cost-effectiveness of disk-based games. If they don't then physical games will be around for a good, long while.
Interface
If this is your first Xbox, the interface will take some getting used to. You will get the hang of it in a few days, once you figure out where to find different functions.
Content
You get three games when you buy the Xbox One S All digital console. When you want more content, you can download new games or play them online. An Xbox subscription gives you access to a world of content and first dibs on new releases; long before other people can get their hands on a physical copy.
Another advantage of the Xbox One S All digital console is the fact that you get to save your progress in the cloud. This means that you can log into your account and pick up where you left off, even on a different console.
Xbox One S all digital review: Video streaming
Most gaming consoles double as competent streaming devices. The Xbox One S All-digital allows you to stream 4K videos from Amazon, Netflix, Hulu and other streaming apps that are compatible with the Xbox one.
Pros
This is a great gaming console for the gamer who prefers to buy digital versions of games
It is the most affordable version of the Xbox One S in the market
Sleek, compact design
The Xbox One S All digital is cheaper than the regular Xbox One
The console bundles with three gaming titles
It also comes with a great deal for a three-month subscription to Xbox GamePass ultimate
Cons
The console is expensive, more so if you factor in the cost of digital downloads
There are only a few titles that allow you to trade in your physical disks for the digital version
Some customers complain of an unresponsive controller
1 TB may seem like a lot of disk space, but it can only hold a limited number of games. This means that you have to stream additional games or add an external drive
This limits portability because friends can't come over with their physical games and play them on this console, or vice versa
Are you ready for disc-free gaming?
The march of time seems to be pushing towards a world of streaming and cloud services for gaming. This Xbox One S all digital review takes an honest look at the first attempts towards that reality. The question you need to answer is: Is the Xbox One S all-digital a pocket-friendly purchase in the long run? Is it convenient? Does it improve your gaming experience?
The answers to these questions will help you arrive at a verdict. Click here to read more about this console.
Xbox One S all digital review: Frequently asked questions (FAQ)
1. Do all the titles that bundle with the Xbox One S All-digital work offline?
Some do, but games like Sea of Thieves work best with an internet connection. Luckily, there are only a small percentage of games with this shortcoming. It's worth mentioning that an internet connection does improve your overall gaming experience, even if the game you're playing is in the hard disk of the console.
2. Can you use the Xbox One S all-digital console to stream content?
You can. The console comes with many of your favorite apps including Netflix, Hulu, Amazon, HBO, YouTube and a whole lot more. All you need to do is download the apps from the Xbox store.
3. What happens to all your old disk games?
Some titles are eligible for Microsoft's exchange programs. You can swap those for their digital equivalents. As for the rest of them, you can keep them to use with your old console, or give them away.
4. Can I use my digital downloads on other devices?
Yes, you can. You can download your digital purchases onto compatible devices as often as you want. This allows you to access and enjoy your content wherever you are, as long as you have access to the cloud.
5. Can you play remote multiplayer games with people who have different versions of Xbox?
Only if the particular game you want to play is compatible with both the Xbox One S All-digital as well as the other person's device. There are titles that work with several Xbox models, so you have to check the system requirements of each game to know for sure.
6. Can you play disk games that are installed on an external hard disk?
No. Microsoft made the Xbox One S all-digital in such a way that it can only render games that you download and install in the internal storage of the console.
7. Can you expand the storage of this console?
Yes, and all you need to do is connect a hard disk with a USB 3.0 port. Now, the reason you'll need to expand storage is because games take up a lot of space. So the console will play digital games that you install in the external hard drive, but it probably will not recognize disk-based games installed in the drive.
8. Does the controller have a rechargeable battery?
No. You will need to replace AA the batteries once they drain. If you want a rechargeable battery, you can buy a charging kit as a companion piece to the controller.
9. Can you use the controller of a different model of the Xbox One?
Yes, you can. Just keep in mind that you cannot use the controller of an Xbox 360 on an Xbox One.