*** TVReviewland.com earns commissions on qualifying purchases made through affiliate links ***
If you're reading this Amazon Fire Kids tablet review, you are probably looking for an alternative to the anxiety of sharing your own device with your precious children. So is the Amazon Fire 7 kids tablet a content-rich, child-friendly device that can withstand handling (and manhandling) by young kids?
Let's find out.
Amazon fire kids tablet review: A tablet just for kids?
This device is a basic tablet that has little in the way of processing power. It is pretty much an Amazon Fire 7 tablet with lots of childproofing and a great warranty. Still, the Fire 7 kids' edition has qualities that make it stand out.
For starters, the Amazon Fire 7 kids' edition is a steal, pricewise. It's almost as if Amazon sells the device at a bargain to lure buyers into taking up one of its subscription-based services.
This brings us to the second and most compelling selling point of the Amazon Fire 7 Kids' edition: Content. By buying the device, you get a one-year subscription to an entire world of Amazon content for children.
We'll explore the content aspect of the device as we delve deeper into the Amazon Fire Kids tablet review.
What's in the box?
The Amazon Fire 7 Kids Edition comes in a compact package that doesn't contain much. Inside the box are the tablet itself, a power plug and a USB cable. There are also some basic instructions and a few more pieces of paperwork.
The device doesn't come with a screen protector, so consider getting one. Still, the thick rubber housing of the tablet goes a long way to protect the screen from falls.
First looks
As you read through an Amazon Fire Kids tablet review, keep this in mind: The device is a regular Amazon fire 7, but with lots of childproofing. It's the first thing you'll notice about the tablet when you pull it out of the box.
The Amazon Fire 7 kids' edition is a seven-inch display encased in thick, sturdy rubber that complimentary against spills, dunks, and blows. The tablet itself is black, which you won't notice on account of the colorful rubber that houses it.
All along the edges of the tablet, the casing is shaped to accommodate the grip of small hands. The rubber material that goes into the making of the case is squishy, to use a kid's term. This flexibility prevents the Fire 7 from slipping out of little hands, or from breaking if it does hit the floor.
The rubber housing has allowances along the edges for the power and volume buttons. It also has openings for the speaker grill, camera, headphone jack and USB port. The casing also has a kickstand that allows the tablet to rest on a flat surface so that the kids can watch video without having to hold the device in their hands.
[Read what others are saying about this tablet]
IO ports and connectivity
The upper edge of the tablet has a volume button, a 3.5mm headphone jack and a micro-USB port. There is also a micro-SD slot on the right side of the Fire 7. The slot allows you to expand the storage capacity of the device by up to 512 GB.
On the inside, the Amazon Fire 7 has a dual-band wireless adapter that allows you to take advantage of both 2.4 and 5 GHz Wi-Fi frequencies.
Display
The Fire 7 is a seven-inch screen with thick bezels, more so at the top and bottom edges. The display has 1020x600p resolution, which makes for good picture quality. For a kids' tablet, the resolution is enough to deliver a good user experience. That said, you will notice some pixelation if you get too close to the tablet.
As far as brightness goes, this is not the kind of tablet that holds its own against direct sunlight. It may have a peak brightness level of around 325 nits, but strangely, this isn't enough to render defined picture as your kids lounge in the yard or beside the pool.
The 2MP front-facing VGA camera doesn't take the best pictures, especially in low light, but it works just fine for video chats. The 2MP rear camera has better resolution, but like the front camera, it doesn't capture the best photos in dim lighting. This isn't really an issue because this tablet is not supposed to be a professional camera.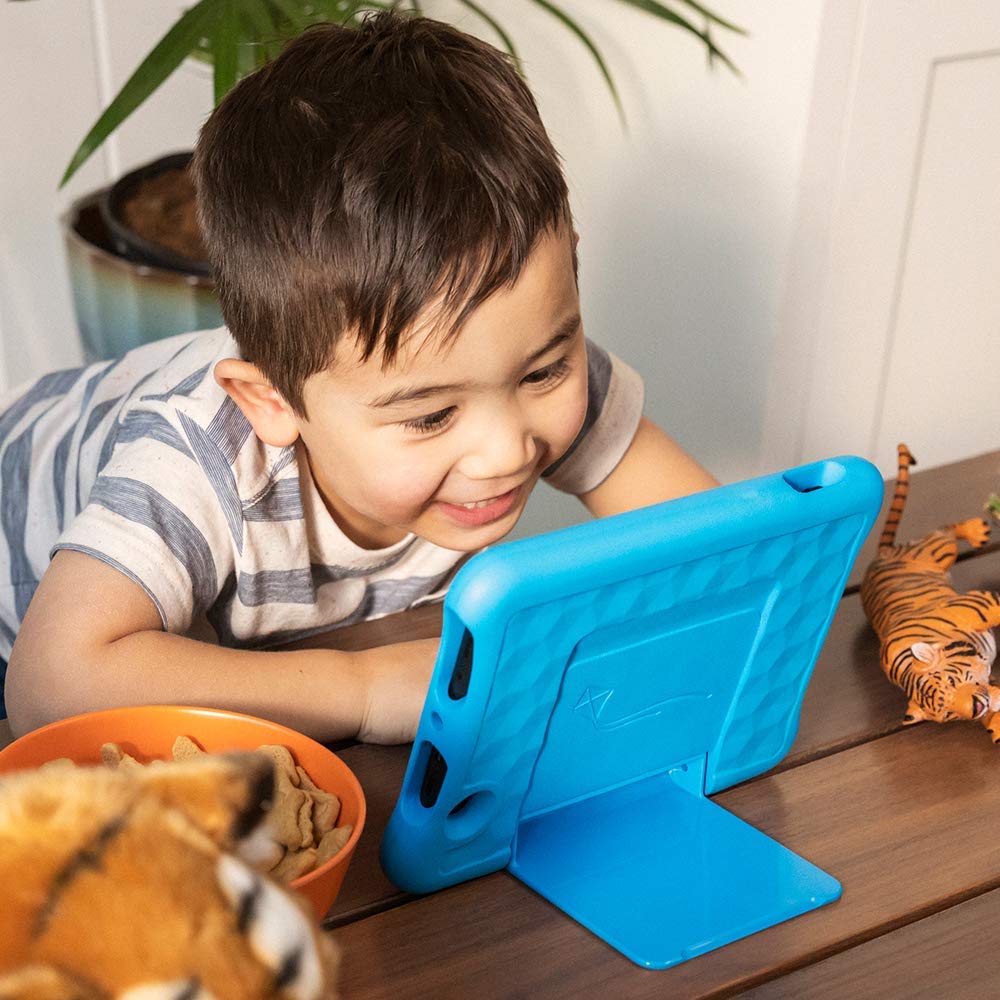 Storage and chipset
The Fire 7 runs on a 1.3GHz, quad-core processor and 1GB of RAM. It has 16GB of internal storage which you can expand by slotting in an SD card with a capacity of up to 512GB.
This hardware has enough to render the basic services that we expect from our mobile devices. The question is whether Fire 7 will stream content without breaking a sweat. Will it allow kids to play games and watch their favorite shows without forcing them to endure the unresponsive screens and choppy animation that happens when hardware gets overwhelmed?
User interface and experience
A close look at the user interface brings us closer to the core of the Amazon Fire Kids Tablet review. The tablet runs on Firestick OS, which is Amazon's take on the Android. Amazon took an Android core and customized to work seamlessly with different Amazon services.
The tablet can hold regular apps like CBeebies and even Netflix, which you won't necessarily need in a kids' tablet. That's as far as Firestick's resemblance to Android goes. Everything else on the interface works best within Amazon's digital world. So what's it like to use this device?
It's a little slow, and you may notice some lag between screen transitions, or as an app loads. Apart from that, content streams just fine and gameplay goes well enough to keep young children engaged. It helps that the operating system that runs the tablet is optimized for Amazon's content.
Content: Fire for kids
The child-friendly version of the Firestick integrates the content from Amazon's well-stocked vault. The result is Fire For Kids. Once a child gets onto the homepage, they can search for games, books or shows. Fire for kids returns results based on search terms like animals, popular movie or book characters, content type or animals.
You and your kids can have your pick of premium content that falls in the following categories:
Learning tools and edutainment
Movies and cartoons
Audiobooks
Regular e-books
Fire for kids arranges its content based on no particular categorization, but there's enough content to mitigate the random arrangement of the interface.
Filters and parental controls
Being a kids' tablet, the Fire 7 kids' edition has useful features that allow parents and caregivers to control and oversee the content that their child has access to. The most convenient of these is the ability to control different aspects of parental control via an app on your phone.
These features let you manage multiple profiles that cater to children of different ages. Take whitelisting as an example. You can also add and remove games, books, streaming apps and shows to a profile, which allows you to control the kind of content that a particular child can access.
As a parent, you want to raise a well-rounded child that spends time interacting with the real world. The Fire 7 kids' edition helps you with that. You can set goals and time limits on screen time via a companion app on your phone. You can do this for individual user profiles.
Battery life
This Amazon fire kids' review wouldn't be complete without information about battery life. You can put the tablet through its paces by streaming content continuously at 100 percent brightness. Push the tablet even further by switching it up and playing a resource-intensive game.
You'll find that the battery will last for approximately four hours before it drains. This may not be a big deal at home, but on a long drive, the short battery life is an inconvenience. You may need a power pack if you want to keep children entertained for long stretches of time, outside the home.
Pros
The tablet has a sturdy exterior that acts as protection from knocks and falls
The warranty of the Amazon Fire 7 kids' edition has amazing terms
Your child gets to enjoy unlimited access to Amazon FreeTime for a year, and the subsequent subscription plans are well priced
Parents can whitelist and blacklist content remotely, with an app on their phones
The tablet allows for multiple user profiles for kids of different ages
The interface allows parents to limit screen time when necessary
Cons
Limited battery life
Limited processing power
The screen could be brighter
This tablet only works in the Amazon ecosystem, so it is not what you would consider a general-purpose tablet
The tablet is a great device for young children
What's the verdict from this Amazon Fire Kids Tablet review? It will keep kids occupied, entertained and away from your own phone or tablet. Also, the Fire 7 kids' edition will let you monitor your children's activity through your phone. Best of all, the great terms in the warranty and the complimentary subscription to Amazon's Freetime unlimited service make the Amazon Fire 7 kids' tablet a bargain. Click here to purchase one.
Amazon Fire Kids Tablet Review: FAQs
1. What are the terms of the warranty that comes with the tablet?
The warranty is valid for either one or two years. It covers any kind of damage that could possibly happen to the tablet. Amazon offers this amazing deal as a marketing tool for their Amazon subscription services.
2. Does the FreeTime subscription that bundles with the tablet have unlimited content?
FreeTime gives your child full access to all the shows, apps and books that are geared towards children in Amazon's store. The only limit to the content that your child can access depends on the restrictions that you place on individual profiles.
3. Is this tablet a good fit for older kids?
As the Amazon fire kids review demonstrates, children older than 9 may want more from a tablet than this particular model. The rubber casing may be a deal-breaker for children who want a device that looks more grown-up. Also, any child that wants to take photos that can last will want a better quality camera. That being said, the world of content that this tablet provides makes the tablet very appealing.
4. Is the Amazon Fire 7 kids edition a good product for the very young?
Absolutely. You could say that this tablet is tailor-made for young children. The free Amazon Free Time provides content that helps children learn and develop all sorts of useful skills.
5. Is the Amazon fire 7 kids' tablet waterproof?
No. The tablet can take a lot of hard knocks, thanks to its rubber casing, but it cannot survive a good soak. So this is not the type of tablet that you want your kids to play with near a pool or any collection of water for that matter. If the tablet takes an unfortunate swim however, there's always the warranty.
6. Do you have to pay extra for Amazon FreeTime unlimited?
Not for the first year of the tablet's use. You get a free subscription that's worth a full year of unlimited content when you buy the tablet. After the offer lapses, you will have the option to pay for a monthly, quarterly or annual subscription. The good news is that the prices are affordable.
7. What happens if you have an existing subscription for the kids?
In that case, the existing subscription will kick in after the bundled FreeTime unlimited plan lapses. Once you exhaust your old subscription, you can choose an affordable FreeTime subscription plan.
8. The tablet comes with a default browser. Can you control the websites that your child visits?
Yes, you can and it's not as hard as you would imagine. For starters, Amazon did most of the work by filtering sites that are unsuitable for kids. As a parent, you can also make changes by blocking certain websites and content. You can do this by making adjustments to the global settings of the tablet.
Read more:
Samsung Q70 Series Review: Good Performance at a Good Price
Naruto Television Show: The Enduring Appeal
Sony 85-inch TV XBR85X850F Ultra 4K HD: Is It Too Big to Succeed?
Samsung Crystal UHD Review: Good Picture Quality for a Good PriceSceptre Curved Monitor Review