*** TVReviewland.com earns commissions on qualifying purchases made through affiliate links ***
Our Gigabyte M27Q review goes over the features and performance of this high-end gaming monitor. Its manufacturer claims it's the last component you need to complete your gaming setup. Let's jump right into our Gigabyte M27Q review and explore how well this monitor handles gameplay.
Gigabyte M27Q review: First thoughts
At 27-inches, the new 27Q isn't the largest screen you can find. It's big enough for gaming though since you, like most people, probably sit close to the screen when gaming. The 27Q delivers HD pictures with 2560 x 1440 resolution.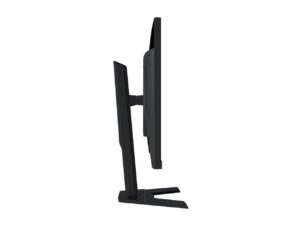 It handles game graphics very well with its 170Hz refresh rate. Most top-end televisions that sell for a few thousand bucks do not have a refresh rate that high. 60Hz is typical for most monitors or TVs, 120Hz is great for gaming, and anything over that just means even better graphics. If you currently have a 60Hz monitor, you will notice a clear difference when you connect your gaming rig to this monitor.
[Read what others are saying about this monitor]
The 27Q comes with a stand that provides a stable base for it, and it can be wall-mounted. It comes with 100 x 100 mm VESA mounting holes. Other noteworthy features of this gaming monitor include:
Automatic updates to the software
Comes with AMD FreeSync Premium that promotes smooth gameplay
Flicker-free screen with low levels of blue light
Two HDMI 2.0 ports
One display port
Three USB ports
Comes with OSB sidekick
0.5ms input response time
KVM can be used to control multiple devices
Gaming Timer, Counter, Aim Stabilizer, Crosshair, and Alignment features
Pro:
Incredibly high 170Hz refresh rate
0.5 input response time beats most of the competition
Comes with a variety of gaming features that give you an edge when playing multiplayer games
Excellent graphics
KVM feature is great for switching between different computers while using the same input controls
Cons:
Gigabyte M27Q review verdict: A powerful gaming monitor
The 27Q is one of the most powerful gaming monitors we have reviewed so far. It gives you top-end graphics, it's a great work monitor, and it makes using one monitor for multiple devices extremely easy. Its gaming features like the Aim Stabilizer even give you an edge against your buddies. Click here to learn more about this monitor.
Read more:
HP Pavilion i5 GTX 1650 Gaming Laptop Review
Target 70-inch TV for $299: Don't Believe the Hype
TCL 65S434 Review: Exceptional Value
Acer ED320QR Review: A Well-Rounded Gaming Monitor