*** TVReviewland.com earns commissions on qualifying purchases made through affiliate links ***
Our Amazon Echo Show 5 review reminded us of how far we have come from the days of windup alarms. Soon, we will forget what it is like to wake up to smartphone alarm. This is all thanks to smart companions like the Amazon Echo Show 5.
The third version of the Amazon Echo Show entered the market in mid-2019. It is smaller than its predecessor, but it still does the job of a radio alarm, with the sizeable capability of Alexa. The end result is a bedroom companion that talks you through your morning or bedtime routine. This is what the designers of the Echo view had in mind when they came up with this product. Our Amazon Echo Show 5 review will explain how this device does that and a lot more.
You are probably wondering whether the Echo Show 5 will actually help you as you move around, getting ready for your day. Can it keep up with you on a hectic morning, or as you wind down at the end of a long day? Let's find out.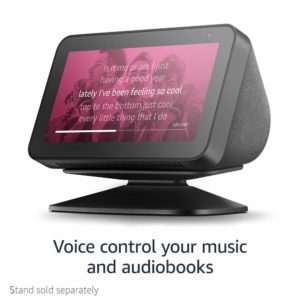 Amazon Echo Show 5 review: First looks
The newest version of the Echo Show is much smaller than its predecessor. It has a 5.5-inch display, almost half the size of the Echo Show 2. Its dimensions explain why it is called the Show 5, though it is the third model of the series.
This little Echo device comes in Black and sandstone. It looks more like a little old-school tube TV than an alarm clock, with a back that sticks out at a depth of 3 inches.
The Show 5 has a rear speaker encased in an outer shell covered in mesh fabric. This helps to explain its protruding back. The design choice gives the Echo view a wide, stable base that allows it to sit comfortably on your bedside table. You will find it hard to knock this little device over.
The control buttons are on the top surface of the device. You will find a mute button, a power button, volume buttons and a slider to cover the front-facing camera. The back of the device has a power port, a micro-USB port and a 3.5mm audio port if you need to connect an external speaker. Our Amazon Echo Show 5 review is just getting started. We'll take a look at more features in the next section.
Features: Smart home controller
Like many Alexa devices, the Echo Show 5 can control compatible devices that are connected to the home Wi-Fi network. This allows you to turn off all the lights from the comfort of your bedroom. It also allows you to view output from your security system. These are just two smart-home control functions that the Echo Show 5 can perform.
There is a catch, though. Unlike the Echo Show 2, this model does not support ZigBee Wi-Fi. This means that it cannot control devices that use ZigBee connectivity. The Echo Show 5 is also unable to control the Amazon Ring security system.
That said, you will love the smart home control panel. The interface is well organized and it groups your smart devices according to their functions. Lights form one category, thermostats another and security yet another.
Features: Bedtime companion
The Echo Show 5 does a pretty decent job in this respect. It will play you relaxing music as you prepare for bed and confirm that the lights are off in the other rooms. As you go to sleep, it will enter 'sleep mode'. Its screen will darken, save for the clock, which displays as red digits.
Features: Alarm clock
This is one of the best features of the Echo Show 5. Its display starts to brighten as the clock counts down to the time set on the alarm. When the alarm goes off, you can hit snooze just by putting your hand on the device.
Sadly, dismissing the alarm is not this easy. You will need to get up and swipe the display to turn off the alarm. By the time you are done, you will be awake anyway.
[Read what others are saying about the Echo Show 5]
Features: Skills and routines
You will get the hang of asking Alexa for things. She will answer your questions with a web search. She will give you traffic or weather updates and arm your security system if you ask her to.
You can combine all these activities into a single routine that you can launch with a single voice command. The Amazon store is full of useful skills that you can add to Alexa, just in case you need help with meditation or a rundown of last night's game.
Sound
Given its size, the Echo Show 5 does not produce surround sound. You can hook it up to an external sound system, though. The far-field microphones of the device work well, which allows you to talk to Alexa from different locations in your room.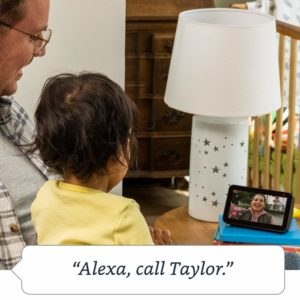 Pros
The camera shutter feature improves your level of privacy
It has a cute design and a small form, which makes it perfect for your bedside table
The display renders sharp, clear picture that makes the Echo Show 5 the perfect photo frame
The sunrise alarm is a nice feature
You can make the alarm snooze simply by banging on it, like an old-timey alarm
The Echo 5 is an Alexa device that you can use to control other compatible smart devices
Alexa also comes with skills and routines, which are helpful
Cons
Alexa has been caught being very naughty, so if you are obsessive about privacy, having an Alexa device on your nightstand might be worrisome
Large bezels eat up precious space on the display
The screen is great as an alarm clock or a control panel, but too small for TV and movies
Dismissing an alarm is not as easy as putting it on snooze
Sometimes, there is a lag on the interface
How comes there is no male voice for the smart assistant?
Competing devices from Google are more intuitive and easier to use
Cannot control devices that use Zigbee Wi-Fi
Amazon Echo Show 5 review verdict: Does smaller mean better?
The Echo Show 5 is the affordable, fun-sized version of its predecessor. It takes up less space on your kitchen counter or nightstand, which is good. That said, the screen is too small a TV show marathon.
As functionality goes, the Echo Show 5 works pretty well. It will control compatible smart devices and get you through your daily routines. If you want to hear the latest headlines, or get traffic update before you rush out the door, the Echo Show 5 has you covered.
Still, you should know that this little device is super motivated to get you out of bed. If you want to dismiss the alarm in one second or snooze in peace, you are fresh out of luck.
Read more:
Samsung Q70 Series Review: Good Performance at a Good Price
Naruto Television Show: The Enduring Appeal
Sony 85-inch TV XBR85X850F Ultra 4K HD: Is It Too Big to Succeed?
Samsung Crystal UHD Review: Good Picture Quality for a Good Price