*** TVReviewland.com earns commissions on qualifying purchases made through affiliate links ***
Use this Sceptre monitor review as a checklist. One that helps you figure out if the irresistibly priced monitor you're looking at has the qualities you're looking for.
For a casual user, this Sceptre monitor review will reveal a budget monitor that can handle everyday applications. The review does much more, though. It goes over the different performance metrics of the 22-inch Sceptre E205W-16003R frameless monitor. Find out if this budget display has what it takes to get you through the most basic as well the most demanding of computing tasks.
Sceptre monitor review: Unboxing
The Sceptre E205W-16003R ships with all the accessories you need for installation and setup, giving you full value for your money. It comes with:
A disassembled stand
Two sets of screws to help with a wall mount
A screwdriver (can you ever have too many of those?)
A bulky power cord, with an integrated 12V DC adapter
An HDMI-DVI adapter cable
A full-length VGA cable
Lastly, the people at Scepter included a comprehensive user manual, complete with pictures that take you through physical installation. The guide has step-by-step, graphical instructions on stand assembly, wall mounting and basic monitor calibrations.
Design: First looks and the benefits of a frameless build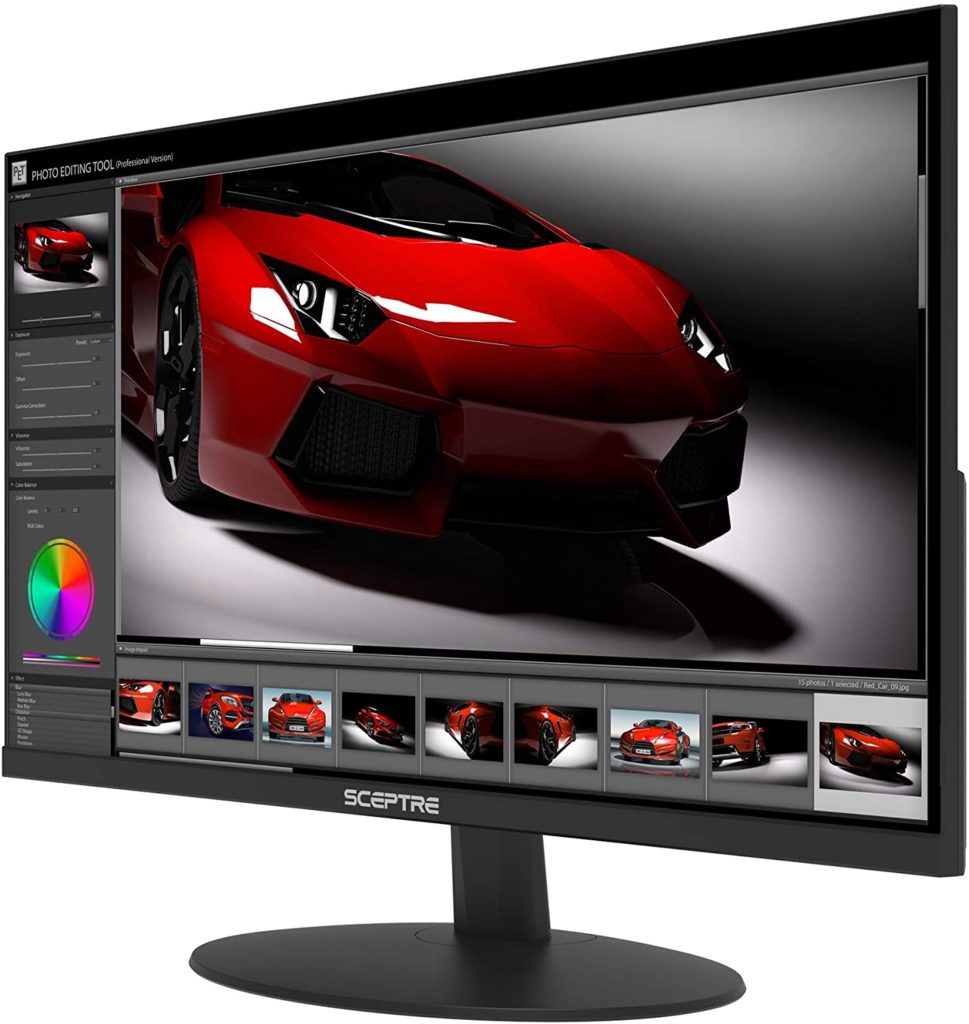 Sceptre went with a simple, compact design for the E205W frameless monitor. The side profile of this 22-inch display gives off a retro vibe, with the bottom third of the monitor jutting out in relief. This protrusion has allowances for the stand, the VESA wall-mount pattern, the inputs and the controls. You'll notice a 100x100mm VESA wall mount pattern right where the stand connects to the monitor.
In contrast, the front of the screen looks sleek and modern, with barely-there bezels that are no more than a quarter-inch thick. The frameless chassis of the Sceptre E205W makes the monitor perfect for a setup where you need to create a single, seamless array of multiple screens. If you are the kind of person who needs to process different sets of graphical information at the same time, this is one of those must-have features that you want.
To complete the look Sceptre went with an oval stand that adds a little curvature to an otherwise angular design.
[Read what others are saying about this monitor]
Design: Controls, inputs and connectivity
There's a column of five buttons at the back of the Sceptre E205W-16003R. You can reach them easily, from the front of the monitor, on the left side. The first four buttons allow you to navigate through On-screen Display settings. The bottom control is the power button.
The five rear-facing inputs consist of two HDMI ports, a VGA port, a pair of 3.5mm audio IN/OUT ports and a DC power port. Being a budget monitor, the Sceptre E205W lacks wireless connectivity like Bluetooth.
Sceptre monitor review: Setup and controls
By all counts, the Sceptre E205W-16003R is a plug-and-play device that requires little calibration. The colors have a good mix of warmth and coolness right out of the box. However, the user manual will walk you through the on-screen menu, should you need to make adjustments.
Display hardware
The Sceptre E205W-16003R is a TN panel with a resolution of 1600×900 and a refresh rate of 60Hz. The manufacturer indicates that the refresh rate can go as high as 75Hz, which can happen if you push the monitor to its limits.
Twisted Nematic panels have their benefits and drawbacks. So does relatively low resolution and refresh rates. We get into all this in the next section.
Sceptre monitor review: Picture quality
Picture quality is the total of many metrics. It is the result of an interaction of the native hardware capability of the monitor, as well as the extent to which said hardware is put to use. For example:
1. Resolution, screen size and pixel density
The Sceptre E205W-16003R has a resolution of 1600×900; short of a full HD (1080p) panel. However, because of its compact, 22-inch screen size, the pixel density of the E205W is high enough to deliver saturated color with no pixelation. The monitor's density of approximately 84 pixels per inch works just fine and is comparable to FHD monitors with larger screens.
An added advantage of low resolution is lower response time, something that gamers would approve of.
2. Color accuracy
Each of the pixels in the Sceptre E205W has available to it all the colors of the sRGB gamut. However, TN panels are usually less accurate at color reproduction than their IPS and VA counterparts. The E205W shares this limitation, but you are unlikely to notice.
3. Brightness and contrast
The E205W has a peak brightness level of 250 nits, which works for a compact monitor. With a contrast ratio of 1000:1, the panel does a fairly good job of executing sharp contrast and defined outlines. Still, there's a limit to the level of detail that the monitor can execute.
4. Viewing angles
With the Sceptre E205W, you get to enjoy wide viewing angles where the colors don't shift as you move to the side of the screen. The color, brightness and contrast remain unchanged at angles of up to 160 degrees.
5. Motion handling
This is where the Sceptre E205W shines. TN panels are responsive with minimal input lag, much like our monitor. With a grey to grey response time of 5ms, the pixels in the E205W change color fast enough to minimize or downright eliminate ghosting, trailing and motion blur.
The happy end result is a panel that renders smooth, crisp graphics during gameplay and other types of action-packed content. That being said, the monitor may succumb to screen tearing if you play resource-guzzlers like GTA V and Overwatch.
Sound
The monitor comes with a pair of 2-watt internal speakers that do a passable job of producing clear sound. Just don't expect the loudness, rumble and power of an external audio rig.
Pros
Affordable
Solid, sturdy build
The frameless design makes the Scepter E205W ideal for multi-screen rigs
Surprisingly wide viewing angles
Good motion handling
Energy efficient
Cons
The stand only offers a limited range of motion
This panel has a maximum resolution of 1600×900, which falls short of a full HD monitor
Being a TN panel, the Scepter E205W does less accurate color reproduction than IPS or VA monitors
Sceptre monitor review verdict: Great for multi-screen setup, good for everything else
There are several reasons you should consider the 22-inch Sceptre E205W-16003R frameless monitor. For starters, its price is hard to resist. Then there's the fact that it lacks bezels, making it ideal for a multi-screen arrangement. Better still, you'll appreciate how well the monitor handles fast-paced gameplay and video.
Is this monitor a good fit for your unique needs? Here's how you know:  Get your list of must-have features and deal-breakers. Compare it to the different sections of this Sceptre monitor review. Then see if the two align. Read more about this monitor.
Read more:
Samsung Q70 Series Review: Good Performance at a Good Price
LG 55UM7300PUA Review: Alexa Built-in 55″ 4K UHD Smart LED TV
Enacfire E19 Review: Bluetooth Wireless Earbuds, Good Build, Great Performance, Awesome Pricing
Naruto Television Show: The Enduring Appeal
Sony 85-inch TV XBR85X850F Ultra 4K HD: Is It Too Big to Succeed?