*** TVReviewland.com earns commissions on qualifying purchases made through affiliate links ***
Ready for our Samsung S20 Ultra review? Samsung changed up the naming sequence of their Galaxy S series, probably in honor of the year 2020. So instead of the S11, this year we have the Galaxy S20. There are three models in this series: The S20, the S20 plus and the phone we're reviewing; the S20 Ultra.
The Samsung S20 Ultra hits the mass market in March and from what we see so far, the phone just might be worth its asking price. Its sleek design grabs your attention and the specs of the camera, as well as the rest of the hardware, make you wonder if this phone has limits.
Before we jump right into our Samsung S20 Ultra review and get into the specs and performance of this smartphone, let's go over the basics first. We need to think about what we want from a phone.
Samsung S20 Ultra review part 1: What must-have features do you want in a phone?
Are you the type of person who is fine with a basic camera but wants a chipset that could rival that of a competent PC? Or maybe you're the artistic type who needs to take breathtaking photos for your travel blog. Your needs and preferences will be the lens through which you will read this review.
Different people evaluate the worth of a phone based on different considerations. Here are a few of the most important metrics we paid attention to during our Samsung S20 Ultra review:
1. Brand recognition
Lots of people are loyal to their preferred brand. Knowing this, phone manufacturers like Apple and Samsung release their newest offerings to great fanfare. The hype that precedes each iPhone or Samsung Galaxy release is a marketing technique that drives sales through anticipation. The target audience for these PR efforts is brand loyalists who will pre-order their phones or queue for an hour for the hot new thing.
2. Design and first impressions
Are you a visual person who loves a sleek design and a unique color palette? Smartphone manufacturers use design as their opening sales pitch. For some people, a paper-thin phone that has ultra-thin bezels is the main reason why they choose a particular phone. If we're counting, the look of a phone will snag most (maybe all?) shoppers and it would take bad reviews to make them choose an alternative.
3. Chipset and storage
Then there's the person who wants a powerful phone that can serve as a hand-held office in a crunch. They may like to log into a server from their phone or play resource-intensive games that require a responsive display and a powerful chipset.
This person will want raw processing power, a good amount of memory and adequate storage. They will also need an operating system that can support their favorite software and a well-stocked app store.
4. Battery life
Most people can put a phone through its paces. Most people do that daily. Whether you create and edit content through your phone, or whether you like to play resource-intensive games, you know how to drain a battery.
Between streaming, Bluetooth, demanding apps and powerful displays, we need phones with batteries that can hold up under a big load.
5. Camera
Social media citizens, content creators, nature lovers and memory makers need to take good photos. They need powerful cameras that:
Capture images with excellent color saturation
Perform accurate color reproduction
Are hooked up to image processing features like color correction, night mode and lighting
6. Build quality
Lastly, you want a phone that lasts; one that will continue to function perfectly for many years. So you should choose a phone from a company that has a reputation for making sturdy, durable phones that are future proof, to some extent.
A review of the Samsung Galaxy S20 Ultra demonstrates how many boxes this particular phone ticks. So let's start at the very beginning: With unboxing and first impressions.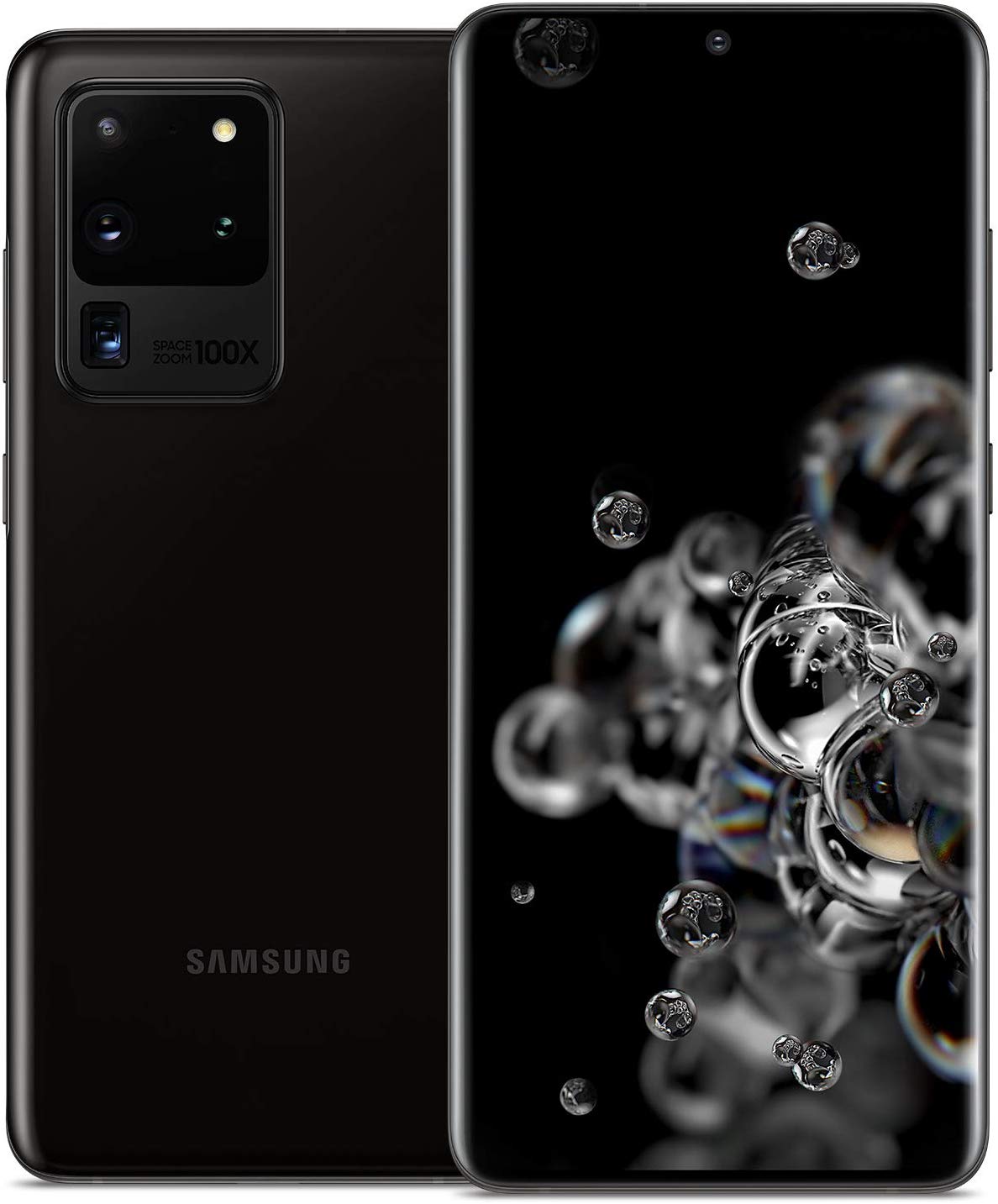 Samsung S20 Ultra review part 2: Unboxing and first impressions
The phone ships with a charger and a USB-C to USB-C charging cable. It also ships with a set of USB-C AMG earphones that come with a set of ear tips. Along with the paperwork comes a SIM ejector tool. The S20 Ultra does not come with its own case and it would be interesting to see how the product ships depending on geographical location.
This phone only comes in black and grey, so you'll come face to face with a slim, simple 6.9-inch device with near-invisible bezels. The only aberration to an otherwise sleek design is the camera array at the back. It sticks out such that if you lay the phone on its back, only the camera will touch the table surface. This design choice puts the glass that covers the camera at risk of cracking in case of a fall.
Invest in a protective cover if you buy this phone. Let's jump into the rest of our Samsung Galaxy S20 Ultra review.
Design and build
At 6.9 inches long the S20 Ultra is almost as big as a tablet. That kind of real estate makes activities like reading the newspaper or watching a video a lot more fun. The phone has a glossy aluminum chassis that bobs and weaves to make way for ports, vents and the glass that surrounds the controls. Only the black camera unit and the Samsung logo interrupt the unadorned aluminum surface of the S20 Ultra.
Samsung moved the power and volume buttons to the right side of the phone, something that right-handed users will appreciate. The phone's USB port sits on the top edge, right next to the vent. The screen is covered in sturdy glass that can survive the odd ding.
As premium phones go, the Galaxy S20 Ultra looks and feels like the statement piece that it is.
Chipset and storage
All S20 phones run on a Qualcomm Snapdragon 8-core processor with 12 GB of RAM, expandable to 16GB. You also get internal storage of 128GB or 512GB; expandable to a maximum of one terabyte. The processing power and peerless display of the S20 Ultra come together to offer a smooth and immersive user experience.
Display
Samsung went all out and used a dynamic AMOLED display with a refresh rate of 120Hz and a resolution of 1440x3200p. The 120Hz refresh rate of the screen makes for smooth video, but you can only use 120Hz when you set the phone's resolution to 1080p. The S20 Ultra has a pixel density of 511 pixels per inch, which is lower than the smaller S20 models but good enough to render awesome pictures.
The color saturation of the display is impressive, allowing the phone to render rich, vivid colors. The S20 product line does a fantastic job of color reproduction. Thanks to the high peak brightness levels of this panel, you get to enjoy HDR10 content exactly how the cinematographer would want you to. Better still the phone executes crisp images with defined outlines and a level of detail that is hard to find on a phone screen.
The minimal lag between user input and response makes the S20 Ultra a joy to use. You barely touch the screen before it does what you want. It's as if the screen anticipates what you're going to do next. Powered by a high-performance processor, the inbuilt speed of the screen works with the phone's OS to create a user experience that's a lot of fun.
[Related: Samsung Galaxy Flip Review]
User interface and user experience
All S20 models run on Android 10, which feels like an entirely different OS thanks to the powerful hardware in this flagship product. Samsung always puts its signature on the Android that runs on their phones. They add a little animation (usually a second or two of a blank screen) when you select an app or menu item. With the release of the S20, Samsung decided to give us a break from this annoying little feature. Now it only takes an instant for Android to respond to user input.
You also get to enjoy all the bells and whistles of Android 10 and its expansive play store.
Camera
It's been four years since Samsung made a leap in camera technology. So it's safe to say that no Samsung product line has the powerful camera arrangement of the S20 series. You would be forgiven for thinking that Samsung is trying to create a camera that runs apps; that's how impressive the camera array is.
The rear camera of the S20 Ultra is one of the features that make this phone future proof. It comes as a combination of four cameras. The main lens is a whopping 108MP, but it groups pixels at a ratio of 1:9 to create 12MP images. The result is a crisp, clear picture that has little noise or fuzz. A 48MP camera backs the main camera to create images using a 10x lossless zoom. The detail from this camera rivals that of the 30x zoom lens on the same phone.
This brings us to the fourth camera: The super-sensitive 100x zoom. You should mount the S20 Ultra on a tripod if you want to take clear pictures with this camera. The slightest movement will cause your photos to blur, so you would need to be extra careful if you want clear, detailed images from this lens.
Camera: Putting it all together
Samsung put great AI features in the S20 Ultra. This software allows you to make the most out of each camera in the array. Different camera presets will allow the camera array to self-adjust, depending on your focus. The AI tool that manages the camera also adjusts the lighting in your photos to match or counter ambient lighting.
The camera module also has software features that execute color correction, filters and other image processing tasks. They come in handy when you take a portrait or wide-angle selfies with the front-facing 40MP camera.
Battery
The S20 Ultra has a large battery with a storage capacity of 5,000mAh and the phone needs every bit of that charge. Being a 5G phone, the S20 consumes a lot of juice as it interacts with cell phone towers. The display is also resource-intensive, both in terms of processing power and charge.
Then there's you; putting the phone through its paces. Under heavy use, the battery can last for two days. Under normal use, the battery can last for a couple of days. The phone's charging system is compatible with a 45W charger. You can use one instead of the 25W charger that comes with the phone, which will allow you to charge your phone in a shorter amount of time.
Pros
A responsive screen that is fun to use
Great picture quality
Powerful camera array
Ample internal storage coupled with impressive processing power
Thanks to a 5000mAh battery, the S20 Ultra can hold a charge even as you use its most demanding features
Cons
The smartphone is expensive
At 200 grams and seven inches long the Ultra is large and heavy, like a tablet
The rear camera array sticks out from the back, causing uneven weight distribution
The rear camera array sticks out from the back, making it vulnerable to breakage in case of a fall
Because of its larger screen, the Ultra does have the least pixel density of the three S20 phones
The headphones connect to a USB-C port, so it seems like we're done with 3.5mm audio jacks now
Samsung S20 Ultra review verdict: Should you buy this phone?
The S20 Ultra is the most impressive of the three flagship Samsung smartphones of 2020. It easily outperforms similar phones from competing brands. The camera array, display and performance of the S20 Ultra inspire awe. So does its price.
If you are in the market for a phone that will exceed your expectations and serve you in the long term, consider investing in the Samsung S20 Ultra. It's pretty future proof. Click here to order one.
Read more:
Samsung Q70 Series Review: Good Performance at a Good Price
LG 55UM7300PUA Review: Alexa Built-in 55″ 4K UHD Smart LED TV
Enacfire E19 Review: Bluetooth Wireless Earbuds, Good Build, Great Performance, Awesome Pricing
Naruto Television Show: The Enduring Appeal
Sony 85-inch TV XBR85X850F Ultra 4K HD: Is It Too Big to Succeed?