*** TVReviewland.com earns commissions on qualifying purchases made through affiliate links ***
This Samsung NU6900 50 review can help you with your search for a TV that's both affordable and powerful. The review gives you an idea of how well the TV performs, based on different considerations.
Is the entry-level 50-inch NU6900 UHD TV a display panel that manages to punch above its weight class? Before getting into specifics, here are the qualities you should look for in a television set. Use this information to figure out whether or not the Samsung NU6900 will work for you.
Samsung NU6900 50 review: What you want in a TV
It's always a good idea to have a checklist of the features and qualities that you want in an ideal TV. The list helps you to eliminate products that just won't cut it. You will also get an idea of how much you need to spend to get the features and functionalities you need. Here are a few of the most important qualities of a TV that works great in today's world:
The TV should be sturdy, preferably with a great design
Choose a TV with dimensions that match the space on your entertainment nook
It should have enough ports for all your input and output devices
You probably want to stream content through this TV, so wireless connectivity is a good idea
The TV should have a nice TV interface, with an app store that provides access to lots of content and useful apps
It should also have great picture and sound quality
Most of all, the display should give maximum bang for your buck
This is a reliable checklist that will help you choose a TV that will keep you happy for years to come. The Samsung NU6900 50 review uses this checklist to explore the different aspects of the panel.
What's in the box?
The TV ships with a pair of stands, some paperwork, a power cable, a pair of AAA batteries and a Samsung remote. There are holiday offers available right now. If you come across one of them on sites like Amazon, you might get a bundle at a discounted price. The bundle may include a soundbar or wall mounting gear.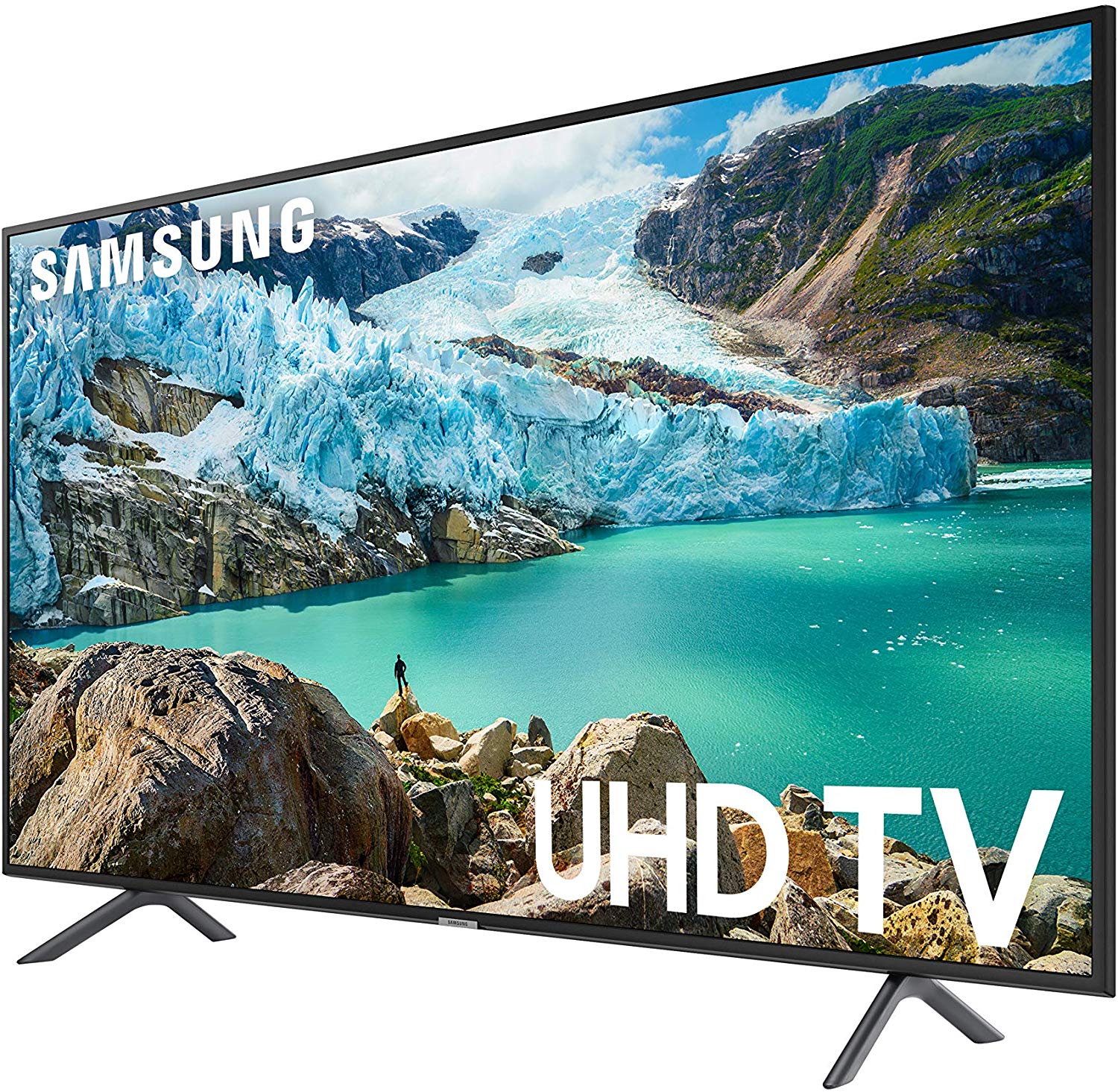 First looks and first impressions
The 50-inch NU6900 has a design that is best described as functional. Much of the internal hardware is housed in the lower half of the TV. To accommodate the TV guts, Samsung made the lower half of the TV wider than the top half.
There are two variations of the NU6900. In the first, the lower half looks as if the TV has a rectangular appendage sticking out of it. This chunky, angular design is what we mean by a purely functional look.
With the second variation, the back panel curves outwards. The end result is a sleek side-profile in the form of a gentle curve that causes the TV to widen from top to bottom.
Samsung NU6900 50 review: Design and build
The NU6900 measures 44.5" wide, 25.6" wide and 50" in diagonal length. The display has slim black bezels that are 0.5 inches thick. This leaves a display area of 49.5 inches. At its thickest point, the TV measures 2.4 inches, which is fairly slim. This allows the screen to hug the wall if you were to mount it.
This panel has an exterior made of high-quality black plastic that is tough, with a slight sheen to it. The same material goes into the pair of stands that support the TV. Each of the stands has a pair of legs; one leg pointing forward and the other backward. The legs are long and low enough to offer maximum stability. Safe to say that the NU6900 is not a TV that is vulnerable to the odd accidental knock.
In the 'angular' variation of the TV, the back panel is plain, with a 200x200mm VESA wall mounting pattern.
The sleeker version of the NU6900 has a textured back that adds a feel of luxury to the TV. It also has allowances for cable management, which is always great.
The ports of the 50-inch NU6900 are on the left side of the back panel. They face outwards, making them easily accessible from the front.
Samsung NU6900 50 review: Input/output ports and connectivity
All the ports are arranged in a column that you can reach from the right side of the screen. At the very top is an optical digital audio port. Below it is a USB port, an antenna/cable connector, an Ethernet port and two HDMI ports, in that order.
One of the HDMI ports has ARC capability, which is a useful feature when you want sound output from several sources to go through the TV.
At the very bottom of the column is a power port. The NU6900 50-inch TV also comes with Bluetooth and WiFi, which is par for the course for smart televisions.
Processing and storage
The NU6900 has a quad-core processor that boosts its speed as it processes input signals, renders quality picture or responds to user input. It has a tuner that receives both analog and digital signals. It also has V-chip capability that allows you to block over the air content with certain ratings.
Smart TV interface: First looks
A huge part of the Samsung NU6900 50 review is the overall user experience of the TV. It turns out that the native smart interface of a TV affects how much (or little) you enjoy your favorite content. So we start at the beginning.
Samsung uses the TV version of Tizen OS on many of its product lines, including the NU6900 series.
After you do the physical install and hook up your inputs, Tizen will take you through a simple setup process. The setup allows the operating system to incorporate the sources of your input signals, which could be cable, antenna, set-top box, streaming stick or WiFi. If you are replacing an old Samsung model with a newer one, Tizen will allow you to download your old settings from the cloud.
The setup process brings you to a neat, tidy home screen. The Tizen layout is simple. Its main point of focus is a navigation bar runs along the bottom of the screen. The ribbon has useful menu items like settings, inputs, a search function, app management and a number of popular apps. These are arranged from left to right, and in that order (pretty much).
You'll also find a 'Recents' menu on the upper-left corner of the screen. The menu will have a list of the apps and input sources that you use the most.
[Read what others are saying about this TV]
Smart TV interface: Smoothness and overall user experience
You can personalize Tizen to your liking, which gives the interface an aesthetic that reflects your tastes. The Tizen interface is smooth, although it takes a moment to react when you select a menu item.
You will find a web browser in the navigation bar. It comes in handy when you need content that is better suited to a browser instead of an app.
Tizen learns your viewing habits and preferences with time. It uses this information to integrate your favorite content from different apps and input sources into a single menu. This saves you time, such that you don't need to switch to cable to watch one show and back to an app to watch another. The OS simply presents the content in one display.
Smart TV interface: Content
The Samsung UN6900 50 review would be incomplete without an exploration of the content that is available with Tizen. Samsung's app store has lots of streaming apps as well as a few tools. Popular streaming apps like Netflix, HBO, Hulu and Amazon come preinstalled. As a recent development, Tizen now allows you to play content from Apple's online platform. Anything else you want, you can find in the store.
Now, Samsung's store is not as well-stocked as Google's, but it does all right. There's little chance of you searching for an app or a tool and coming up empty. Unless you're looking for Bixby, that is.
Samsung NU6900 50 review: Smart home capability
The NU6900 series does not lend itself to the use of a voice assistant. The remote does not come with a microphone and the Samsung remote app lacks a voice feature. So it's safe to say that Samsung did not have Bixby in mind when they rolled out this product line.
That being said, the NU6900 does have smart home capability. It comes with Tizen's smart hub functionality, whose menu items you can navigate with a remote. The interface of the NU6900 also has SmartThings integration. You can use your phone or some other connected mobile device to control compatible smart home devices via the TV.
This means that if the NU6900 50-inch can detect your smart home devices, it can probably control them.
Samsung NU6900 50 review: Picture quality
Picture quality has to be the single most important metric by which you measure the performance and worth of a TV set. All other features are meaningless if the picture is underwhelming.
Luckily, the NU6900 does a good job of displaying quality visuals. Let us count the ways.
Picture quality: Resolution and color
The NU6900 is a UHD panel so it has a resolution of 3840×2160 pixels. It lacks a wide color palette, which limits the breadth and depth of the color that the display can render. That said, the TV uses its resolution, its impressive processing power and Samsung's PurColor feature to make the most of its native color gamut.
The result is fairly accurate color reproduction, and the TV is able to render shades of color that are close to what Mother Nature creates. So whatever you're watching, know that the picture that looks a lot like what its creators had in mind.
Picture quality: Brightness and contrast
The screen of the NU6900 has LED backlights along its bottom edge. This edge-lit screen has pretty good peak brightness and black levels. The peak brightness levels are 270 nits in SDR and 273 nits in HDR. There isn't much difference between SDR and HDR levels. This means that the capability of this TV to render mind-blowing HDR content is somewhat limited.
As for black levels, they are close to zero nits. Better still the TV displays a uniformly black screen, without light bleedthrough at the center or at the edges. Put the peak brightness levels and the black level together and you have yourself impressive contrast levels. This allows for crisp pictures and a decent level of detail in dimly lit scenes. If this TV had local dimming, it would render even more detail in darkly lit video.
Input lag and responsiveness
At an impressive response time of 16.2ms, the screen is quick to respond to an input signal. There is very little lag between the transmission of an input signal and its effect on the screen. The same goes for Tizen's response to your commands. The interface responds quickly enough.
The fact Samsung likes to use Vertically Aligned (VA) panels is one of the main reasons why their displays are as responsive as they are.
Viewing angles
VA panels are responsive but they have a downside: Narrow viewing angles. The colors start to turn and wash out the more you move to the side of the TV. This means that you need to sit directly in front of the TV to enjoy great color, contrast and detail.
This has to be one of the more serious drawbacks covered in the Samsung NU6900 50 review. It means that you will have to craft clever sitting arrangements when you have a group of friends over for a movie night or a game.
Motion handling
This refers to how well the TV handles fast-moving video or animation. For starters, the Samsung NU6900 50-inch screen has a refresh rate of 120 frames per second. A refresh rate of 120Hz does sound better than a refresh rate of 60Hz. That's not always the case, especially not with this TV.
You will likely notice flicker at 120Hz, so it's advisable that you adjust the TV to 60 frames per second. To smooth the motion of content with a lower native refresh rate, the NU6900 will insert black frames or perform motion interpolation. You'll need to play around with the settings to achieve this.
The result will be smooth, fluid pictures that make your fast-action content a lot more enjoyable.
Sound system
The Samsung NU 6900 has a pair of internal Dolby Digital-Plus speakers, each with an output of 10 watts. The sound that comes out of these is loud and clear. Enough to fill a medium-sized room. That said, the sound is not as defined as the output of a set of external speakers.
The internal speakers do a good job of producing bass. Again, to feel the full effect of your favorite music or video, you will need an external source.
Pros
Affordable
Good picture quality
The display is responsive, with very low input lag
The interface is intuitive
Samsung integrated the SmartThings App into the interface of the 50-inch NU6900
The NU6900 can play the role of a smart hub
Cons
The Tizen interface takes a (short) moment to respond to your commands
The NU6900 has few ports, especially by today's standards
The lack of local dimming limits how well the TV renders contrast
Narrow viewing angles
No wide color gamut
Verdict: The 50-inch Samsung NU6900 is a good deal
If you are looking for an affordable television that has enough features to meet your basic needs, the NU6900 is it. This Samsung NU6900 50 review demonstrates the great qualities of the TV and goes over the few drawbacks you need to know about.
When you weigh both, you see that the 50-inch NU6900 offers value for money. Read more about this top-selling television.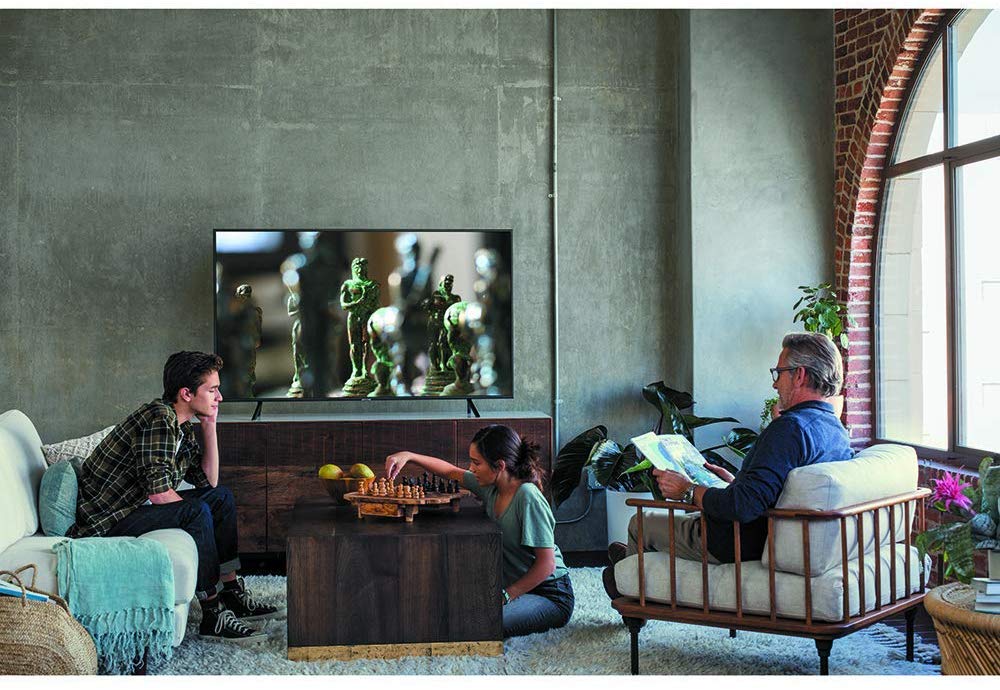 Frequently asked questions (FAQs)
1. Does this TV mount on a wall?
Yes, it does. The NU5900 has a 200x200mm VESA wall mount pattern, so you simply need to get your hands on some mounting gear and you're set. Because the TV is only 2.4 inches at its thickest, it doesn't stick out much.
2. Does the mounting bracket ship with the TV?
No, you will need to buy the wall mount gear separately. However, there are deals to be had this holiday season. You could find a bundle that includes the TV as well as mounting gear.
3. Do you need to buy a streaming stick for the Samsung NU6900 50-inch TV?
Not really. The NU6900 runs Samsung's proprietary OS, Tizen, which has plenty of content and functionality. Tizen comes preinstalled with many of your favorite streaming apps. It also provides access to the Samsung app store, which has even more content.
4. Can the NU6900 control smart devices in the home?
It can, thanks to Tizen. The interface allows you to use your TV as a smart hub. Samsung also includes SmartThings integration in their operating system. This allows you to use the SmartThings app on your mobile device to control compatible smart home devices in your home network.
5. Does the 50-inch NU6900 come with an audio jack or a set of AV ports?
No, but you can use the digital audio port or the ARC-enabled HDMI port to connect external audio-visual devices. It is a good idea to make use of a soundbar for ease of use. There are offers that bundle the 50-inch NU6900 with a soundbar.
Read more:
Samsung Q70 Series Review: Good Performance at a Good Price
TCL 40S325 40 Inch Roku Smart TV Review
LG 55UM7300PUA Review: Alexa Built-in 55″ 4K UHD Smart LED TV
Best Budget Sound Bar: Vizio SB3621-E8
Sceptre E248W-19203R Review: A Bargain 24-Inch Full HD Monitor