*** TVReviewland.com earns commissions on qualifying purchases made through affiliate links ***
This Samsung Q70T review goes over the features and performance of one of the manufacturer's latest QLED 4K TV screens. It comes at an affordable price – for a high-performing QLED TV – making it an option for anyone who doesn't wish to spend a couple of thousand bucks on Samsung's top of the lineup QLED television: the Q950TS.
One of the first things we noticed during our Samsung Q70T review was the edge-lit design that still manages to deliver bright and bold images. Sizes available for this model include 55, 65, 75, and 75 inches.
Samsung Q70T review: First thoughts
The Q70T series comes with a similar design to the Q80T. It is a minimal design with an ultra-thin bezel. The U.S. version comes with a four-legged stand that gives you decent stability, while the U.K version comes with a T-stand.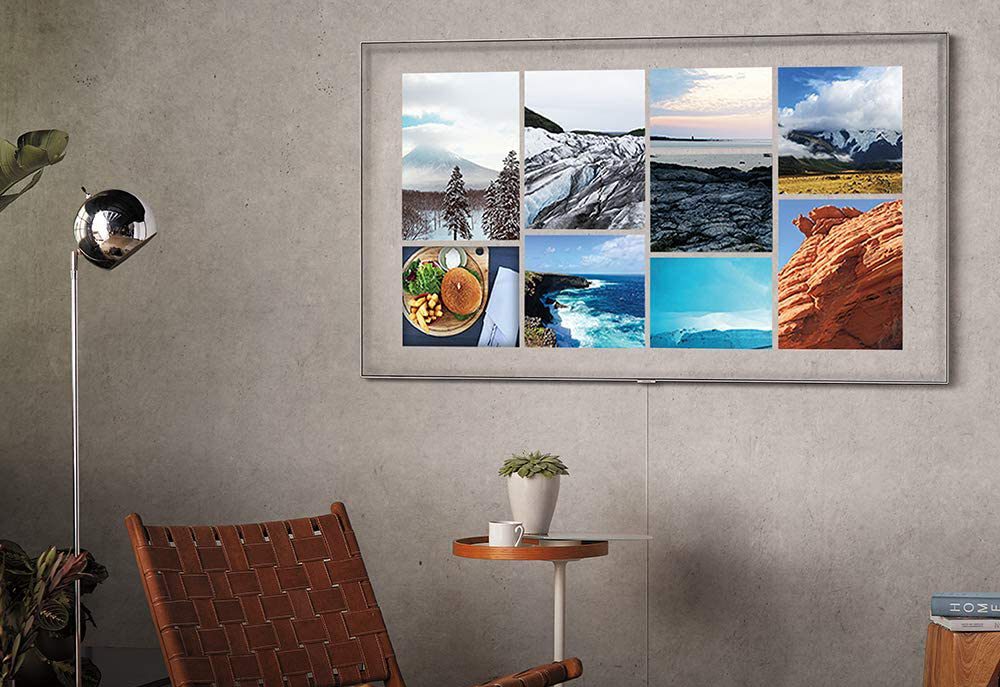 It comes with all the connections you would expect and a little extra like four HDMI ports (one is eARC compatible). The extra HDMI port is ready for 120fps/4K inputs, making it an excellent television for new gaming consoles like the Xbox Series X and the PlayStation 5. The remaining ports are set for 60fps/4K inputs.
120 fps is universally viewed as the ideal frame rate for gaming and it is a bonus that is typically reserved for only high-end TVs.
Q70T series TVs also come with an optical digital audio output, dual-band Wi-Fi connectivity, Bluetooth, two USB ports, and an ethernet port.
The Q70 comes with two remote controls to simplify its use. One remote is loaded with buttons giving you access to the most advanced settings and features the television has. The other remote is a simplified version with fewer buttons.
[Read what others are saying about this TV]
Features
The Q70T is loaded with many useful features that were once reserved for top-of-the-line televisions. It gives you all the basics you would expect from a Smart TV like in-built apps like YouTube, Netflix, and Amazon Prime.
There are a variety of in-built features that are designed to give you an improved viewing experience like Ambient Model, Multi-View, and a Mobile Multi-View with Casting feature that allows you to view your Smartphone and TV images simultaneously on the television.
Pairing your phone to this television couldn't be any easier thanks to the Tap View feature. You simply have to tap the side or top of the Q70T with your smartphone and the two systems are paired. Crazy isn't it?
Other noteworthy features of the Q70T series include:
Auto Motion Plus: This provides natural-looking HD scaling that improves picture quality even when the content being viewed isn't 4K quality
Filmmaker Mode: This feature allows for advanced setting alterations. It turns off all the extra processing on pictures to mimic a Hollywood Mastering Monitor
Voice controls: The Q70T is compatible with popular voice assistants like Alexa and Google Assistant
Smart engine
The Q70T is powered by the same engine found in Samsung's other recent QLED TVs. The system delivers advanced detail to images and adds additional details to lower quality images.
The engine delivers higher grade HDR pictures than Dolby Vision, but it's comparable to the current standard HDR10+.
Samsung Q70T review: Picture quality
Unlike many of the top-end QLED televisions, the Q70T comes with an edge-lit panel. A dual-LED arrangement is used to improve black level performance and contrast levels. It gives images on the screen convincing black levels despite being edge-lit. Black levels are best in ambient light settings.
The Auto Motion handling pictures does wonders when it comes to improving picture sharpness appropriately for the quality level. The settings can be adjusted manually to your preference. Overall, the Q70T's deep color and picture dynamics leads to an impressive viewing experience.
Sound
The Q70T comes with a two-channel stereo system that is good enough for everyday use. It comes with an Adaptive Sound feature that cancels noises in the room, giving you clearer sounds and effects. The sound system includes Dolby Atmos passthrough, so it makes sense to connect it to a Dolby Atmos home cinema system or soundbar for high-quality, louder audio to go with the great picture quality.
Gaming
Gamers will have a difficult time finding a comparatively priced TV that performs as well as the Q70T when it comes to gaming. It comes with an ideal 120fps frame rate and an input lag of 19.8ms when the Game Motion feature is activated. This feature also provides additional bonuses like judder and blur reduction.
Hardcore gamers can turn the extra features of the Gaming Motion feature off for a very impressive 9.1ms input lag. Game away boys and girls.
Pros:
Low input lag makes the Q70T great for gaming
Handles reflections well
120 fps frame rate makes it ideal for 4K gaming consoles
Clear 4K picture quality with rich colors and deep blacks in lit rooms
Cons:
Blacks grey out in dimly lit or dark rooms
Subpar viewing angles
Samsung Q70T review verdict: Good QLED TV, excellent gaming television
The Q70T might be a back-lit QLED TV, but it delivers impressive 4K picture quality. It works best in decently-lit rooms and delivers rich colors plus incredibly high detail. It's a particularly good buy for gamers given its low input lag and 120fps frame rate. It's ready for the newest gaming consoles like the PS5. Click here to learn more about this television.
Read more:
The Beast Netflix Review: Good Action, Meh Storyline
HP 14 Envy Ultrabook Laptop Review: For General Use
Hisense R6 Series Review: A Step Ahead of Other Budget TVs
Samsung Class 8 Series Review: It's a Good Buy