*** TVReviewland.com earns commissions on qualifying purchases made through affiliate links ***
Read through this rare Westinghouse 58 Roku TV review to see if performance and irresistible pricing can coexist.
Westinghouse is an old brand that carries home appliances like microwaves and televisions. The brand is famous for its affordable widescreen TVs, and you would be hard-pressed to find another brand that offers a better price per square inch.
A closer inspection of the 58-inch Westinghouse Roku TV allows you to work out if its performance will make you as happy as its price.
Westinghouse 58 Roku TV review: Unboxing and first looks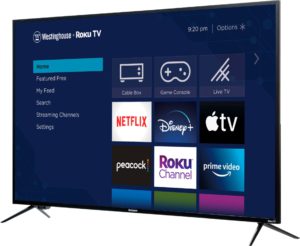 Along with a 58-inch TV, the packaging carries a pair of TV legs and the screws that will hold the legs in place. There's also a power cord, a remote, and a pair of AAA batteries. Also, you'll find a user guide to walk you through the setup process. Have your own media cables on standby because there's not a single media cable in the package.
If you need in-depth information on the Roku OS, the internet is your best bet, seeing as you can search for a specific question without having to fumble through a manual.
The 58-inch Roku has the boxy, angular design of older TV sets anyone with feelings of nostalgia will appreciate. Measuring three inches at its widest, the lower half of the back panel creates a side-profile that's basically a series of edges that stick out from the narrowest part of the TV.
[Read what others are saying about this TV]
Design
The chassis of the Westinghouse 58-inch TV is black plastic of different shades and textures. Its display has slim, quarter-inch borders that disappear into the vast expanse of the screen. The brand and Roku logos sit on the bottom bezel. The left end of the bezel also holds a small extension that houses an IR sensor, power button, and LED indicator.
This brings us to the back panel. Most of the TV guts sit in the lower half; the part that sticks out from the otherwise thin panel. It holds the internal speakers, network card, wireless adapter, and other useful innards. This lower half also sports a 400×200 VESA wall mount pattern as well as two insets for the ports.
Ports and connectivity
The inset that faces outwards holds a set of AV composite ports. All other inputs sit on the rear-facing panel in the following order:
A reset jack
A 3.5mm audio jack
Three HDMI ports, one of which has ARC capability
An RF port for antenna/cable
A digital optical audio output
One USB port
A variation of this TV comes with an Ethernet port
The port selection is more than enough to connect multiple devices at the same time. Wi-Fi connectivity only sweetens the deal. You'll barely miss the lack of Bluetooth connectivity.
Setup
Physical setup is as easy as unboxing the large screen, attaching the legs, and setting the TV upright. It's worth noting that this is a two-person job. If you choose to go the wall-mount route, you'll need to shop for a bracket.
The RF connector requires a 75-ohm coaxial cable, which means that people with a 300-ohm cable should look for an adapter.
Connect the TV to a power source, switch it on and you should be looking at the Roku setup screen. The guided setup interface will ask you for a bunch of information, including your Roku credentials. Key them in if you have an existing Roku account, or create an account if you don't.
Roku OS: Smart features
The Roku TV interface comes with numerous apps, including all your favorites. From Netflix to Hulu to every flavor of HBO, this interface has you covered. There are a few dedicated buttons on the remote that allow you to launch popular apps like Netflix without navigating the interface.
Roku comes with support for Alexa and Google Assistant; meaning that the Westinghouse 58-inch TV can easily interact with compatible smart devices in your home network.
Hardware and picture quality
The Westinghouse 58-inch is a 60Hz VA panel with direct LED backlighting. It has 4K resolution with support for HDR content. It also has a pair of 8-watt internal speakers that do a decent job of filling a room with sound. Here's how the hardware informs picture quality:
1. Color
The display makes full use of a native color palette that is narrower than we'd like. This translates into color that is fairly accurate out of the box. Better still, the panel's 4K resolution allows for the reproduction of vivid, saturated hues. Is the TV bright enough to expand the choice of color available to the 58-inch Westinghouse TV?
2. Brightness, contrast, and HDR content
At a maximum brightness of 250 nits, the Westinghouse is dimmer than many wide screens with comparable specifications. The competition has 55-inch televisions that boast peak brightness levels of around 400 nits. This being said, such TVs often cost a lot more than Westinghouse models.
Still, the 58-inch Westinghouse makes good use of its specifications. The panel manages deep blacks that are thousands of times dimmer than the brightest colors. This creates a contrast ratio of about 500:1. What does this mean? The panel does excellent reproduction of fine detail and creates eye-catching scenery.
This is one of the reasons why the TV does a passable job of recreating HDR content despite its relative dimness that limits the panel's' color volume.
3. Viewing angles
Westinghouse advertises 178 degrees viewing angles on both vertical and horizontal axes. In practice, you'll notice the colors start to change at 60 degrees from dead center. This is regrettable but expected in non-IPS panels.
4. Motion handling
The 58" Westinghouse Roku TV does a good job of playing fast-action content. Your favorite action scenes will render perfectly, with no blur, judder, or any other unpleasant motion artifacts. With a grey-to-grey response time of 10ms in certain picture presets, the Westinghouse 58-inch Roku TV makes a good gaming screen.
Sound
Modern displays aspire to sleek design, leaving little room for powerful internal speakers. Yet the Westinghouse 58-inch somehow succeeds at housing a pair of loud 8W speakers into the chassis. The result is clear sound that fills your space. While internal TV speakers will always fail to hold up to external audio, the ones in this TV try hard.
There is just one downside that you may experience. At times the audio lags behind video especially when you're watching over-the-air or cable channels. A firmware update should correct the problem.
Pros
Unbeatable pricing for a large TV
Great port selection
Good contrast
Wide viewing angles
4K resolution
Roku OS has everything you need in a smart TV
Internal speakers that can get loud
The Roku app turns your phone into a useful remote
Cons
As HDR TVs go, this Westinghouse 58-inch 4K panel is dim
The volume and mute buttons are on the side of the remote; a layout that takes some getting used to
The remote is also small and you will lose it at some point
You may notice audio lag with certain sound presets. This becomes more noticeable with cable/over the air content
Setting up the tuner requires you to jump through a few hoops
Several buyers have reported glitches in Roku or the panel itself
Westinghouse 58 Roku TV review verdict: The price is a great opening pitch
This Westinghouse 58 Roku TV review demonstrates that price and performance can come to some sort of agreement.
4K Westinghouse televisions come at prices that make your pocket happy and the 58-inch Roku TV is one such TV. For a low price, you get a wide-screen smart TV with all the bells and whistles. Good picture quality is just one more upside to this display. Click here to learn more about this television.
Read more:
The Beast Netflix Review: Good Action, Meh Storyline
HP 14 Envy Ultrabook Laptop Review: For General Use
Hisense R6 Series Review: A Step Ahead of Other Budget TVs
Samsung Class 8 Series Review: It's a Good Buy
Samsung Q70T Review: Good QLED TV, Excellent Gaming Television