*** TVReviewland.com earns commissions on qualifying purchases made through affiliate links ***
This HP 14 Envy Ultrabook review will be helpful if you're in the market for a general-purpose laptop. HP brought the 14-inch Envy to market in late 2012. The product release happened just in time to test drive Windows 8, which was fresh out the oven at the time.
Has the HP Envy aged well? A deep dive into the laptop specs gives insights into how the hardware holds up to a typical user's demands.
HP 14 Envy Ultrabook review: First looks and design
At less than an inch thick, the HP envy is thin enough to fit in an A4 envelope. The stark modernism of the design doesn't stop at a compact frame.
The chassis of the HP 14 envy is mainly brushed aluminum, with an inky-black, metallic lid. When you open the notebook, you'll see a silver deck with luxurious wood grain texture. There's a speaker bar at the top of the deck, between the plastic hinges of the laptop. This bar holds a red beats logo and a power button.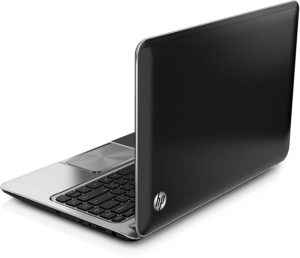 Your keyboard sits in a shallow recess on the deck, so don't expect much bounce as you tap the keys. A much smaller recess houses the chrome-coated touchpad.
Newer models of day's phones and wide screens tend to have ultra-thin bezels. So the thick borders on the display of the HP 14 Envy are a throwback to simpler times. You'll find a vent at the back and a selection of ports on either side of the laptop.
Ports and wireless connectivity
The left side of the laptop has an Ethernet port, an HDMI port, two USB 3.0 ports, and an SSD card slot. There's also a pair of LED indicators right next to the slot.
The right side of the HP 14 Envy holds a power port, a USB 2.0 port, a 3.5mm audio jack, and a microphone jack. There's also a security lock slot, in case you need it. A wireless adapter covers Bluetooth and Wi-Fi connectivity.
Keyboard and touchpad
Because the keyboard sits in a shallow island on the laptop's deck, its keys have little give. They will not give you the satisfaction of sinking into the deck and bouncing back. The overall effect feels a lot like you're typing on a near-flat surface.
This feel also carries over to the touchpad, which lacks separate right and left buttons. You'll learn to tap on the bottom corners of the touchpad if you want the right-click or left-click functionalities. That being said, there's a backlight that you can activate as you use the notebook in dim lighting, which is good.
[Read what others are saying about this laptop]
HP 14 Envy Ultrabook review: Display
720p screen resolution looks pretty good on this 14" touchscreen. The colors come out vivid and saturated. A fairly wide color palette delivers many shades of a single color, which results in an accurate reproduction of scenic pictures. Small details and nuances pop and blend, becoming a feast for the eyes. However, limitations in the display's peak brightness in turn limit what the HP 14 Envy can do for HDR content.
The glossy screen surface is also very reflective, which compounds the screen's dimness. You may struggle as you watch dark movie scenes in a bright room. It's worth noting that colors remain accurate and the picture sharp at 60 percent brightness or less. Anything higher than that and picture quality starts to diminish.
There's also the small issue of smudges from your fingerprints whenever you operate the touch screen.
Touch screen
You'll find that the touch screen is pretty responsive, all while offering an array of useful gestures to make your life easier. You can pinch two fingers together to zoom in and open them to zoom out. Swiping allows you to scroll sideways and vertically with ease.
The edges of the screen allow you to bring up a taskbar or widget of your choosing. Swiping at the edges also provides a quick way to cycle through (and close) open apps. The HP 14 Envy tries to be a combination of a tablet and a regular PC.
HP 14 Envy Ultrabook review: Hardware
Ultimately the performance of a computer depends on its processor, memory, graphics capability, and storage. The more processor cores that a notebook has, the faster it can tear through demanding tasks. This also holds for RAM and graphics cards. So let's see what the HP 14 envy is working with, and how this informs your user experience.
1. Chipset
There are two variations of the HP 14 Envy. The one we're reviewing runs an Intel Core i3 processor with a 1.8GHz clock speed. Along with the processor is an integrated graphics card that sits on the motherboard. Lastly, the laptop has 4GB DDR3 RAM. Here's what these specs feel like.
You can edit photos and videos with Adobe products (CS5) while listening to music as an antivirus runs in the background. Throw in Mozilla with 10 tabs open, and the notebook will still hold its own. The best part is that the HP 14 Envy remains cool as you put it through its paces. It even goes as far as to detect whether or not you have it on your lap and stepping up the cooling system if need be.
Here's what the HP Envy won't do: It will not run games like call of duty and similar resource-intensive software. For that, you would need a far more powerful configuration.
2. Storage
The HP Envy comes with a 500GB mechanical hard disk and 32GB worth of SSD storage. This kind of companion SSD helps the HP 14 Envy boot faster, which it does.
It only takes about 25 seconds between the second you touch the power button to the moment you see the Windows home screen. This impressive time even applies to the heavier Windows 10 OS.
HP 14 Envy Ultrabook review: Sound
The beats logo on the laptop is not for nothing. Expect sound that's crisp, loud, and with lots of well-blended detail.
Pros
Compact
Solid build with quality materials
You can activate keyboard backlights with the press of a button
Touchscreen with edge activation that allows you to call up widgets and menus
Cons
Limits in peak brightness, contrast and past 60 percent brightness, color accuracy
It is hard to add a separate graphics card or a larger SSD drive
The touchpad is super-sensitive out of the box and you'll have to make some tweaks
HP 14 Envy Ultrabook review verdict: Good for basic, everyday use
The person who needs a computer for simple tasks like typing documents or streaming content should consider the HP 14 Envy Ultrabook. However, this HP 14 Envy Ultrabook review demonstrates that there's only so much the notebook can handle.
Avid gamers and people who work with resource-guzzling software should find a computer with more processing power. Click here to learn more about this laptop.
Read more:
Tiki Tunes Outdoor Bluetooth Speakers Review
Vizio V51-H6 Review: Enhance Your TV Audio
Element 50 4k UHD Roku TV Review: Can't Beat the Price
The Beast Netflix Review: Good Action, Meh Storyline