*** TVReviewland.com earns commissions on qualifying purchases made through affiliate links ***
Our Onn 32 2.0 Soundbar review is for anyone who is looking to improve the audio quality they get from their Smart TV and other Bluetooth enabled devices like Smartphones. It's the perfect compliment to go with your budget TV. A single Benjamin gets you the entire audio system.
Let's jump right into our Onn 32 2.0 Soundbar review and explore if this audio device gives you the realistic sound effects you want to go with your high definition TV.
Onn 32 2.0 Soundbar review: First thoughts
Onn's new audio system pairs a 32-inch soundbar with a wireless subwoofer. Both come with sleek designs that blend in with any room setup. It can connect to your TV via optical input, Apple Air-Play2, aux input, HDMI ARC, and Bluetooth.
The Bluetooth connectivity allows you to blast audio with pretty much every smart device you have like a tablet, laptop, or smartphone.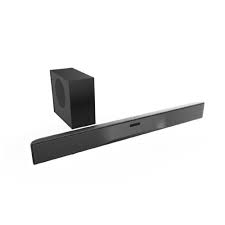 The box comes with everything you need to set things up like an HDMI cable, an HDMI converter, an optical cable, a 3.5 to RCA stereo audio cable, a power cord for the wireless subwoofer, an adapter for the 2.1 soundbar, a 32-inch soundbar, subwoofer, remote, and batteries for the remote. Whew! Think we got it all. The entire box only weighs 15 pounds so anyone can set up the soundbar and subwoofer on their own.
[Read what others are saying about this sound bar]
The system pumps out audio with 70W output, giving you sound that fills up any room in your home. It makes audio in movies, games, and TV shows more immersive. Bass is significantly better than anything you would get from a budget television or most TVs that cost less than a few thousand bucks.
Pros:
Can be used with your TV, laptop, smartphone, or tablet
Easy to install
Excellent value
Deep, loud bass
Cons:
Won't give you the full theatre audio experience
A bit taller than most soundbars
Onn 32 2.0 Soundbar review: Not bad
There are budget TVs and the same goes for soundbars. Onn's new soundbar allows you to significantly upgrade the audio coming out of your TV without having to spend much. It fills up any room and delivers pretty good bass. If you want the best soundbar possible to go with your high-end TV, explore other options like the Samsung HW-Q70T. If you want something cheap that will give you a better TV watching experience, Onn has you covered. Click here to learn more about this sound bar.
Read more:
Vizio V705X-H1 Review: An Affordable Main TV
SHARPER IMAGE Soundhaven Wireless Earbuds Review
Tiki Tunes Outdoor Bluetooth Speakers Review
Vizio V51-H6 Review: Enhance Your TV Audio
Element 50 4k UHD Roku TV Review: Can't Beat the Price