*** TVReviewland.com earns commissions on qualifying purchases made through affiliate links ***
Check out this Samsung class 8 series review to find out if this entry-level product line of 4K smart televisions is a good decision.
The Samsung class 8 series is an affordable product line whose displays boast a full suite of smart features. Better still the panels have 4K/UHD resolution, which is quickly becoming the new bare minimum for TVs.
This product line offers a range of sizes, with the runt of the bunch being the 43-inch TV. From there, the displays get bigger, with the 85-inch being the largest one. Let's take a 50-inch model out of the box to find out if the Samsung class 8 series comes as advertised.
Samsung Class 8 Series Review: Unboxing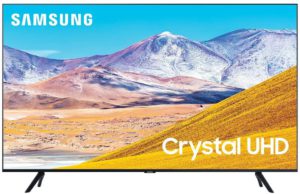 The TV comes with a power cable and cable management clips. Also in the box is a remote, a pair of batteries, a user manual, and a quick-start guide. If you choose to mount the TV you'll need to bring your own mounting accessories.
First looks
You'll appreciate that the Samsung TU8000 models look just like their QLED cousins. Solid black plastic forms the chassis, with a bit of texture and gloss to effect that premium look. The TV has bezels that are less than a centimeter thick, creating the illusion of a frameless screen.
The back panel has a rough horizontal grain that terminates in a set of grooves that run along the bottom edge of the TV. These help with cable management, as do allowances on the TV legs. The clips that ship with the TV help to secure the cables.
Two insets on the left side of the back panel hold the ports.
Ports and connectivity
The outward-facing inset houses two USB ports, two HDMI ports, and a coaxial connector. The rear-facing panel holds a third HDMI port, a digital optical port, a set of composite AV ports, and an Ethernet port.
Samsung smart TVs also have a wireless adapter for Bluetooth and Wi-Fi.
Samsung Class 8 Series Review: Interface and smart features
Samsung TU8000 models run Tizen lite, an interface with a wealth of features. Alexa and Bixby are easy to set up on this OS. These voice assistants are helpful and pretty much eliminate the need for navigation by remote. Together with the SmartThings app, the smart assistants allow class 8 series displays to interact with compatible smart devices in your home network.
Then there are the usual popular streaming apps, ranging from Hulu to Amazon Prime to all the different flavors of HBO. Whatever doesn't come preinstalled you can find in the app store.
[Read what others are saying about this TV]
Remote
A huge selling point for the remote is the microphone that allows you to use voice commands with the TV.
There's also a useful selection of dedicated buttons for select streaming apps. Along with the navigation pad and input selector, the remote also has CEC capabilities. Best of all, the remote is universal and compatible with the majority of modern electronics.
Hardware
The Samsung class 8 series uses 60Hz VA panels for its displays. These panels are edge-lit, with no local dimming. A lack of localized dimming could take away from a TV's ability to execute contrast. Samsung also includes their proprietary crystal processor 4K to enhance signal processing. The happy result is video upscaling of lower-resolution content to 4K.
Typically, VA panels are bright, with good color accuracy and excellent motion handling. Their only major drawback is narrow viewing angles. Let's see how these particular Samsung VA panels perform.
Samsung Class 8 Series Review: Picture quality
A TV is a visual medium. So if you're going to spend large chunks of time looking at the display, the picture should be pleasant to look at. Extra points if the images on your screen are immersive and breathtaking. Here's how the Samsung class 8 series holds up:
1. Color accuracy
First, we cover the color palette. The Samsung TU8000 has a narrow color palette that only covers between 75 and 85 percent of the DCI P3 color space. As a point of reference, 90 percent would allow the TU8000 to render vivid HDR content without breaking a sweat. That said a few tweaks can improve the look of HDR videos and games.
We move on to color accuracy. Right out of the box, color accuracy is decent. Still, dark scenes appear darker than they should while some well-lit scenes are a little too bright. The color temperature is also a little warm, which puts a yellow/red tint on everything.
A few complex tweaks (lowering the color temperature and adjusting the white balance) result in excellent color accuracy. It's worth noting that the calibration process requires knowledge and a calibration tool.
2. Brightness and HDR content
The Samsung TU8000 series is not the brightest product line in the Samsung stable. This affects the look and vibrancy of HDR content. So it's a good thing that there's a workaround.
First, get into picture mode and select Movie HDR. Put the gamma value at +3 then set the maximum values for the following:
Brightness
Contrast
Advanced contrast enhancer
These measures should make HDR content much more vibrant and accurate.
3. Contrast
The contrast of the Samsung class 8 series is perfect, even with zero changes to the picture settings. This is impressive considering that the displays are edge-lit panels with no local dimming. The result is an amazing level of detail, even in dark scenes. Excellent black uniformity has a lot to do with it.
4. Screen uniformity
The lack of local dimming doesn't keep the TU8000 from producing a near-perfect black screen. Only a super-keen eye will notice a slight bloom at the center of the screen.
5. Viewing angles
VA panels are famous for their narrow viewing angles and the Samsung class 8 models are no different. At 40 degrees from the center, an eagle eye will start to notice that the colors wash out. The TV will also start to dim.
6. Motion handling: Response time and input lag
What VA panels lack in viewing angles, they more than make up for in motion handling. Pixels change color in less than 20ms, which eliminates the chance of motion blur and ghosting. Better still Samsung TU8000 displays only need 10ms in game mode to display an input signal.
The televisions also do a great job of eliminating judder from 24p sources. Even the absence of a variable refresh rate doesn't disqualify the Samsung class 8 series from becoming a gamer's dream screen.
7. Video upscaling
Samsung improves their 4K panels with proprietary circuitry and AI for improved signal processing. The result is perfect video upscaling of lower-resolution content. 480p, 720p and 1080p upgrade to look just like native 4K content.
Sound
Televisions get thinner by the hour, which leaves little space for powerful internal speakers. The sound from the speakers is decent and the TV is adequately loud. However, the bass levels only go as low as 84Hz, a number that could qualify as a mid-range frequency.
Consider an external audio rig.
Pros
Affordable
Solid build and a sleek design
Adequate selection of ports
Tizen OS comes with useful smart features, including Alexa
Accurate color reproduction
Low input lag and excellent response times makes this Samsung TU8000 ideal for gaming
The TV does a good job of video upscaling and other image processing tasks
Good screen uniformity, with an impressive rendition of contrast and shadow detail
Cons
Narrow viewing angles
Narrow color gamut, which limits the vibrancy of HDR content
The TV is relatively dim, which is unusual for a Samsung
No variable refresh rate, an omission that gamers will notice
Samsung Class 8 Series review verdict: Solid performance all round
This Samsung class 8 series review finds a product line that has everything you need in a TV. For a manageable price, you can walk away with a high quality, feature-rich display. Gamers and movie lovers will be happy with this TV.
However, the person who absolutely must have the best and most vivid HDR picture should pay a little extra for a brighter TV with a wider color palette. Click here to learn more about this television.
Read more:
Element 50 4k UHD Roku TV Review: Can't Beat the Price
The Beast Netflix Review: Good Action, Meh Storyline
HP 14 Envy Ultrabook Laptop Review: For General Use
Hisense R6 Series Review: A Step Ahead of Other Budget TVs