*** TVReviewland.com earns commissions on qualifying purchases made through affiliate links ***
Our Tiki Tunes Outdoor Bluetooth Speakers review goes over the features and performance of these 5W Bluetooth audio devices. They can be paired with your television or smartphone to deliver decent audio you can share with family and friends.
Let's jump right into our Tiki Tunes Outdoor Bluetooth Speakers review to find out exactly what these speakers are capable of.
Tiki Tunes Outdoor Bluetooth Speakers review: First thoughts
Tikitunes speakers give you up to six hours of continuous playing time on a full charge. Each speaker has a built-in battery and they can be separated by up to 30 feet for stereo sound. It also provides LED ambient lighting that looks like a flame burning in some sort of outdoor ashtray.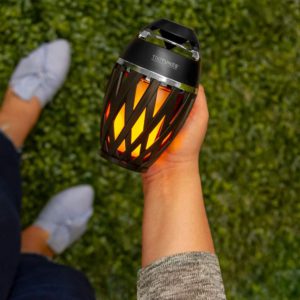 Tikitune speakers also come with an IP65 rating, meaning it is water-resistant and dust-proof. That makes it resistant to the elements. It works just as great indoors if you're wondering.
The box comes with a wireless speaker that doubles as ambient light, a user manual, and a micro USB cable.
[Read what others are saying about these speakers]
One thing that immediately sticks out is how cool these speakers look. They can be used to decorate a room and there is no elaborate setup needed to start using it. The speaker is automatically ready for pairing when turned on, so you simply connect to it with your device.
In terms of audio quality, Tikitune speakers are decent enough. Music is clear but it does sound hollow at times. The speakers are about what you get from the in-built speakers of a crappy TV so don't expect to throw a party with them. What these speakers are designed for is to share audio on your smartphone or other devices with those around you. It great for some background music while you hang out with family or friends.
Pros:
Very nice aesthetics
6 hours of battery life
Easy to set up and use
Great value
Water and dust resistant
Cons:
Won't upgrade your TV sound quality if that's what you're looking for
Music sounds hollow at times especially when the volume is maxed out
Tiki Tunes Outdoor Bluetooth Speakers review verdict: Nice accessories
Tikitunes speakers won't bring cinema-quality audio into your home or backyard, but they do help to set a relaxing, calm atmosphere. If you're looking for a cool way to share audio on your PC, Tablet, or Smartphone with others, these speakers get the job done. Click here to learn more about them.
Read more:
Vizio 50 Class 4k UHD LED Quantum Smart TV HDR M6X-Series M506X-H9 Review
JBL Studio 570 Review: Loud, Clear Bass
Floridacass Review: Seems Like a Scam
Vizio V705X-H1 Review: An Affordable Main TV
SHARPER IMAGE Soundhaven Wireless Earbuds Review