*** TVReviewland.com earns commissions on qualifying purchases made through affiliate links ***
Our Vizio V51-H6 review is for anyone who wants better audio from the TV or other devices. Vizio's new soundbar promises to improve the clarity of dialogue while allowing you to enjoy significantly improved audio quality.
Let's dive right into our Vizio V51-H6 review to find out if this soundbar is exactly what you need to complete your living room setup.
Vizio V51-H6 review: First thoughts
The H6 has a slick design and it doesn't take up much space in your living room, even when the satellite speakers are all being used. It comes with a subwoofer to give you deep, clear, loud bass. Each component of this sound system is light enough for anyone to comfortably move them as they please.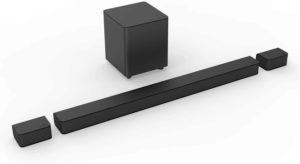 The H6 can be mounted to a wall if you want an even smaller footprint. The soundbar is 36 inches long, and it looks best next to TVs around the same size or larger.
Sound quality
Vizio's H6 speakers give you significantly improved audio that is much better than what you would get from any TV's in-built speakers. With six speakers spread all over your living room, sounds come from all around you, giving you full immersion.
[Read what others are saying about this soundbar]
The central speaker that comes with the soundbar focuses on the clarity of dialogue and speech. This allows you to simultaneously enjoy dialogues while being immersed in all sorts of background noises from the other speakers. The H6 provides full surround sound that is powered by DTS Virtual: X.
The powerful subwoofer that comes with the H6 takes delivers thundering bass that makes explosions in movie scenes seem real. Movie buffs and gamers alike will appreciate how well bass sounds coming out of the subwoofer.
Set up
Setting up your H6 speakers is as easy as it gets. It can connect with your TV via the HDMI ARC port and that's as far as installation goes. Connect the soundbar to your TV with the HDMI cable that comes in the box, power the soundbar on, and start enjoying cinema-quality audio. The H6 gets a 10/10 when it comes to how easy it is to set things up.
The H6 soundbar can also be connected to your system via Bluetooth, the digital optical input, or the auxiliary cable port. Many users prefer connecting via Bluetooth since it helps to eliminate wires. It's as simple as pairing the soundbar with your TV. You can also connect the soundbar to other devices like your smartphone via Bluetooth. The remote control that comes in the box is used to manage audio settings.
Pros:
Doesn't take up much space
Brings a home theatre into your home
Comes with six full-range speakers
Optimized for 4K picture quality and gaming consoles like the PS5
Easy to set up and use
Can be controlled via remote
Comes with DTS Virtual: X audio enhancement
Can be configured to work with voice assistants like Alexa
Bluetooth connectivity
Great value
Cons:
There are more powerful audio system out there
Vizio V51-H6 review verdict: Affordable way to enhance your in-house entertainment system
The H6 soundbar gets the job done when it comes to providing premium audio quality for your TV and other electronic devices. If you're not happy with the sound quality of your TVs speakers, here's a simple way to fix that problem. Click here to learn more about this soundbar.
Read more:
JBL Studio 570 Review: Loud, Clear Bass
Floridacass Review: Seems Like a Scam
Vizio V705X-H1 Review: An Affordable Main TV
SHARPER IMAGE Soundhaven Wireless Earbuds Review
Tiki Tunes Outdoor Bluetooth Speakers Review