*** TVReviewland.com earns commissions on qualifying purchases made through affiliate links ***
Our Vizio V705X-H1 review is for anyone who is looking for an affordable 70-inch TV they can use for their main television or movie/game room TV. Picture quality is as amazing with 3840 x 2160 resolution, and full array backlighting gives you deep blacks and clear pictures in a myriad of lighting settings.
Let's jump right into our Vizio V705X-H1 review to see if you should be on the hunt for this television during this holiday season.
Vizio V705X-H1 review: First thoughts
The H1 gives you 4K HDR quality picture that makes it easy to be immersed in whatever you are watching. Pictures are clear, sharp, and details. The high dynamic range allows the TV to maintain picture clarity even when watching fast-moving content or gaming.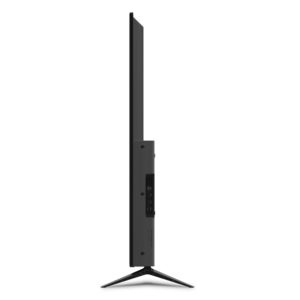 It comes with Vizio's proprietary V-Gaming Engine™, complete with Auto Game Mode which is self-explanatory. The gaming engine leads to a more responsive experience, particularly when playing fast-moving games. The H1 is compatible with the latest 4K HDR next-generation consoles like the PS5 and the Xbox Series X.
Smart features on this television are powered by SmartCast™. It gives you access to all the popular apps like YouTube, Amazon Prime Video, and Hulu. The H1 is compatible with Chromecast and Apple Airplay2. This allows you to cast whatever content you are watching on your smartphone or laptop to the H1 by simply touching a button.
The H1 comes with a smart remote that is not particularly complicated to use and there are voice-controls if you prefer to dictate what you want to the TV. It's compatible with Siri, Alexa, and Google Assistant.
The H1 works with over 8 million pixels and HDR Dolby Vision™ to deliver detailed ultra HD picture quality. Other noteworthy features of the H1 include:
60 Hz refresh rate
Three HDMI ports
Can serve as a smart hub
Built-in surround sound
400 x 200 mm VESA Mounting holes
Ethernet port
Composite port
One USB port
RF tuner/cable port
Built-in Wi-Fi
Auto game mode feature
200k:1 dynamic contrast ratio
16:9 aspect ratio
178°/178° viewable angle
6 billion colors
Full-Array LED backlight
Pros:
The game engine automatically adjust settings when gaming
Comes with a USB port
UHD picture quality
Cons:
Meh speakers
Pretty heavy TV, even for its size
60Hz is not ideal for gaming, 120Hz displays like the Sony X750H work best
Vizio V705X-H1 review verdict: Great value for the price
The V705X-H1 gives you ultra high definition pictures and a variety of cool smart features. It stacks up well against similarly priced TVs, and it's worth exploring during the planned holiday sales that will bring its price down to $478 on Nov. 25, starting at 7:00 p.m. ET. Click here to learn more about this television.
Read more:
Best 55-inch TV For the Money In 2020
Harman Kardon SB 20 Advanced Soundbar with Bluetooth and Wireless Powered Subwoofer Review
Vizio 50 Class 4k UHD LED Quantum Smart TV HDR M6X-Series M506X-H9 Review
JBL Studio 570 Review: Loud, Clear Bass
Floridacass Review: Seems Like a Scam