*** TVReviewland.com earns commissions on qualifying purchases made through affiliate links ***
This Samsung A650 soundbar review analyzes the features, pros, and cons of this soundbar to help you determine if it is the right fit for your home. Samsung televisions are already known for their quality, and this sound bar can go toe-to-toe with the best televisions to help enhance your viewing experience.
With its extra bass and center channel for clearer dialogue, this soundbar is worth purchasing, especially considering just how affordable it is. As a bonus, the Samsung A650 has optimized sound that works best for different types of content, including games, sports, and movies.
Samsung A650 soundbar review: First thoughts
For anyone who loves Samsung products, the Samsung A650 soundbar lives up to the company's reputation. This soundbar looks polished and sounds great, adding aesthetic appeal to your entertainment room.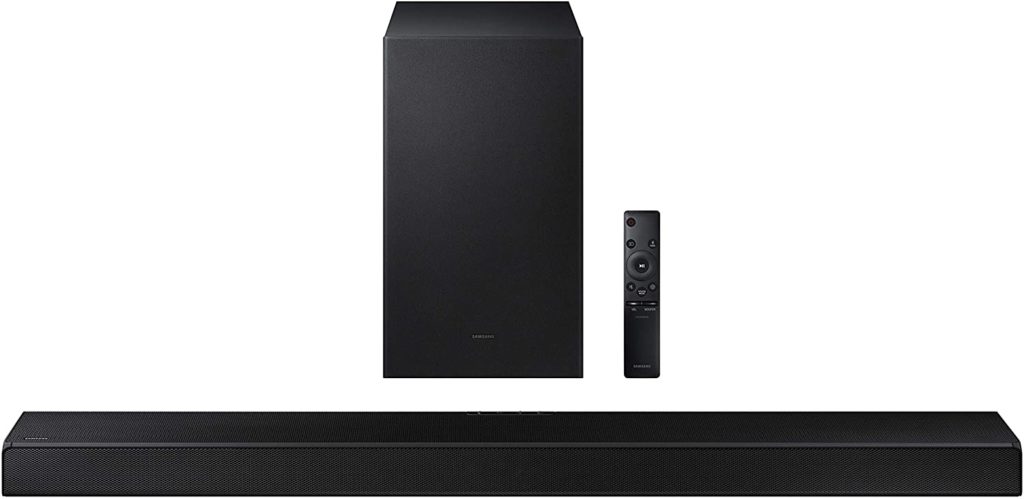 It is especially suitable for gamers due to its synced directional audio that cancels any crosstalk and moves with the action on the screen for a better gaming experience. If you enjoy Hip-Hop music or songs with lots of drums and bass guitars, the thumping bass will leave your entertainment room rumbling. The center channel means you'll get a very crisp and clear recreation of the dialogue in any movie or podcast. The DTS Virtual:X technology and the Dolby Digital 5.1 surround sound bring realistic 3D sound that will have you reaching for an umbrella when viewing scenes with rainstorms or hiding for cover when there's an onscreen explosion.
Product overview
The Samsung A650 comes in a box that includes a user manual, a remote control with two AA batteries, an adapter, an optical cable, two power cables, and mounting bracket screws and templates.
The Samsung A650 features one soundbar and one subwoofer. The bar measures 38.6 inches wide by 2.3 inches high by 4.1 inches deep. The bar is made from plastic but features a metal grille on the top and front. The subwoofer is mainly made from wood and features a fabric cover on the front. One of the issues consumers have with soundbar systems like this is ensuring the subwoofer is close enough to both the outlets and the soundbar. The Samsung A650 solves this problem by making the subwoofer connect to the soundbar wirelessly, allowing you to place it anywhere in your living room.
The soundbar's top has four buttons for powering on and off, switching the input source, and adjusting the volume. This soundbar system comes with a simple remote that's easy to use and control's all the settings. The Samsung A650 features Bluetooth connectivity, allowing you to play songs or podcasts from your mobile devices without requiring a wired connection.
[Read what others are saying about this soundbar]
Samsung A650 soundbar review: Key features
Some of the most noticeable features of the A650 include:
1. Bass boost
One of the Samsung A650 soundbar's presets is the Bass Boost which adds more rumble to your bass. This soundbar offers bold and room-filling bass that will have you jamming out to your favorite Hip Hop tunes. The sound profile is quite balanced so that the soundbar delivers robust bass without being boomy.
2. Adaptive sound lite
This feature enhances your audio experience by automatically adjusting the sound based on what you're listening to. If the show you are watching has a lot of dialogue, this feature ensures the words are clear and crisp. If you start watching movies, the feature enhances sound quality to ensure you enjoy every action-packed scene.
3. Built-in center speaker
The Samsung A650 features a built-in center speaker for crisp and clear dialogue, making it a no-brainer for anyone who loves podcasts, audiobooks, or movies. This dedicated center channel projects all the voices on the screen clearly so that you never miss a joke or a quote. This soundbar has a balanced sound profile and can get pretty loud, allowing you to hear every word, even in large rooms.
4. Dolby Digital 5.1/DTS Virtual:X
The DTS Virtual:X feature creates 3D surround sound for an immersive sonic experience. This technology makes sounds richer and more detailed, allowing you to hear every footstep or feel every earth-shattering explosion that emanates from your screen. There is also the option of expanding your soundbar to a full 5.1 setup for a more cinematic sound experience.
5. Optimized for gaming
The Samsung A650 is optimized for gaming and delivers excellent sound that makes the experience more immersive. The directional audio feature moves with the action on the screen, allowing you to notice when your opponent is creeping up behind you. The crosstalk cancellation reduces distractions, ensuring you can concentrate on the game in front of you. The surround sound feature creates realistic 3D sound so that you can clearly hear what's going on above you, allowing you to avoid any gun-toting helicopters flying overhead.
Pros
Affordable price
Gets loud
Features graphic EQ presets
Adaptive sound feature
Has bass boost feature to amplify the bass
Includes a subwoofer
Features a built-in center speaker for better dialogue
Immersive surround sound
Optimized for gaming
Bluetooth connectivity
Cons
It does not support Dolby Atmos
The remote control is not universal
It does not have Wi-Fi functionality
Frequently Asked Questions (FAQs)
1. Can the soundbar be wall-mounted?
Yes, you can mount this soundbar on your wall. The soundbar system comes with mounting brackets and screws for your convenience, allowing you to mount it on your wall straight out of the box.
2. Does this soundbar have Wi-Fi capabilities?
No, this soundbar does not have Wi-Fi capabilities. However, you can connect it to your mobile devices via Bluetooth to stream music or movies.
3. Does this sound system support Dolby Atmos?
No, this soundbar does not support Dolby Atmos. However, it supports DTS Virtual:X technology for an immersive surround sound experience.
Samsung A650 soundbar review verdict: Excellent budget soundbar
There really is no reason for anyone to suffer through awful audio in this day and age, and the Samsung A650 soundbar fixes that. This soundbar system is very affordable at its price point, yet it sounds like a million bucks.
Hook it up to your television to enjoy crisp dialogue and a loud bass while picking up on sonic details in your favorite movies and songs that you had probably never noticed before. The design is also sleek and slim to match the elegant look of most flat-screen televisions. Our Samsung A650 review shows that this soundbar system offers excellent value for money and is perfect for upgrading the sound system in your home. Click here to learn more about this soundbar.
Read more:
The Woman in the House across the Street from the Girl in the Window Review
Reacher Season 1 Review: Comes as Advertised
Samsung AU800D Review, One Year Later: Price And Performance Strike A Balance
Momax Airbox Review: For Consumers Who Want Cable-Free Charging
Sony LinkBuds Review: Open Earphones That Come as Advertised