*** TVReviewland.com earns commissions on qualifying purchases made through affiliate links ***
Here's a Sony LinkBuds review to help you work out if open-design earbuds are something you can get behind.
Sony has a wildly successful, noise-canceling product in the form of the Sony WF-1000XM4 wireless earphones. The Sony WF-L900 LinkBuds couldn't be more different. These earbuds are open, with a hole at the center of each earpiece. The point is to allow sound to reach your ear canal when you need to remain in touch with the outside world.
Let's see how the Sony LinkBuds hold up when we put them through their paces.
Sony LinkBuds review: The demand for open-design earbuds
Noise-canceling earbuds shut out ambient sound, either physically or electronically. The result is a type of isolation that transports you to your own little world, where your favorite content paints landscapes. While this type of immersive earphones has its perks, it also has limitations.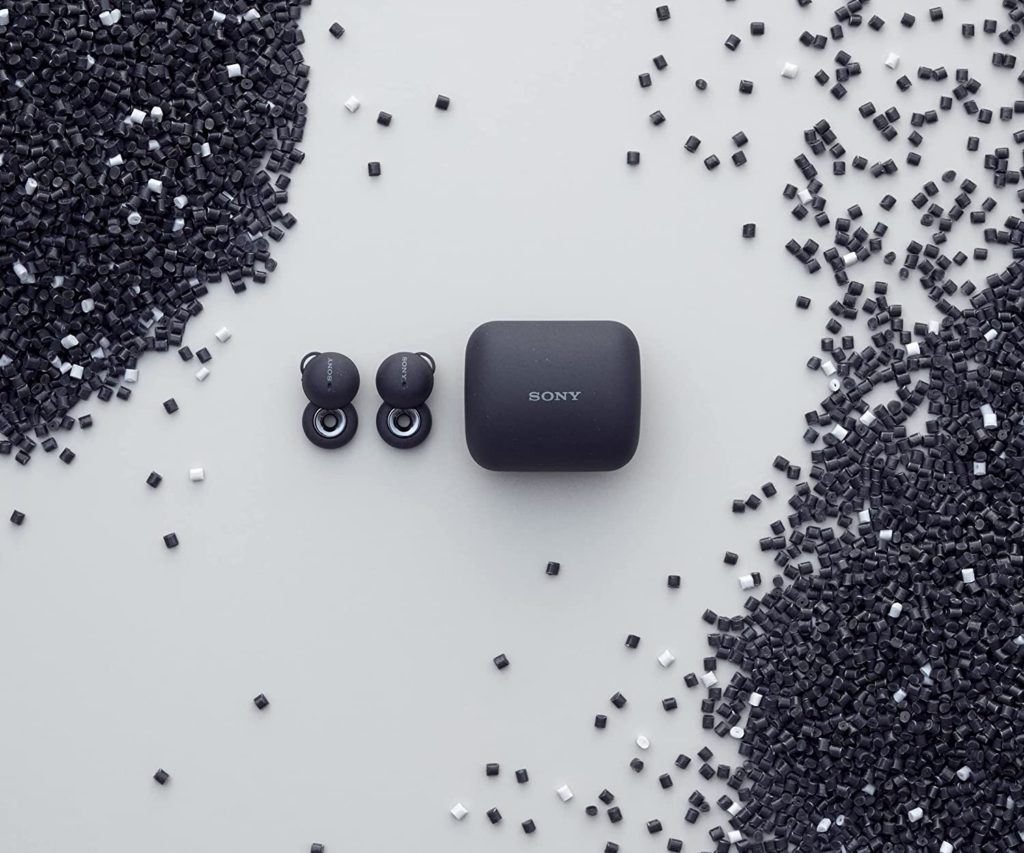 For starters, you shouldn't shut out the world while you're on a jog or a bike ride. That creates a security risk since you can't hear people or animals coming up to you. You also need to be responsive in work settings or as you go about your day while enjoying your favorite tunes.
This is where open earphones come in, blending your favorite tunes with situational awareness. The result is the open, inclusive sound you get when you're listening to music as you drive or as you watch TV at home.
Unboxing the Sony LinkBuds
The package carrying the Sony WF-L900 has a case with earbuds inside and a short USB charging cable. Sony also includes four extra pairs of ring supporters that come in various sizes. These supporters attach to the earbuds and ensure a snug fit in your ears.
There's little else in the package, apart from miscellaneous pieces of paper. There's a manual and quick-start guide among those papers. You'll need them to set up the WF-L900 earbuds.
[Read what others are saying about these earbuds]
Sony LinkBuds review: Design
Sony recycles ABS polymer to make the LinkBuds and the case that holds them. This material is the kind of plastic you find on keyboard buttons, car parts, and the covers of electrical outlets. The manufacturer adds mica stone particles to the polymer to create an appealing speckled pattern.
The case
LinkBuds come in speckled gray and white; for the case as well as the earpieces. The LinkBuds case is highly compact, thanks to its simple hardware that lacks a provision for wireless charging. Instead, the case has a USB-C slot for connection to a physical power source.
The earpieces
With a weight of just over four grams, the earbuds are compact and lightweight. Their barely-there feel should keep you comfortable for extended periods. The first half of the earpiece is shaped like a donut, where the hole in the center lets in ambient sound. This exterior houses a 12mm ring driver that sits right above your ear canal. From this position, the driver fires sound directly into the ear.
Each of the earbuds has a flexible, detachable supporter. This fin-like supporter connects the two halves of the earbud. It bends to fit the contour of your ear, which keeps the earpiece in place during vigorous activity.
The capacitive touch surface on the second half of the earpiece can control and navigate the LinkBuds. However, this surface is small, plus there's an easier, better way to work the earbuds. Instead, you can control the LinkBuds by tapping the skin in front of your ear. This requires you to set up the Sony WF-L900 using its companion app.
Waterproof rating
The Sony LinkBuds have an IPS 4 rating, meaning they can withstand a sweaty workout and accidental contact with water.
Using the Sony open-ring earbuds: Connectivity and companion app
The Sony WF-L900 operates on a Bluetooth 5.2 connection that can only pair with one device at a time. They support the AAC and SBC codecs that sit on Bluetooth 5.2 connectivity.
With help from the quick-start manual, power the LinkBuds. Activate the Bluetooth on your device to detect the earbuds, then pair the two. You can now route audio from your device to the earpiece. At this point, you can only control the Sony LinkBuds via the capacitive touch surface of the earpiece.
You should now download Sony's Headphones Connect app and use it as a graphical interface that helps you to:
Control playback and navigate your playlist
Adjust volume and equalizer settings
Set up Sony's 360 Reality Audio spatial algorithm
Specify whether the Bluetooth connection should prioritize stability or sound quality
Most importantly, you can use the app to set up convenient gestures to control the Sony LinkBuds by tapping on the skin near each ear.
Using the Sony open-ring earbuds: Gestures and ease of use
The Sony earbuds companion app lets you program gestures for playback and navigation. You can direct that a double or triple tap near the ear do one of the following:
Play/pause
Go to the next track
Raise or lower the volume
Launch or cancel the voice assistant
You can also use the app to specify if you want playback to pause when you take off the earbuds.
Sony LinkBuds review: Additional features
Sony WF-L900 Linkbuds are compatible with both Alexa and Google Assistant. They also have a speak-to-chat feature that pauses audio when you start talking. Playback resumes after a few moments of your silence. Lastly, there's Android fast pair, a feature that allows the earbuds and your device to pair without your input.
All these features need to be set up via the manufacturer's companion app, which is available in your phone's app store.
Hardware
Each earpiece has a 12mm ring driver that does a pretty decent job with bass and treble frequencies. Compact circuitry converts incoming signals from digital to audio with the help of a processor that also doubles as an amplifier.
Sony LinkBuds review: Sound quality for content and calls
The open-ring design of the Sony Linkbuds makes for a wide and spacious soundstage. Individual sound elements have enough room to stand out as distinct artifacts before combining them into a nice blend. The result is a sound that is rich in treble and mid-range elements.
Then there's the bass frequency range, which has a sparser palette. The bass sound palette is a little light on the material, so the thumps and rumbles you get with premium noise-canceling earbuds are absent. There will also be less detail in the bass elements of your favorite bass-heavy songs. This is the tradeoff you make when you choose earphones with an open design.
As open earbuds go, the sound quality of the Sony WF-L900 is pretty good. The definition, richness, and balance of the sound remain constant, even at high volume. There's minimal distortion as you turn the volume up.
Sony LinkBuds review: Battery life
Sony LinkBuds drain after five and a half hours of playtime, which is nothing to write home about. Their charging case is good for another 12 hours' worth of charge. This makes a total of 17.5 hours of audio play before you have to connect the earbuds to a power source.
Pros
Unique, two-piece design
Natural, roomy sound profile
A good balance between ambient sound and the audio that the earbuds produce
Little harmonic distortion at high volume
Convenient gestures and features make the earbuds easy to use
Cons
No wireless charging
Battery holding time could be better
Open-design earphones like the Sony LinkBuds can only do so much when it comes to bass
The Bluetooth connection on the WF-L900 can only link the earbuds to one device at a time
Sony LinkBuds review: Ambient music balances ambient sound
Sony has a good, user-friendly product in the WF-L900 LinkBuds. The sound quality is no match for the manufacturer's premium noise-canceling earbuds, but that's kind of the point.
With the Sony LinkBuds, you can expect rich sounds that act as a polite companion to ambient noise. This allows you to take in your surroundings, just like when you drive or hang out at home. Anyone with an active routine should use this Sony LinkBuds review to guide their search for open earbuds. Click here to learn more about these earbuds.
Read more:
Vizio Elevate Review: Incredibly Immersive Audio
The Woman in the House across the Street from the Girl in the Window Review
Reacher Season 1 Review: Comes as Advertised
Samsung AU800D Review, One Year Later: Price And Performance Strike A Balance
Momax Airbox Review: For Consumers Who Want Cable-Free Charging