*** TVReviewland.com earns commissions on qualifying purchases made through affiliate links ***
Many LG UQ9000 reviews extol the smart features of this affordable widescreen TV. This review takes a different approach by focusing on the viewing experience and picture quality of the UQ9000.
The first thing you notice about the LG UQ90 is its thinness. You can hang the UQ9000 like a large picture frame. This sleek, 4K picture frame can showcase digital art and breathe new life into your living space. Is there more to the UQ9000 than a brilliant design and attractive pricing? Let's review the 70-inch model from this budget product line and find out.
LG UQ9000 reviews: Market segment
The UQ9000 caters to shoppers looking for a budget TV with decent performance. This means you get a smart TV with 4K resolution, HDR support, and a few gaming features for a moderate sum. You also get a platform that manages your smart home devices, with plenty of streaming apps for your viewing pleasure.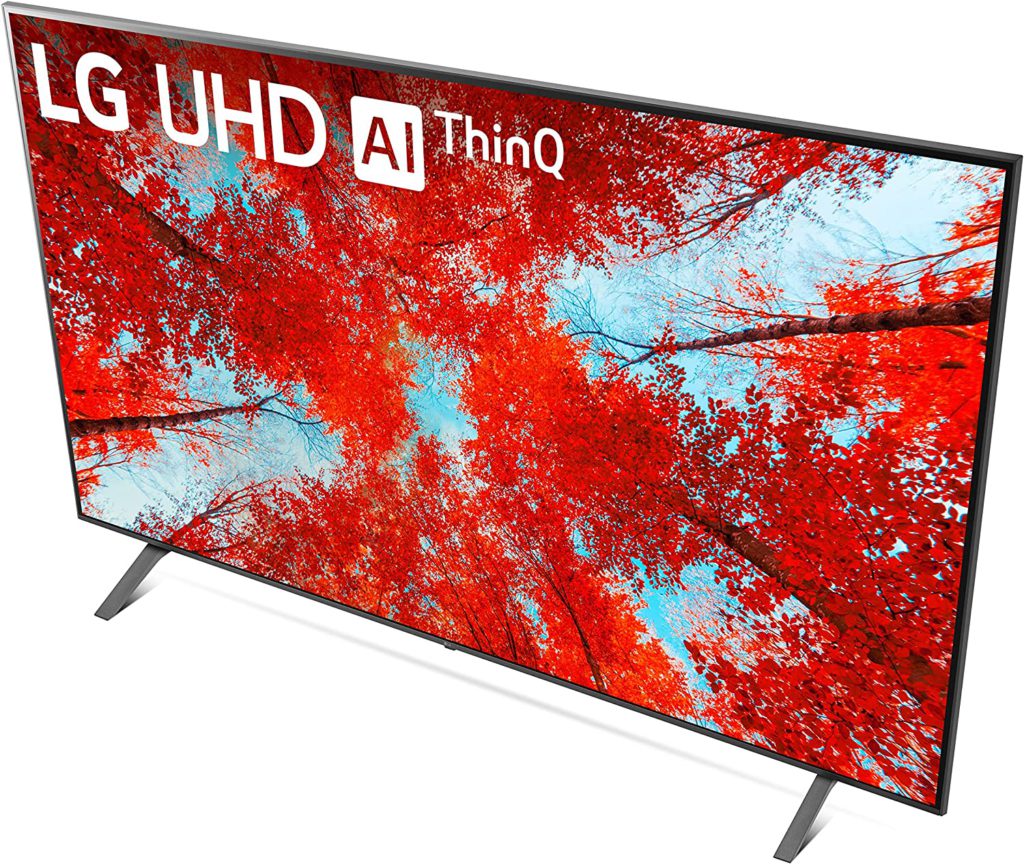 Chassis and port placement
At 2.4 inches deep, the cabinet that houses the LG UQ9000 will hug your wall if you mount it. All you'll need is a wall-mount bracket that matches the 300x300mm VESA pattern on the back panel.
You could also put the TV on an entertainment stand if you have suitable furniture. For the 70-inch TV, find a surface that is approximately 55 inches wide and 20 inches deep. These dimensions are enough to accommodate the footprint of the TV legs.
The back panel of the UQ9000 holds two sets of input ports that sit on the right end of the TV. You'll be able to reach the outward-facing ports easily enough. However, the rear-facing ports are only accessible when you place the TV on an entertainment stand.
LG UQ9000 reviews: Connectivity
TV manufacturers are slowly phasing out legacy ports, leaving consumers to rely on HDMI and optical connectors. The UQ9000 comes with the following input/output ports:
Four HDMI 2.0 ports, with eARC capability on HDMI3
Two USB ports
A digital optical output
Antenna connecter
Ethernet jack
Gamers may notice the absence of HDMI 2.1 ports, which rules out support for high resolution, high frame-rate game titles. On the bright side, the UQ90 supports basic gaming enhancements like auto-low latency mode (ALLM). A wireless adapter takes care of WiFi and Bluetooth connections to various devices.
[Read what others are saying about this TV]
Smart TV interface: webOS
LG uses its proprietary platform on the UQ9000, and the interface has a nice collection of features. For starters, webOS comes with many of your favorite streaming apps. You also get your choice of voice assistant, with dedicated remote buttons for Alexa and Google Assistant.
The UQ9000 runs a version of webOS that lets you set up multiple user profiles. This feature allows different people to save their viewing preferences under separate user profiles. The feature also supports a custom home page for each user profile.
The webOS interface is responsive and quick to act on user input, thanks to low input lag. The responsive screen also allows for enjoyable gameplay at frame rates of up to 60fps at 4K resolution. As icing on the cake, webOS has a dedicated dashboard that lets you tweak gameplay settings in Game Mode.
LG UQ9000 reviews: TV hardware
The hardware configuration of the UQ9000 product line varies depending on the size of the TV. Smaller LG UQ90 models come with 60Hz IPS panels. Larger UQ9000 models come with 120Hz VA panels with narrower viewing angles.
All sizes of the LG UQ90 have direct-array backlighting with no local dimming. The backlights are dim by today's standard, which limits peak brightness to 320cd/m2 (candelas per square meter) in SDR and HDR. Smaller LG UQ90 models that come with IPS panels may be dimmer. Please note that a dim panel that also lacks local dimming will have a low contrast ratio. This translates to limitations in the execution of contrast, highlights, and fine detail.
Lastly, the LG UQ90 has a color gamut that is narrower than we'd like. The good news is that the panel's AI processor does an excellent job with the panel's color coverage. Clever signal processing fully uses the panel's capabilities to weave something close to magic. Here is how the hardware performs across different metrics:
1. Color accuracy
The colors coming out of the LG UQ9000 are pretty accurate right out of the box, except for cyan hues. Some buyers may notice a blue tint on paler, less saturated colors.
2. Brightness, contrast, and HDR content
A peak brightness level of 320 nits is dim for a TV that aims to render vivid HDR content. Black levels of 0.4 nits result in a black screen with a tinge of grey. These limitations don't stop the panel's signal processor from doing a valiant job of executing HDR highlights, texture, and small details.
3. Viewing angles
Smaller UQ9000 panels have IPS panels with wide viewing angles that can accommodate a wide seating arrangement. UQ90 displays that measure 65 inches and below fall under this category. The smaller models allow all your guests to enjoy the best seat in the house on movie night.
70-inch and 75-inch models have narrower viewing angles, but not by much. Noticeable color shift only starts to shift at 70 degrees from the center. However, the picture starts to dim at 30 degrees from the center.
4. Motion handling
Motion handling on the LG UQ90 is a mixed bag, with low input lag and a high response time. Low input lag allows for a responsive smart TV interface and responsive gameplay. The UQ9000 has an impressively input lag of 10.3 milliseconds in game mode. Better still, game mode kicks in automatically when your gaming console becomes active.
In contrast, the response time of the UQ9000 is high enough to cause motion blur in fast-action content. The UQ9000 pixel needs 16.9 milliseconds to change colors. The result is visible trailing as pixels struggle to keep up with a signal stream from fast-paced content.
Pros
Sleek design
Passable support for HDR content
Wider viewing angles
Support for cloud gaming with features like Google Stadia and Geforce Now
Low input lag in Game Mode
The Game Optimizer and Dashboard software moduleis a convenient tool that gamers can use to optimize gameplay settings
Support for Apple Airplay and Apple HomeKit
The LG UQ9000 supports multiple user profiles
Cons
Low peak brightness levels limit what the LG UQ9000 can do with HDR content
Clutter on the webOS home screen
It comes with a slow interface that could use an update
Limitations in the app selection from WebOS
Light bleedthrough and screen uniformity issues
The remote lacks a backlight
LG UQ9000 review verdict: A pocket-friendly widescreen with decent performance
This LG UQ9000 review reveals a budget TV with a decent collection of smart features. The image quality is good enough to deliver passable HDR content. Low input lag and basic gaming features make the UQ9000 a pleasant companion for gamers. Click here to learn more about this TV.
Read more:
House of the Dragon Episode 5 Recap-Review: Will Dragons Dance at a Wedding?
Insignia 65-inch Fire TV Review: One of the Best Bargains Out There
Hisense U7H Review: More than a Budget TV
House of the Dragon Episode 6 Recap-Review: Patterns, Symmetry, and Masterful Storytelling
House of the Dragon Episode 7 Review-Recap: Death (And Marriage) At a Funeral