*** TVReviewland.com earns commissions on qualifying purchases made through affiliate links ***
We start this House of the Dragon episode 7 review with a solemn assembly. The gloomy scene shows silhouettes of two Valerian families as they attend the funeral of Lady Lena and her unborn child. It's interesting to see the main characters together in the same place, and they paint quite the family portrait.
House of the Dragon episode 7 review: A Valerian funeral
The parents, brother, and children of Lady Lena are devastated, while her uncle seems angry. His mood comes through as he recites last rites before lowering his niece's driftwood coffin into the sea. As he recites the seafarer's version of "Ashes to ashes," Lena's uncle manages to cast doubts on the paternity of Rhaenyra's children. Prince Daemon laughs at the slight, even though he's at the funeral of his second wife.
Ser Otto is back in his old position as the King's hand, and queen Alicent is her usual, disapproving self. Welcome to driftwood, where the tension is as thick as the mist and the sea fog of the opening scenes.
Storytelling at a funeral
Does anyone notice that entanglements with House Targaryen can be a deadly business? Princess Rhaenys seems to think so, even as she grieves her daughter's death. Rhaenys believes that her beloved Lena would still be alive if Daemon had let her birth her child with the help of their family doctors.
The queen that never was isn't getting through to her husband, though. What Corlys Velaryon wants is power in all its forms. He doesn't seem to see the death of his daughter as a casualty of the Targaryen's actions.
Another indecent proposal
These days Rhaenyra comes off as reckless, a trait that often complicates her claim to the iron throne.
We see her catch up with her uncle Daemon as they walk on a beach that looks like it's also in mourning. Rhaenyra and Daemon exchange sympathies for the deaths of their mates. Then the princess accuses her dear uncle of abandoning her. The two resolve their unresolved feelings before engaging in some incest, as Targaryens do.
Aemond steals a dragon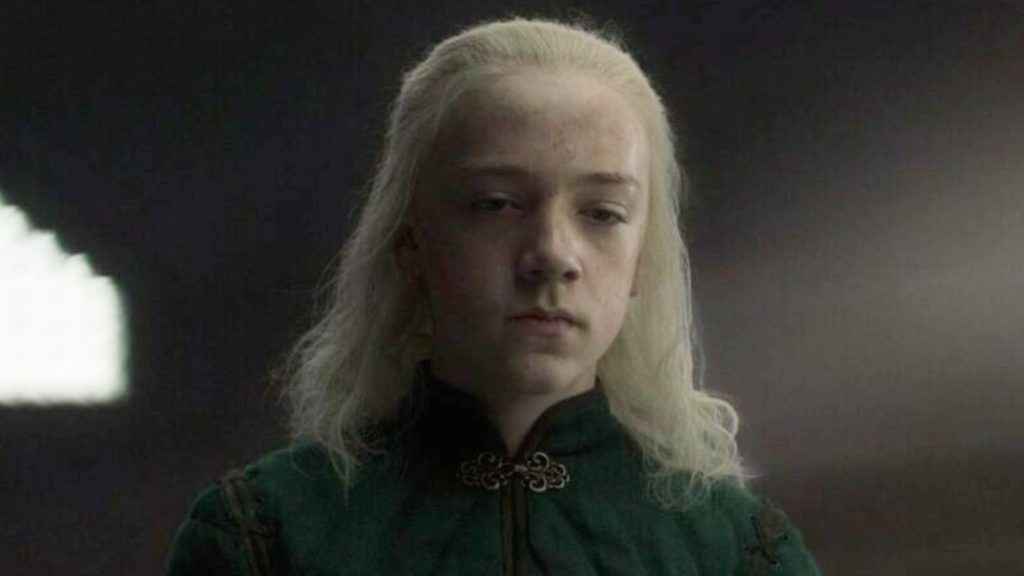 Aemond is bothering dragons again, and he almost gets another dose of his regular dragon burns. But this time, he gets lucky when the dragon of the late Lady Lena decides to let him steal a ride. It seems that Aemond takes his dragon lessons seriously, and he quickly figures out how to stay on the saddle. He also learns how to control the dragon.
This effectively makes little, pre-teen Aemond the new 'owner' of Vhagar, the largest and oldest of the Targaryen-Velaryon dragons. The impressive coup is about to cost our young, determined prince.
Aemond one-eye
Alicent's younger son just executed a successful dragon heist, and repercussions come swiftly. As soon as he lands, Aemond faces Lena's daughters, who are livid about the theft of their dead mother's dragon. A fight breaks out, and Rhaenyra's sons show up just in time to defend their cousins. The four Velaryon kids gang up on Aemond, but he manages to hold his own.
We recognize the creative team's success at crafting a distressing fight scene with child characters. Alicent's bodyguard encouraged his students to fight dirty in the previous episode. You see the result as the three boys tear at each other like they're fighting for the iron throne. At some point, Aemond refers to Rhaenyra's firstborn child as Lord Strong, and those words end up costing him an eye. The fight was certainly the highlight of our House of the Dragons episode 7 review.
Paternity court
The court of public opinion is in session as Rhaenyra defends her sons' defense of their honor. She gives the reason for Aemond's missing eye as a nasty insult about her children's paternity. The thorny issue causes King Viserys to ask his newly maimed son about the origin of this 'malicious rumor.'
Aemond covers for his mother and pins the sin on a convenient scapegoat: His wine-loving, skirt-chasing brother. This turn of events is a clever piece of writing from the creative team because it takes an irreverent soul to say the quiet parts out loud. Prince Aegon unapologetically declares that all of Westeros knows that Rhaenyra's children are bastards.
To this claim, Rhaenyra cries treason. Her father tries to deflect from the scandal by calling for reconciliation.
Eye for an eye
Alicent wants blood as recompense for her son's missing eye, and her pent-up frustration bubbles to the surface. She orders Ser Criston to take the eye of Rhaenyra's younger son. Criston says he is sworn to the queen as a bodyguard, not hired gun. That bloody title goes to Larys' clubfoot' Strong, Lord of Harrenhal. He burned his father and brother for the honor, after all.
Alicent goes ballistic and grabs the prophetic Valerian knife right from Visery's belt. She means to take an eye for an eye, but Rhaenyra blocks her and ends up with a large gash on her arm.
Otto Hightower watches the drama with a mixture of pride and relief. He is happy that his daughter and grandson have the fight it takes to make a play for the iron throne.
Bloodlines, family, and friendship
Laenor Velaryon is in position to become the King Consort when Rhaenyra ascends the throne. Again, we get to witness his beautiful friendship with his wife, Rhaenyra.
The couple reflects on their marriage, its limitations, and the complications of trying to have it all. Laenor concludes that it is impossible to balance duty and happiness. He offers to send his boyfriend away and dedicate his life to securing the iron throne for his wife.
Death at a funeral
Crown princess Rhaenyra feels that she has to do more to consolidate her claim to the throne. So she asks her uncle Daemon for help. More specifically, she proposes marriage. There's just one hitch: princess Rhaenyra can only marry if she's a widow.
It's a good thing that Daemon knows how to lose a healthy, living spouse. The prince arranges the death of Laenor Velaryon, and his parents find his burned body in their great hall. Princess Rhaenys all but loses her mind at the loss of the last of her children.
A Valerian wedding
Rhaenyra and Daemon look rustic in traditional Valerian wedding garb, standing on a gloomy cliff that overlooks a gloomy sea. There's cutting, there's blood, and there's the smearing of blood on foreheads. Like the funeral rites at the beginning of the episode, the couple's wedding ceremony unfolds in the Valerian tongue.
It seems that small, intimate weddings are the destiny of the crown princess. The only witnesses in attendance are Lena's daughters and Rhaenyra's sons.
House of the Dragons episode 7 review verdict: The plotline moves at breakneck speed
A round of applause goes to the weather and beaches of the UK. The two elements combine to create desolate backdrops to the tension that drives the episode forward. Driftwood mourns the loss of two children and a dragon. Driftwood bears witness as different contenders for the iron throne take their marks at the starting line of a violent race.
Rhaenyra chooses ruthlessness to consolidate her claim to the throne, in sharp contrast to her father's pacifist style. She agrees with her uncle-husband's strategy of ruling by terror. We'll see how well the strategy works for our happy couple.
Poor Laenor; no sooner does he declare unwavering loyalty than he joins his dead sister. This is a deviation from the book version of events, where our loyal Velaryon prince dies much later. In a nice plot twist at the end, we find out Laenor is alive and heading to a ship with his boyfriend we thought betrayed him. It serves as redemption for Daemon and Rhaenyra, showing they're still capable of kindness while making power moves for the throne.
Read more:
House of the Dragon Episode 4 Recap-review: Lies, Perception, Truth, and Expediency
House of the Dragon Episode 5 Recap-Review: Will Dragons Dance at a Wedding?
Insignia 65-inch Fire TV Review: One of the Best Bargains Out There
Hisense U7H Review: More than a Budget TV
House of the Dragon Episode 6 Recap-Review: Patterns, Symmetry, and Masterful Storytelling